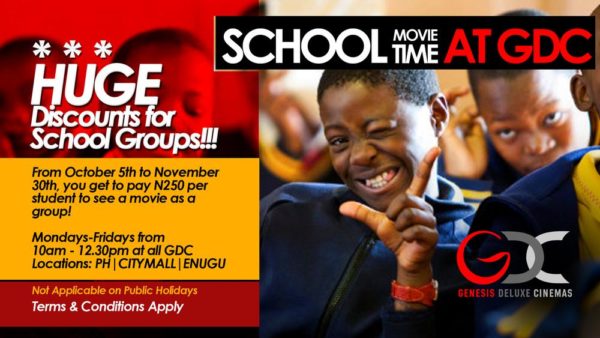 One sure way for children to learn and remember is through fun and entertainment. That way, learning seems easy because, on the surface, it does not appear like learning, which is usually seen as hard work. One brand is employing that in a new campaign called School Movie Time at Genesis. That company is Genesis Deluxe Cinemas.
In line with this, Genesis Deluxe Cinemas gathered the media at its centre at City Mall, Lagos over the weekend to launch the School Movie Time at Genesis. According to the organization, the School Movie Time at Genesis is geared towards boosting learning and the movie-going culture in Nigeria.
Throwing light on the offering, Opeyemi Ajayi, Executive General Manager, Genesis Deluxe Cinemas, said this school initiative provides an opportunity for schools as well as academic and social clubs to come on excursions or for group movie viewing either for academic or social uplift.
"Our objective is to use our platforms for the education and development of the Nigerian child as well as promote the movie-going culture", Ajayi explained, adding: "One of the movies we will be exhibiting is called 'He Named Me Malala,' a documentary about girl-child education. It's a true life story of a Pakistani girl who chose education against all odds".
The Executive General Manager (Marketing) of the Genesis Group, Chima Nwuke, added that the School Movie Time at Genesis features educational and exciting children movies between 10:30 a.m. and 12:30 p.m. on weekdays. "Schools can arrange excursions for children as the rates are as low as N250 naira per child and completely free for some titles", Nwuke explained.
"Going to the cinema is one of the best ways to have fun, relax and learn, and we are constantly thinking of how to make our people imbibe the culture of leaving their homes to go to the cinemas and have a new experience", he said.
Explaining further, Ajayi said: "The unveiling of School Movie Time at Genesis is another initiative that further underscores our strength in thought leadership, innovation and social investing in the cinema market in Nigeria. With this initiative, students who couldn't ordinarily afford cinemas will have the opportunity to have a wonderful experience in our facilities. The initiative has a dual objective is to use our platforms for the education and development of the Nigerian child as well as promote the movie-going culture".
Nwuke added: "Genesis Deluxe Cinemas is one of Nigeria's leading operators of multiplex cinemas in Nigeria, with locations Lagos, Port Harcourt, and Enugu. Over the next 6 to 9 months, it plans to open new centres in many other cities and locations in Nigeria in places like Ceddi Plaza, Abuja; Maryland Mall, Lagos; Warri Mall, Delta State; Owerri, Imo State; and Lekki Mall, Sangotedo".
"Our journey into the entertainment industry began with a belief that we could provide a truly unique entertainment experience, where the best international and domestic movie releases could be enjoyed within ultra-modern environment. GDC's tailored offerings, combined with attractive and targeted unique selling propositions are a key differentiator in the Nigerian market, which includes extra comfortable seats, VIP Auditoriums, Cozy lounges, Game zones, Dolby Digital Sound/Screens, 3D Movies, Discount ticket prices and fabulous Student Pricing. GDC also offers Membership to our valued customers, offering points that can be redeemed against tickets and concessions".
"At GDC, we also believe that Nollywood is the future of the Nigerian cinema industry. Our expansion will create a bigger platform and wider reach for Nollywood movies and this will aid in tackling the scourge of piracy as producers will have appropriate channels where their movies can be exhibited and appreciated".
Even though Nigeria has a vibrant film industry, Nigeria has one of the lowest screens per capita with less than 0.5 screens per million compared to India with 8 screens per million people and the United States with 117 screen million people.
___________________________________________________________________________________________________
Advertorial– Sponsored Content