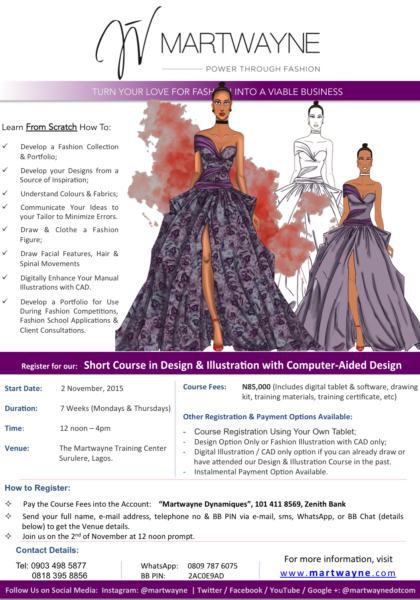 This is our BRAND SPANKING NEW COURSE for those who want to kick off 2016 with stunning portfolios for fashion school registrations, competitions and appear totally professional to your clients!
And the best part is… we will teach EVERYTHING from scratch… and we have various options available whether you are a beginner or are already a fab illustrator and only want to learn the CAD aspect to enhance your skills! OH… and another great thing! We round up before Christmas!
We lead you every step of the way starting from how exactly to develop a fashion collection from just an idea.
NOW we are taking our Design and Illustration Course a step further and teaching you how to move from your normal pencil drawing to digitally enhancing your images using CAD. And I am sure you all would LOVE to learn how to do this using the actual print of the fabric rather than having to draw the print manually and other stuff! If you loved the pictures in my flyer, then I am sure you would also love to learn how to do this.
So What Will You Learn?
Depending on what you register for… and yes there are options based on your level of skill, the Course is split into 3 parts:
Part 1: Design, Concept Development & Portfolio Presentation
Developing Your Designs from a Theme or an Idea;
The Design & Production Process;
Understanding Colours & Fabrics;
Understanding Technical Drawings & how to Communicate your Designs to your Tailor to Minimise Errors;
Developing the Documentation Required in a Design Project;
Developing & Defending Your Fashion Collection
This is actually just a brief summary of what you would learn. Of course you will learn about how to create concept boards, storyboards, mood boards, etc but there are also other things you learn. Anyone who has registered for our Courses know we discuss a whole lot more than what the Course itself such as building the confidence you need, approaching your customer, etc. These are discussions we hold just basically to help you conquer that fear!
Now the beauty about this part is you would actually be required to develop a proper fashion collection and defend it.
Part 2: Manual Illustration
Drawing the Fashion Figure;
Body & Spinal Movements;
Facial Features & Hair;
Clothing the Fashion Figure
Part 3: Digital Illustration
And this is the portion where you learn how to perform the magic on your designs using Computer Aided Design!
Course Fees & Registration Options:
The beauty about this particular course is that there are so many options to choose from; regardless of whether you have never drawn a straight line without a ruler or if you have been drawing right from when you could hold a pencil!
The different options and their duration are as follows with their start dates:
Option 1: Design & Illustration with CAD (The Full Course) – 7 weeks; Starts 2nd of November, 2015
Fees: N85,000 (and the fees come with everything including the digital tablet and software which is of course the advisable option).
If you, however do not want the tablet and prefer to use yours, e.g. your iPad or your Android, the fees are N70,000. You will however, need to buy a stylus which costs N7,000 and buy the app from the store for download onto your iPad. If you use an Android, there is no pro version of the app anyway which limits what you can do.
Please NOTE:
I can safely tell you that the tablet costs a lot more than N15,000 and if you come with your tablets, you need to buy a stylus which costs N7,000 and buy the app from the store for download onto your iPad. If you use an Android, there is no pro version of the app anyway which limits what you can do so I would really advise you to pay for the full Course (or any of the options below that comes with the tablet).
But of course, seeing we like to give options, do go ahead and make your choice.
PLUS:
If you are choosing the option without a tablet, please come with your laptop to the Class.
Option 2: Design Only – 1 Week; Starts 2nd of November, 2015
These are for students wishing to do Part 1 only. It really pushes you to the limit and trust me it is an eye-opener. This part will help you develop structures plus help you properly identify who your target market is based on your designs. The fees are N25,000.
Option 3: Fashion Illustration only with CAD – 6 weeks; Starts 9th of November, 2015
Here, you could decide not to do Part 1 of the Course.
Fees with the Tablet: N65,000
Fees without the Tablet: N50,000
Option 4: CAD Only Option – 4 weeks; Starts 23rd of November, 2015
This is for Illustration Gurus & those who have taken our our Design & Illustration Course in the past. This Option means you will only focus on Part 3.
Fees with the Tablet: N45,000
Fees without the Tablet: N30,000
Installment Payment Option: We do prefer full upfront payments but you can pay in a maximum of 2 instalments for the other options except Options 2 and 4b. The deposit will be 85% of the total fees and the balance of 15% is due halfway during the Course or before the CAD Course begins, whichever is earlier.
Venue: Classes will take place on Mondays & Thursdays at our Training Centre in Surulere, Lagos about 2 minutes from the National Stadium towards Ogunlana Drive

If you want to visit us ahead of time to check us out first to be sure we are genuine, please contact us so we can make a plan.
Time: 12 NOON – 4 PM
How to Register:
Simply pay the fees into our Martwayne Dynamiques Zenith Bank account | Account Number: 101 411 8569,
Please send the following details to us: Your Name, The Option You Registered for and Your Email Address e.g. (Mr A; Full Payment Option 1; [email protected]) or if you paid part (Ms. B; Deposit Option 1; [email protected]) through any of the following means to get the venue details:
Phone: 0903 498 5877 / 0818 395 8856 / 0809 787 6075 | WhatsApp: 0809 787 6075 | BB Pin: 2AC0E9AD | Email: [email protected] | Website: www.fashionbeyondstitches.com
Please register ahead of time to enable us prepare for you and get your materials ready.
If you have questions or concerns, please call 0903 498 5877 , 0818 395 8856 (9am – 5pm) or 0809 787 6075.
_________________________________________________________________________________________________
Sponsored Content