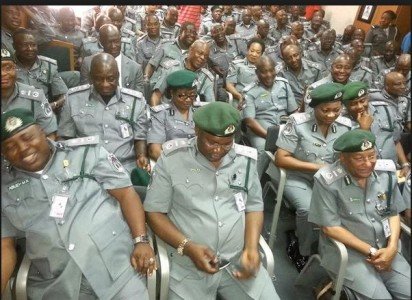 In most cases retirement from service indicates that the retiree doesn't need to report to work.
However, at the Nigeria Customs Service (NCS), this is not the case currently, newly retired officers still report to work due to the absence of a board that should approve their retirement, Vanguard reports.
Sources told newsmen that retired officers still come to work but not in their uniform.
In addition, newly promoted officers can't take over their offices as there is no board to implement the promotions.
Reports further state: "It was gathered that the officers cannot leave the system because in the Customs And Excise Management Act (CEMA), the Comptroller-General of Customs does have the powers to retire or promote certain level of officers without recourse to the board."
However, service spokesman, Adewale Adeniyi, has denied the reports.
"This cannot be true. The new management was inaugurated Wednesday with all the acting new Deputy Comptrollers-General of Customs, (DCGs) and Assistant Comptrollers-General (ACGs) zonal coordinators in attendance." he said.
Photo credit: Vanguard