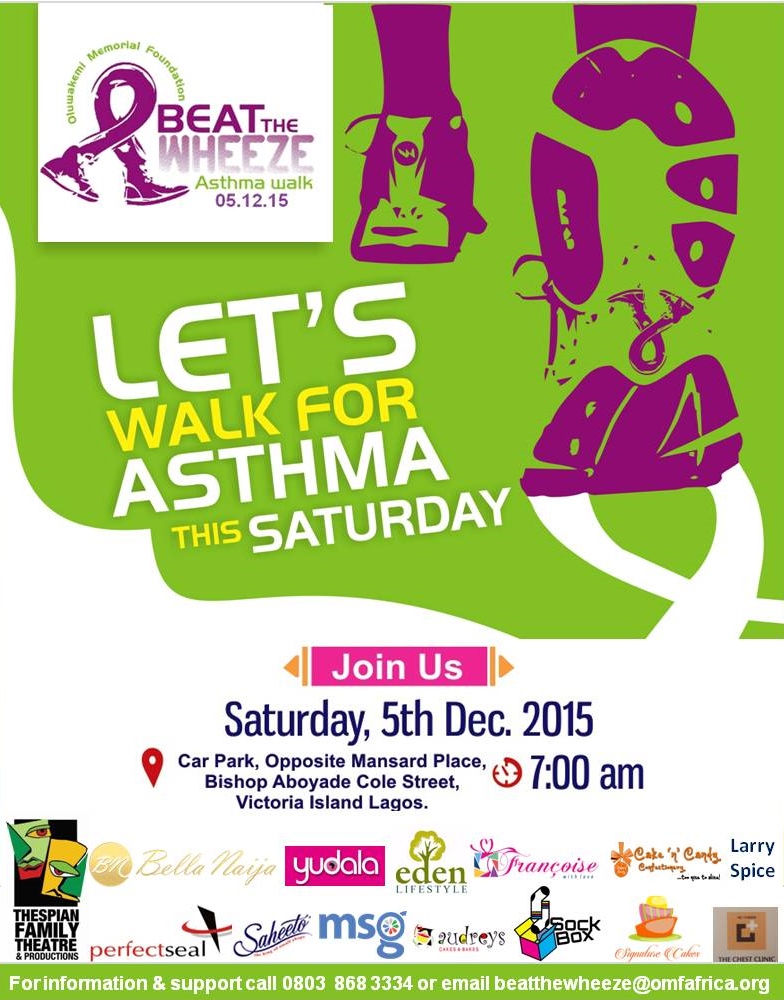 "Beat the Wheeze" Asthma Awareness Walk is an annual event organised by Oluwakemi Memorial Foundation, a non-profit asthma awareness and advocacy organisation. This awareness walk aims to increase community understanding of asthma, its risk factors, identifiable trigger factors and management.
This walk engages a fun and educative approach to creating awareness about the ailment. It includes a warm up by fitness specialist, Maje Ayida, a Lifestyle & Asthma health talk, free lung function tests, dissemination of asthma information leaflets and a raffle draw!
Asthma is a chronic disease of the lungs. In asthma, certain triggers such as air pollution, dust, cockroaches, exercise, stress, certain chemicals in the workplace cause the airways of the lungs to narrow making it hard to breathe.
Asthma is a serious and widespread disease, affecting 300 million individuals worldwide. In Nigeria, approximately 15 – 20 million Nigerians are either suffering from asthma or have symptoms suggestive of asthma. The burden of asthma is a major public health concern as asthma reduces the quality of life of affected individual. The burden is even more profound in countries like Nigeria where health costs are largely borne by the individual. Asthma impacts not only an individual, but society as a whole.
So far, asthma cannot be cured but with proper diagnosis, treatment and patient education it can be controlled. Oluwakemi Memorial Foundation is therefore advocating a strategic partnership between individuals, healthcare professionals, public health specialists, government agencies and corporate organisations to take action to reduce the burden of asthma in Nigeria.
Date: Saturday, December 5th
Time: 7 AM
Venue: Car Park, Opposite Mansard Place, Bishop Aboyade Cole Street, Victoria Island
_______________________________________________________________________________________________
BellaNaija is a media partner with Beat the Wheeze Asthma Walk