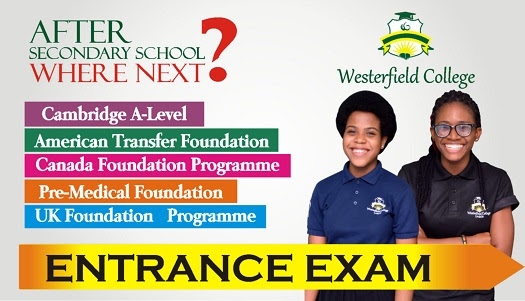 At Westerfield College, we believe that a bright future begins with the right career after secondary school. Our bespoke world-leading academic preparation is the best preparation for a degree into top universities in the USA, UK, Europe, Canada and the Caribbean.
We hereby invite prospective candidates for the January 2016 entry into Cambridge A-Level, UK Foundation Programme, American Transfer Foundation, Canada Foundation Programme and Pre-Medical Foundation Programme at Westerfield College.
The Entrance Examination takes place on Tuesday 5th of January 2016 by 11:00am in Lagos at Westerfield College, 7 Hughes Avenue, Alagomeji-Yaba, Lagos.
Students should bring along a copy of their SSCE result and writing materials (Pen, Pencil and Calculator)
Please visit http://westerfieldcollege.com/entrance-examination/ to register.
For more information, call any of our Client representatives in the cities below
Lagos: 08081909281, 08081909283
Abuja: 08081909282, 07013185198
Port Harcourt: 07013185160, 08087106639
Benin: 08081909290, 07013185183
Uyo: 08087106656, 08035881457
Calabar: 07084225574, 07068069764
You can also follow us on social media
Instagram: instagram.com/westerfieldcollege
Facebook: facebook.com/westerfieldcollege
Twitter: twitter.com/WFCollege
Whatsapp: 08081828760
BBM: 2B24655E
_____________________________________________________________________________
Sponsored Content