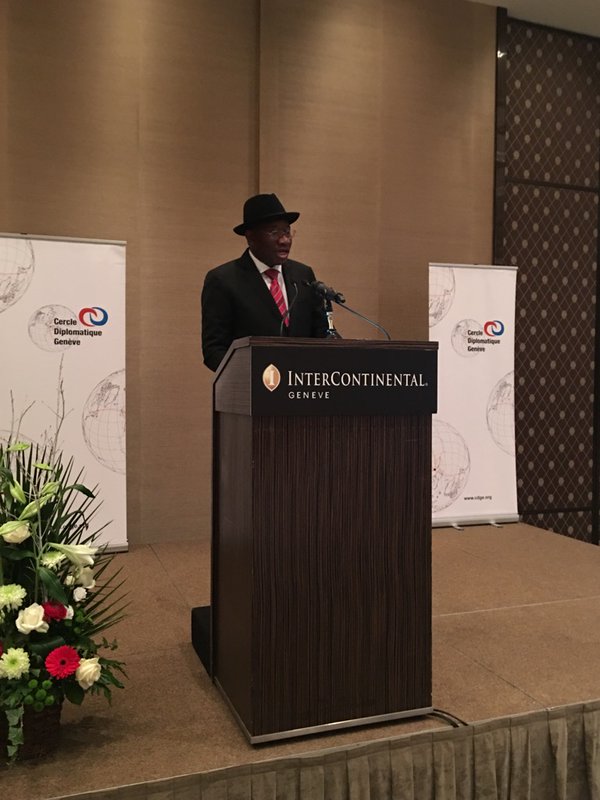 President Goodluck Jonathan, immediate past President of the Federal Republic of Nigeria is speaking at a Impact Hub Geneva, Switzerland and he had a lot to say.
Read below as narrated on Twitter.
Many were surprised to hear him say, he will reveal his thoughts about alleged arms funds mismanagement soon. Many of GEJ's trusted advisers and members of his Presidential team are currently facing corruption charges.
***
My post presidential focus is advancing democracy and good governance in Africa

— Goodluck E. Jonathan (@GEJonathan) January 27, 2016
If we do not spend billions to educate Africa's youths today, we will spend it fighting insecurity tomorrow

— Goodluck E. Jonathan (@GEJonathan) January 27, 2016
I would not want to interfere with the proceeding by the judicial system that my administration worked tirelessly to strengthen

— Goodluck E. Jonathan (@GEJonathan) January 27, 2016
My voice will certainly be heard at the appropriate time regarding the alleged arms funds mismanagement

— Goodluck E. Jonathan (@GEJonathan) January 27, 2016
The allure of power and the worries about what will happen after leaving power are tempting that it takes a man who loves his ppl and nation

— Goodluck E. Jonathan (@GEJonathan) January 27, 2016
Long with the fear of God to relinquish power easily in Africa

— Goodluck E. Jonathan (@GEJonathan) January 27, 2016
As President I worked hard to encourage Nigerians and non Nigerians to invest in our country

— Goodluck E. Jonathan (@GEJonathan) January 27, 2016
We worked hard to bring #Nigeria up as the biggest economy in #Africa

— Goodluck E. Jonathan (@GEJonathan) January 27, 2016
The new generation of #African leaders must think differently

— Goodluck E. Jonathan (@GEJonathan) January 27, 2016
We can no longer sacrifice the blood of our citizens in the name of politics

— Goodluck E. Jonathan (@GEJonathan) January 27, 2016
Government is to create the enabling environment for private sector led development and economic growth

— Goodluck E. Jonathan (@GEJonathan) January 27, 2016
We have to grow SMEs through special government intervention programs for women and the youth in the areas of food processing

— Goodluck E. Jonathan (@GEJonathan) January 27, 2016
Light manufacturing agriculture value chain and service sector

— Goodluck E. Jonathan (@GEJonathan) January 27, 2016
The current administration continues to fight them with the weapons we acquired and collectively I am confident we will eradicate them

— Goodluck E. Jonathan (@GEJonathan) January 27, 2016
@GEJonathan speaks to #France24 "The interest of the country is greater than individual interest"

— Goodluck E. Jonathan (@GEJonathan) January 27, 2016
@GEJonathan speaks to #France24 "If I have anything to discuss with my president I will go to him and we will discuss. I have access to him

— Goodluck E. Jonathan (@GEJonathan) January 27, 2016
@GEJonathan speaks to #France24 "#BokoHaram has been in #Nigeria since early 2000's, my administration prosecuted the war them

— Goodluck E. Jonathan (@GEJonathan) January 27, 2016
The current administration continues to fight them with the weapons we acquired and collectively I am confident we will eradicate them

— Goodluck E. Jonathan (@GEJonathan) January 27, 2016