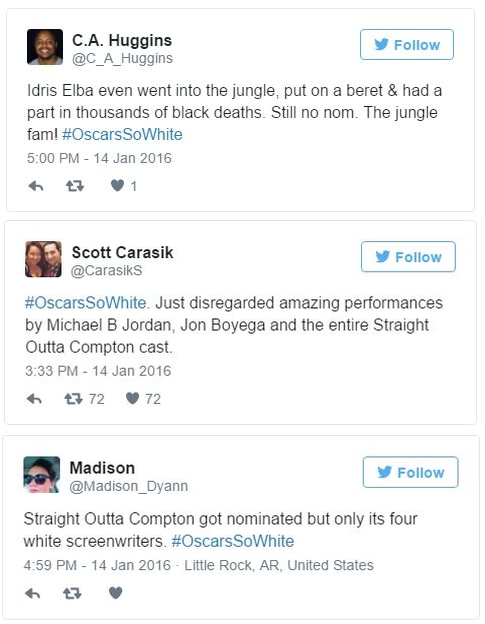 Last year it was #OscarNoms (click here) and this year it is #OscarsSoWhite… either way one thing is for sure and that is the fact that social media can't help but notice the absence of "colour" on the Oscars nomination list.
This year there have been quite a number of spectacular movies with black actors that have received tons of nominations (and awards) from other platforms. Michael B. Jordan in "Creed", Will Smith in "Concussion", Wiz Khalifa's hit soundtrack for "Fast and Furious 7", Idris Elba in "Beast of No Nation", "Straight Out of Compton" are just a couple of examples that have got Twitter riled up.
See reactions to the nomination list below.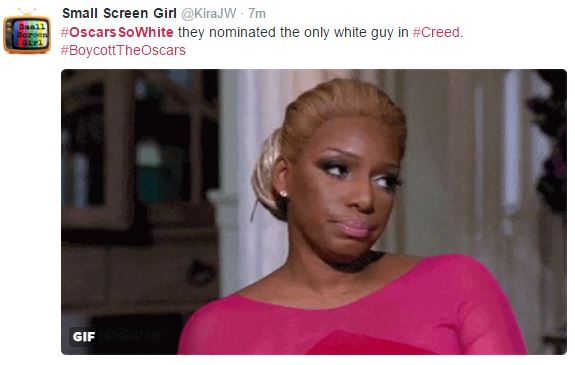 Just some movies that could've gotten nominations for Best Director, movie, actor, score or anything #OscarsSoWhite pic.twitter.com/wILLkmnbOv

— Latinx Geeks (@LatinxGeeks) January 14, 2016
Disappointing that once again, #OscarsSoWhite. There were amazing performances by actors/actresses of color this yr. #RepresentationMatters

— Planned Parenthood (@PPAOhio) January 14, 2016
I'm confused by the Beasts Of No Nation snub for Elba. Thought that was a definite. #OscarsSoWhite

— Black Girl Nerds (@BlackGirlNerds) January 14, 2016
#OscarsSoWhite — again: Actors of color were entirely shut out of the Academy Award noms: https://t.co/S5GkoJyIGO pic.twitter.com/n8hM9F4DMR

— Vulture (@vulture) January 14, 2016
Straight Outta Compton gets amazing reviews, breaks Box Office Records, critically acclaimed, and nothing…#OscarsSoWhite

— X (@XLNB) January 14, 2016
#OscarsSoWhite none of these 9 talented actors/actresses got #OscarNoms for their incredible performances. pic.twitter.com/h4MYQIQLJH

— Steven Cash (@Welcome2Rebirth) January 14, 2016
Ironic that the people chosen to announce the #OscarNoms was more diverse than the nominations themselves #OscarsSoWhite

— Ms. Marya E. Gates (@oldfilmsflicker) January 14, 2016
#OscarsSoWhite. Just disregarded amazing performances by Michael B Jordan, Jon Boyega and the entire Straight Outta Compton cast.

— Scott Carasik (@CarasikS) January 14, 2016
For the second year in a row, all 20 acting nominees are white. No #OscarNoms for Will Smith or Idris Elba. #OscarsSoWhite 2.0, some say.

— Joe Fryer (@joefryer) January 14, 2016
Fifty Shades of Grey has been nominated for more Oscars than people of colour have this year #OscarsSoWhite

— Ian D. Sharman (@idsharman) January 14, 2016
20 acting nominations. 20 white people. #OscarsSoWhite

— Melissa Silverstein (@melsil) January 14, 2016
The thing about #OscarsSoWhite this year is that they really had options. CREED, STRAIGHT OUTTA COMPTON, BEASTS OF NO NATION. But: nada.

— Morgan Leigh Davies (@MLDavies) January 14, 2016
No black actors/directors nominated for the second straight year. Travesty. Hope host @ChrisRock addresses this. #OscarNoms #OscarsSoWhite

— Marlow Stern (@MarlowNYC) January 14, 2016
Many great films were nominated, but African Americans were shut out of the 7 top categories. Disappointing. #OscarsSoWhite …AGAIN.

— Shaun King (@ShaunKing) January 14, 2016
#OscarsSoWhite is back! Not a single person of color among the 20 acting nominees. And #StraightOuttaCompton no best picture.

— John Horn (@JGHorn) January 14, 2016
At this point #OscarsSoWhite is a yearly tradition

— Daniel Johnson (@God_sgift_) January 14, 2016
Idris Elba even went into the jungle, put on a beret & had a part in thousands of black deaths. Still no nom. The jungle fam! #OscarsSoWhite

— C.A. Huggins (@C_A_Huggins) January 14, 2016
Straight Outta Compton got nominated but only its four white screenwriters. #OscarsSoWhite

— Madison (@Madison_Dyann) January 14, 2016
It's all a scheme guys, POC have 2-3 movies a year when whites get 20+ so they have more chances of getting nominated. #OscarsSoWhite

— robert_da_vinci (@robertbett1) January 14, 2016
The sequel for #OscarsSoWhite is coming out on Feb. 28th. Here's a sneak peek: pic.twitter.com/ymrsPtVKGw

— Jeyson Paez (@JeysonPaez) January 14, 2016