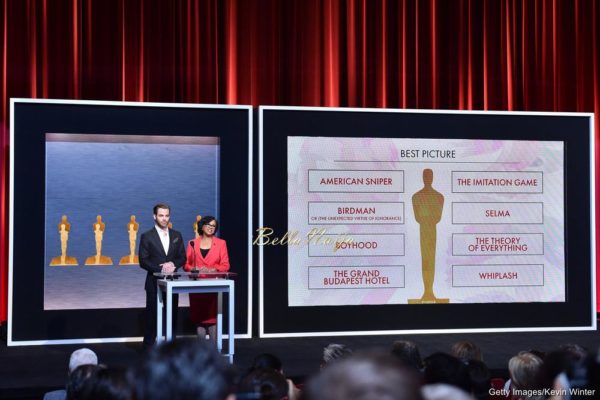 The 2015 Academy Award nominees were announced this morning (click here if you missed it) and for the past few hours Twitter has been abuzz with the fact that there was a lack of diversity in almost all categories.
There have especially been reactions to the fact that David Oyelowo, who has received a lot of praise from other award platforms, was not nominated in the 'Best Actor Category' for movie 'Selma'. The director of the movie, Ava Duvernay, has also received a lot of awards for the movie but she was also snubbed by the Oscars.
The last time the Academy nominated all white individuals in the acting categories was 2011.
Take a look at some of the reactions on Twitter:
Huffington Post even referred to the Oscars as the 'Whitest Oscars since '98'.

See more reactions below:
FUN #OscarNoms FACTS: No female directors screenwriters or cinematographers and no actors of colour nominated today pic.twitter.com/kxgzV4KMhE

— Glen Coco (@MrPooni) January 15, 2015
The diversity gap in the Academy Awards via @WritersofColour #Oscars2014 #Oscars pic.twitter.com/LvnOUZ2H3d — Amélie Koulanda (@akoulanda) March 2, 2014
#OscarsSoWhite they haven't shifted their selection process in 87 years #OscarNoms pic.twitter.com/oMB1mVXUZ0

— Glen Coco (@MrPooni) January 15, 2015
When Laura looked out, all she could see was white. "Is it a blizzard, Pa?" "No, Half-Pint," Pa said. "Just the Oscar nominations." — Laura Ingalls Wilder (@HalfPintIngalls) January 15, 2015
This is far from a Black/White issue. This year's Oscar Nominations shut out people all of color universally in every major category.

— Shaun King (@ShaunKing) January 15, 2015
A horrible year for diversity for the Academy: all white actors/actresses; no female writers or directors in Oscar race. Shameful. @Variety — Claudia Eller (@Variety_Claudia) January 15, 2015
huh, this Oscar guy sure likes white dudes

— Lex (@lexcanroar) January 15, 2015
Wow that is a blindingly white male dominated list of Oscar nominees. Great. — Preeti Chhibber (@runwithskizzers) January 15, 2015