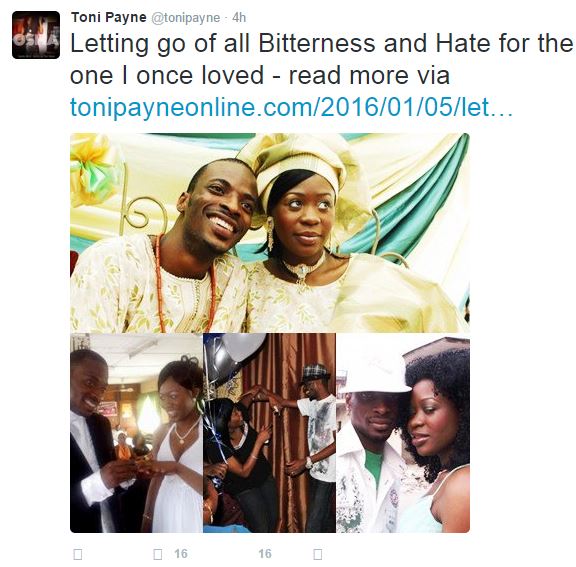 Toni Payne and her ex-husband, 9ice, had a particularly messy breakup when they separated 6 years ago.
They got divorced after 18 months of marriage and details of their marriage (and divorce) was played out messily in the media.
In a bid to move forward from the past, Toni Payne shared these tweets on Twitter stating that there was no resentment between them and that they made a good team while they lasted.
She wrote:


She also added on her website:
It has been a good 6 years and now I can categorically say I have let go of all bitterness and hate I felt for a man I once loved. It has been an uphill journey but to find myself here is a blessing.

Without getting into detail and backtracking too much, I'll summarize it as a lot of naivety, a lot of bad decisions, and a lot of untrained media professionals ready to blow things out of proportion. A man sang a song and for whatever reason known to them, Nigerian Media "professionals" decided to tag it as what it was not, and a lot of Nigerian onlookers decided to help spread it without knowing if it was true or not and unfortunately for me, I was caught in the crossfire. A lot of people formed opinions about me, some even hate me till today for something that was mere fiction. Such is life right?

Till today, I still wonder how things got that far. I wonder how things got so nasty. I wonder how a once beautiful relationship turned so sour so quickly.

These days, we talk – a lot. We talk about what happened and how we got here. These days, we can now joke and laugh about the past. I ask a lot of questions because I really want to understand him and put myself in his shoes. I also hope he understands my every reaction and puts himself in my shoes.

Through all the mess, we never really talked deeply about things. There was too much resentment on my side for me to want to allow him in. There was too much bitterness in my soul to ever want to forgive. I honestly never thought this day would come – that is how angry I was. There is a Yoruba proverb that states "when the ocean rises, you don't rise to meet it." For every action there is a reaction and for every reaction there are consequences.

I think sometimes, when you are finally in a good place, it is good to talk. Don't just leave things like that, reach out to each other and talk about things. It is good for both parties to get closure. It is good to try to understand each other and move on with peace in your heart.

He stands by his reasoning that he never mentioned my name or ever accused me of such, and even though I agree with him that he never accused me of anything, I stand by my reasoning that he still should have defended me against a very wicked rumor. He argues that he felt it would have escalated things, I argue that things got escalated because he did not speak up.

We both believed in our decisions at that point. He felt silence was the best answer, I felt I needed to defend myself for posterity sake. At the end of the day, it is what it is. When the noise calms, we still have to deal with each other. When the curtains fall, we still need to have each others best interest at heart.

I am not perfect but I can categorically say I did my best to be a good woman to him. I still do. I believe deep down inside, he knows this. I do all possible best never to speak ill of him publicly – and as far as I know, he does the same for me.

After everything we went through, I always say it is best to keep your private life private. I write this today not to deviate from that but it would be unfair to forgive wholesomely for something that was so "Public" while leaving the impression that I have not. I know a lot of people think I hate him- I don't!.

I also write this today not to bring up the past but to go on record and let anyone that feels bitter inside know that it only gets better. Trust me, if I can move on from an entire nation thinking I cheated when I did not, you can also forgive whomever hurt you. Just let love and kindness in your heart. Bitterness is a heavy weight to carry and now I feel 100 times lighter.

I believe the younger ones can learn a lot from our errors and most importantly learn about forgiveness. In life, we can only predict what we want from it, we can never ever guess 100% what it will give us. I spent so many years caring what others think till I realized in this life, the opinion of others is just that – an opinion. I believe I am starting my 2016 off in the right direction. I hope to work on forgiving others who contributed to this chapter in my story. I believe this is a great place to start. At the end of the day, we are family and I am eternally grateful for the grace to see this day.

Cheers to 2016 – whoop whoop..  lol