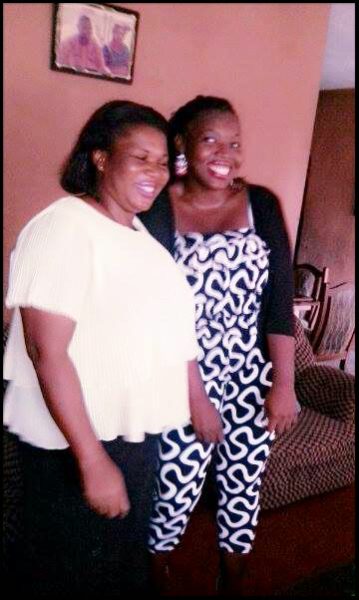 I was washing plates in the kitchen when some of my mom's words started replaying in my head.
I laughed silently to myself and thought of writing 20 things that drive me crazy about her but ironically also make me laugh when I remember them.
No one is perfect but my mom's idiosyncrasies just goes to show that there's always something that stands everyone out from the crowd… and even when that thing drives you crazy when you are with them, you look back to times when they display that craziness and you can actually laugh because without that craziness they won't be who they are to you.
On this special of her birthday February 20th, I would love to celebrate her by celebrating both her craziness and goodness.
So here goes 20 things my mom says/does… things that make us quarrel and argue when we are together… but cause me to break out in smiles when I think of her…
She can talk for Delta State
Case in point, the last soup I cooked in the house had a little mishap…
She: "You burn the soup? Wetin you dey do when e dey burn?"
And I'm giving excuses: "e nor burn, na the egusi…"
And she goes back to have her bath still talking about the burnt soup… *sigh*
Person nor go hear word for at least the next 30 minutes.
She contradicts herself a lot
She: As long as you are under my roof, you nor go do this one for here…
And I am like, "but you yourself have said that I am 24 and old enough to even give birth to 2 kids, how come you still don't want to release me to make my own decisions on something as small as what Church to attend?".
Her statements concerning husband and marriage
She: Shey Naso you go go do for your husband's house?
Me in my mind: What's this thing about husband and husband.
Free me ohhhh.
She still washes my clothes, even down to my bras
I don't know how many moms still do this, but I can stay for a month at home and my hands never wash any clothes… my younger sister can't even remember the last time she washed her own clothes… as long as she wants to wash her own clothes, she will pick up yours too without you even asking and this she does with no iota of ill-feeling whatsoever.
She just thinks "my baby would always remain my baby".
The way she feeds me (us)
I go home like twice or once in a year and since I am on fit fam things, I usually go home slimmer than the she last saw me and because of her my fat/slim sef works in a cycle…
I stay fit and slim for the whole year but once I step my feet at home it's banga soup and starch today, owho and eba tomorrow and she does this so happily, you can actually feel that my eating food gives her joy.
Before I left home, she deliberately went to the market to cook Egusi soup, saying "I want you to eat this before you leave".
Ah, mammi me 🙂
Her sacrificial nature
My mom never buys anything and then eats it alone, she shares every single thing with us no matter how little it is.
Recently, God has been teaching me on how to be a wife and selfishness was one area He dealt with me on.
I can buy boli and fish and hide to eat it alone *covers face*… but studying my mom has made me realize that that's not the way to go to become the amazing mother I want to be.
The way she says "I want to cook for my husband"
Sometimes you'd think that the children are not included in the family.
Why would she buy fufu and say "na only me and my husband I buy for, you and Wini should go and buy your own…"
To me, she absolutely makes my dad see that she still holds him in high esteem, despite the fact that they have kids together.
It's a classic case of "it's my husband first before the kids" and I know lots of women get it wrong in this area.
I have learnt this truth from her and hope to inculcate it in my home.
Her mouth-watering banga soup.
I have a friend who continuously reminds me to come home, so my mom can cook banga soup and then I should invite her to come and eat.
The entire house smells of delicious banga soup every time my mom cooks it… and I kid not. I can actually perceive banga soup as I type this, it's that good.
Her funny mode of addressing issues
My mom would rather talk around the house than sit you down to address the misunderstanding you both had.
One matter will open other cans of worms…
As annoying as this can be, I find myself laughing about it when I am far away from her.
Like it actually tugs at my heart on a "this woman eh na character… kai!" level.
The good, the bad, they make up who she is and I appreciate her with the little "scion scion".
Her neatness
She is neat to a fault.
She and my dad were separated for 14 years before they came back together and there was a day my dad was using her as an example to us…
He talked about how there used to be no grain of sand in their small room and parlor when they first got married.
How she would sweep when a guest came in and sweep when they leave… fold the clothes, do the cooking, keep the kitchen neat, etc.
Apart from realizing that the man was missing his wife *wink wink*… I also realized that I have to step up my game on being neat.
I am a disorganized somebody (this has a little to do with my personality I guess)… but little by little, my mom's attribute inspires me to work on this area of my life.
Her love for Urhobo music
Choi!
My mom would wake up in the morning and say "play that disc for me".
It's not the tush Urhobo music that Sammie Okposo sings oh, its the thick one that can only come out from Ughelli.
And she'll dance and dance and turn up the volume… I'm like "mommyyyyy! please!"… but then she will not change from this so let's just move along.
Her forgiving nature
I'd offend her, say something stupid, say I'm sorry and she'll say "I nor dey vex, how I go vex for pikin wey I born?"
Full stop. Period.
Her massive distaste for anything torn/old/damaged
Hmm, if your beloved shirt is torn and you are planning to sew it, just don't let my mom see it.
It just might get lost and never be found.
Ah, my mom just likes throwing things away.
You say what?
It's torn and you want to sew it? Buy new one jor!
I will end here.
Her love for fine things
My mom will watch TV, see something, maybe fine plates set, turn to my dad and say "Naso I want my own to be, you go see nah, Ughelli go bow".
At such times, I just smile and think this woman… God will bring your desires to pass.
Her funny prayers
Example: I set fire upon their anus…
My sister and I always laugh when we remember this… should we say amen or what?
I don't know oh mommy.
Her vigilante eyes
My mom doesn't sleep.
If you get up at night to drink water or urinate, she gets up too.
Please is it only my mom that does this detective business? Does your mom do it too? Let me know so my heart can be at rest please.
Her sharp instincts
I have learnt to listen to my mom when she says that she doesn't like someone.
All the friends she was adamant about us having all turned out to be bad for us.
She has such a sharp instinct for not just her kids but for everyone we align with.
Her zero to none social media presence
My mom is not on any social media network.
Facebook, Twitter, Whatsapp…what's all those?
She's okay with having a phone to call just her personal people.
Her exclamations of "I dey my house"
My dad would bring up discussions of stuff happening in Nigeria, maybe on violence and after the merry go round of talks, my mom always makes sure to end with "na them sabi oh, I dey my house".
It always makes me smile when I hear it. You dey your house ba? Who tell you say them nor dey their house too?
Her anticipation for my wedding day
I remember when I graduated from Law School, came home and my mom was so overjoyed… in fact, she was so overjoyed she wanted the next stage to come so quickly.
I had to sit her down, dim her joy a little bit and tell her "I can't marry just anybody and she should please mellow down small".
That conversation toned down her gyrating a bit… I appreciate her for understanding me and these days I even join her to say things like "my husband go do this or that".
Or she'll say "when you wan born, you go come our side for Omugwo nah.."
And we would actually sit and talk about such things.
I feel her on another higher level as I grow… and really, finally, all daughters become women and when we finally do, we understand the place our moms function from a little bit more.
Even the crazy things become peculiar things that make us smile.
It's hard to imagine that I am the one writing this, years before now I used to be the stubborn girl who'd rant and rave at you… how naive!
Even till today I still slip and talk back to you but you never take it as anything…
I'd say sorry and you'll say okay.
You are a mother indeed… I can never take that away from you.
And you do not know that I am watching, but I watch you, I see the way you act, your behavior, your attitude and I am picking the great things to inculcate.
There's a lot of things I'm learning from you, things that will be of great use to me in the future.
Thanks for being our mommy!!!
And Happy birthday on this your special day Mrs Perpetual Okoro!
I let too many of your of birthdays go by without celebrating you and if the only way I can do this now is by using my gift of writing for you, then so be it.
I look forward to seeing the joy on your face as you carry Deborah, Daniel and David, your future grandchildren from me.
I pray God gives you life to enjoy the fruit of your labour through us, your children.
Love and lots of love,
On behalf of the Okoro family,
Your first Daughter,
Frances.