A collaboration in celebration of Motherhood by two brands driven by dynamic women. #MyMumAndI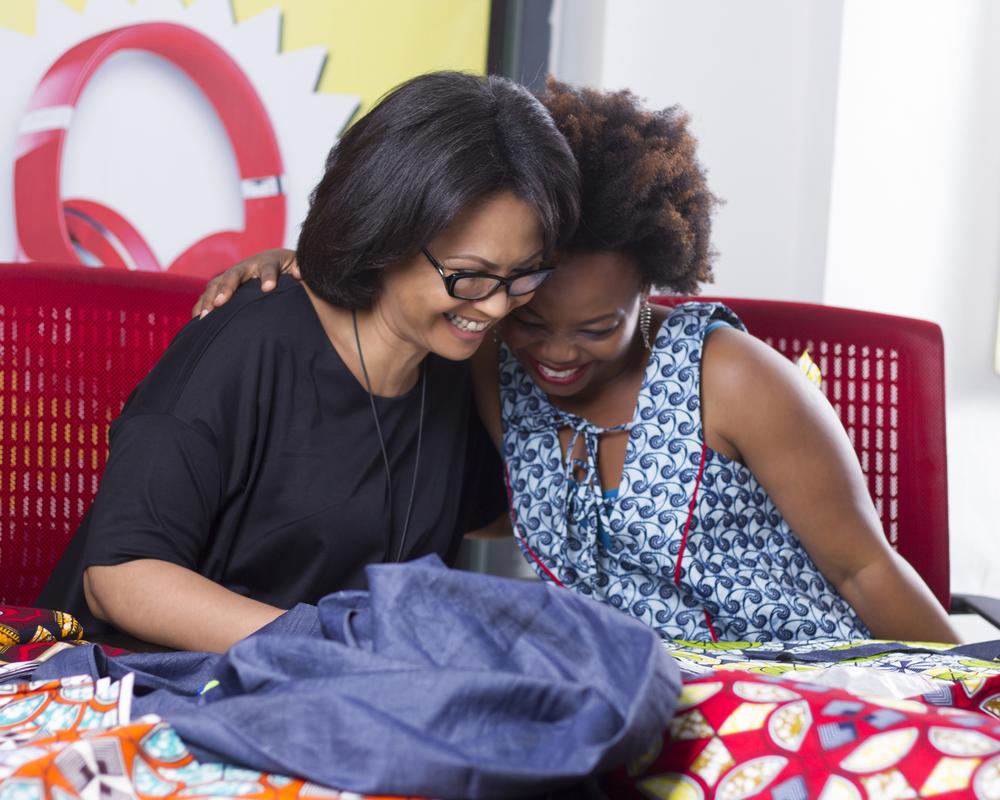 We are celebrating Motherhood by acknowledging dynamic and hard working mothers. We know Motherhood is a tough gig and it has it's baffling moments but the most powerful motivation for us as mothers is to see our children happy. Motherhood is a wonderful journey, with it's accomplishments, heart-swelling pride and bottomless pit of love.
This coming Mother's day, Ruff 'n' Tumble, the most dynamic, creative and fun children's fashion company in Africa has partnered with Tae, a distinctive, aspirational Nigerian brand to offer mothers the opportunity to express the bond and relish the pure joy of time spent with their children. The two leading Fashion brands has created the "My Mum and I" Limited Collection which is fun, comfortable, ethnic yet modern. The collection consists of matching mother and child looks and is inspired by dynamic, youthful, fashionable and trendy mothers as well as warm, loving and outgoing children. Mothers can find a versatile wrap dress that will give them the "wear anywhere elegance". To complement the dress, Ruff 'n' Tumble has created a mix of western and ethnic fashion pieces for children. Each look offers mothers the opportunity to create exciting experiences with their children.
The collaboration which is a celebration of motherhood comes from two businesses driven by inspiring women; Adenike Ogunlesi, Founder, Ruff 'n' Tumble and Bisola Edun, Founder, Tae. These women believe motherhood should be fun and exciting, filled with joy, laughter, perseverance, hard work and time well spent with your children in order to strengthen the relationships between a mother and child.
The My Mum and I Limited Collection is now available in selected Ruff 'n' Tumble stores nationwide.
Mother's Day is on March 6th! Get your awesome outfits now!
Let's rock Mother's Day in the My Mum & I Limited Collection.

To get more information, kindly call Fisayo, Customer Care, Ruff 'n' Tumble on 08120276442.
Join Ruff 'n' Tumble to celebrate Mother's Day on Social Media. Record your child telling us why their mum is so special and post it on Instagram using the hashtag #MyMumandI and #RuffnTumble. Ruff'n' Tumble is going to be reposting!
Follow and Like @Ruffntumble on Social Media
Facebook: Ruff 'n' Tumble Kids
Instagram: @ruffntumblekids
Twitter: @ruffntumblekids
Here is what some Ruff 'n' Tumble Trendsetters have to say about their mum:

Selected Ruff  'n' Tumble Stores  Stocking the Collection:    
FLAGSHIP  STORE:
Address:  7,    Isaac    John    GRA,    GRA    Ikeja,    Lagos | Phone:  +234(0)8169844936 | Opening  Hours:    Mon-­‐Sat:    8:30am    -­‐  6:30pm
IKEJA  MALL,    ALAUSA: Address:Shop  L47,    Ikeja    City    Mall,    Alausa    Ikeja,    Lagos | Phone:  +234(0)7080706611 | Opening  Hours:    Mon-­‐Sat:    10:00am    -­‐  8:00pm    Sundays:    10:00am    -­‐  7:00pm
SURULERE: Address:Adeniran  Ogunsanya Shopping Mall | Phone: +234(0)8028116198 | Opening  Hours: Mon-­‐Sat: 10:00am -­‐  8:00pm , Sundays:    11:00am -­‐ 6:00pm
LEKKI PALMS  MALL:
Address:Palms Shopping Mall, Lekki Lagos | Phone:  +234(0)8088796694 Opening  Hours: Mon-­‐Sat: 8:30am  -­‐ 8:00pm, Sundays: 11:30am -­‐ 8:00pm
CENTRO  MALL:
Address:Shop  11/12 Centro Mall, Admiralty Way Lekki Phase 1 Lagos | Phone:  +234(0)7081186909 | Opening  Hours: Mon-­‐Sat: 10:00am -­‐ 8:00pm, Sundays: 12:00pm -­‐ 8:00pm
CIRCLE MALL:
Address:Jakande  Roundabout,    Osapa,    Lekki,    Lagos | Phone:  +234(0)7081186909 | Opening  Hours: Mon-­‐Sat: 10:00am -­‐ 8:00pm, Sundays: 12:00pm -­‐ 8:00pm
ABUJA 1:
Address:  Ceddi    Plaza,    Tafawa    Balewa    Way,    Abuja | Phone:  +234(0)8051161416 | Opening  Hours:    Mon-­‐Sat:    10:00am    -­‐  8:00pm    Sundays:    1:00pm    -­‐  6:00pm
ABUJA 3:
Address: Jabi Lake Mall, Abuja | Phone: 08024613263 | Opening  Hours: Mon-­‐Sat:10:00am -­8:00pm    Sundays: 1:00pm -­‐ 7:00pm
PORT HARCOURT 2  
Address: PH Mall Plot 1/2 Nnamdi Azikwe Road, Liberation Drive by Government House, Old GRA | Phone: +234(0)9022203783 | Opening  Hours: Mon-­‐Sat: 10:00am-­‐8:00pm, Sundays: 11:00am -­‐7:00pm
_____________________________________________________________________
Sponsored Content