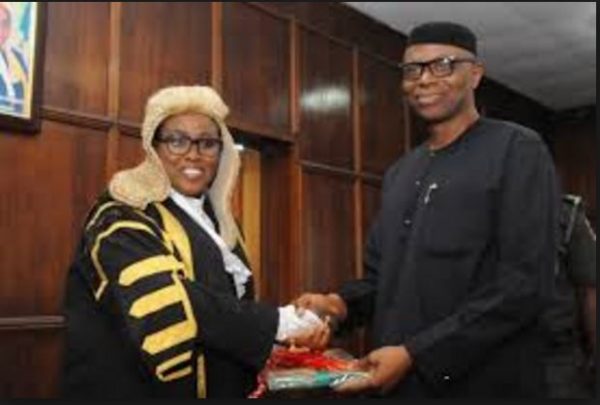 Jumoke Akindele the first female speaker of the Ondo state House of Assembly who was impeached yesterday by her colleagues as a result of her alleged '"incompetence, highhandedness, drunkenness, easy virtues, lack of focus, lack of transparency, arrogance and poor leadership" has been reinstated.
Speaking in a press conference held in Akure on Wednesday, March 9, Olamide George the Chairman House Committee on Information announced that the Speaker and Deputy Speaker, Fatai Olotu, had been reinstated.
George said the issue of the leadership crisis in the house was an internal affair and had been treated as such.
"On Tuesday, 8th of March, 2016, sizeable number of members of Ondo state house of assembly met on some burning issues touching on the leadership of the house.

"Before plenary today, Wednesday 9th of March, 2016, members, at a larger and official gathering, met to review the situation.

"They consequently resolved to allow the status quo ante on the leadership of Ondo state House of Assembly as at 7th March 2016 to remain," he said.
According to Thebriefng, Ondo state governor, Olusegun Mimiko is believed to have intervened in the situation hence the reversal of the impeachment.