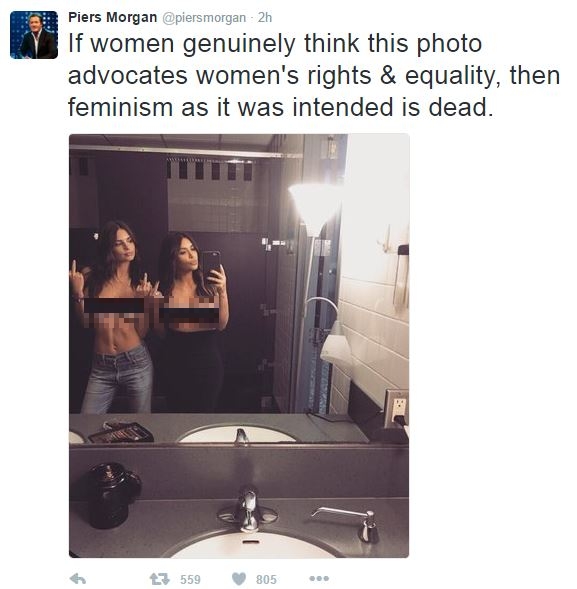 Kim Kardashian posted a topless photo…again.
The reality TV star shared the photo last night on both Twitter and Instagram, alongside model Emily Ratajkowski and after writing an article on it the last time, Piers Morgan is reacting to the NSFW selfie again.
He tweeted several things to the ladies and ended his series of tweets with "RIP Feminism".
See his tweets below.
Classy ladies. Real classy. https://t.co/DOG9gjP6z4

— Piers Morgan (@piersmorgan) March 30, 2016
Just a thought @KimKardashian @emrata – but you could always try wearing a little dignity?pic.twitter.com/ce4qEvn0ls

— Piers Morgan (@piersmorgan) March 30, 2016
Yes, luv.
But giving the bird to millions of strangers as you stand topless & gormless probably isn't the best way.
https://t.co/OzRjABzcoE

— Piers Morgan (@piersmorgan) March 30, 2016
RIP feminism. pic.twitter.com/dqxKla2i5Q

— Piers Morgan (@piersmorgan) March 30, 2016
I don't dispute their right to get their kit off & flick the bird to millions of strangers.
It's just tacky. https://t.co/VCnMMVNDoh

— Piers Morgan (@piersmorgan) March 30, 2016
Why should all choices be respected?
If I make a bad choice, I get rightly disrespected. https://t.co/SBzYpcYgxg

— Piers Morgan (@piersmorgan) March 30, 2016
Oh Emily, enough of this nonsensical pseudo-feminist gibberish. If not for me, then for Emmeline. https://t.co/VuMgX6KWQW

— Piers Morgan (@piersmorgan) March 30, 2016
Happier, more tasteful days. @KimKardashian. pic.twitter.com/viTrOGFLGS

— Piers Morgan (@piersmorgan) March 30, 2016
It's supposed to be the advocacy of women's rights & equality with men.
Not, I dare to suggest, topless selfies. https://t.co/XtaogLmJ8t

— Piers Morgan (@piersmorgan) March 31, 2016