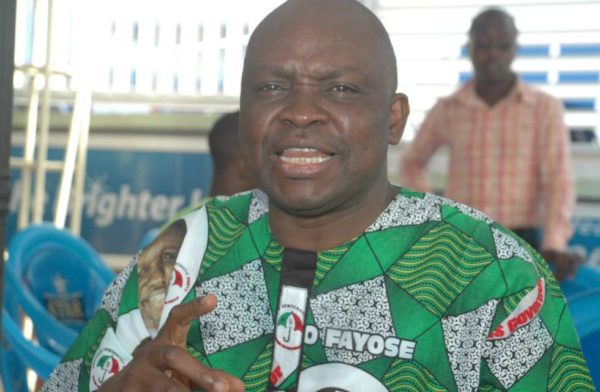 The Special Assistant to Governor Fayose on Public Communications and New Media, Lere Olayinka has reacted to a statement made by Ekiti State APC that the sitting governor is a threat to national security.
He said, "It is only in Nigeria that a party that ran Ekiti State aground in four years and was rejected in six straight elections by the people can still be talking."
"The major threat to national security is a party that lost election since June 21, 2014 and still trying to get back to power, using crude means including turning itself to the mouthpiece of the Department of State Services (DSS)."
"In the last three weeks, everything the APC speculated that the DSS was going to do was exactly what the security agency did and that has reinforced the belief that the DSS was working in collaboration with the APC in Ekiti State to destabilise the Fayose-led government."
"The question that Nigerians must ask the APC Spokesperson in Ekiti State, Taiwo Olatunbosun is whether he now doubles as the DSS spokesperson." he continued.
"When you try to truncate democratically elected government, deny Nigerians rights to fair hearing by detaining them indefinitely, and disobeying court orders, while also failing to conduct free and fair elections. What is such a government inviting other than breakdown of law and order? And what should such a party in power be called other than security threat to Nigeria?"
"Or what should Nigeria call a party that caused the murder of over 20 Nigerians, including Youth Corps members in Bayelsa and Rivers States just because of desperation to win elections?"
He also said that for the APC-led government to keep quiet on the killings of over 400 indigenes of Agatu means they are the real threat to national security.
Source: Vanguard