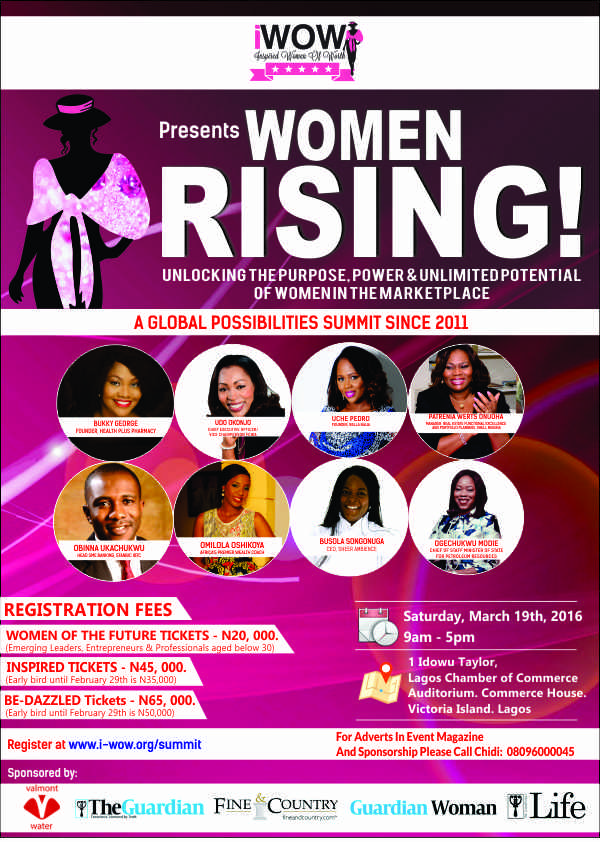 We will like to invite BellaNaijarians to attend this year's iWOW Global Possibilities Summit. The theme this year is "Women Rising" – Unlocking the purpose, power & unlimited potential of women in the market place.
Be nowhere else on Saturday March 19th but at the iWOW Global Possibilities Summit. We are creating new platforms, and opportunities.
It is a platform to inspire, educate and unleash your wow factor in life, at work and in business.
Inspiration. Leadership. Entrepreneurship.
Don't be one of those women who think, there's no more mountain to climb. There's always a higher level. There are always new connections to be made. Make sure it's the right one. At iWOW we are mandated to call out POTENTIAL, PURPOSE and POWER.
Expected at the iWOW summit are women who are committed to starting their businesses, emerging business leaders who are looking to increasing their influence and profitability and professionals who want to be much more impactful in their fields. This is an event for women who refuse to live the ordinary life.
The iWOW Global Summit has been transformational for so many young, aspiring and emerging women in and across multiple countries with countless testimonies of great business and career success on record.
This summit has been running since 2011 and promises to be highly interactive and impactful.
The iWOW summit will include a line of successful and seasoned leaders including the multi award winning Bukky George, MD Health Plus, Uche Pedro, Founder – BellaNaija and Udo Okonjo, Chief Igniter/CEO Fine & Country, West Africa just to mention a few.
Don't miss out! Simply register at http://i-wow.org/summit/
See registration fees listed on the flyer.
About iWOW
iWOW was founded in 2010 by Udo Okonjo. It was established on the belief that every woman has within her a treasure of unlimited possibilities with a sole mandate to reach women with a uniquely inspiring message of Purpose, Power and Potential.