World Oral Health Day: Unilever Targets One Million Children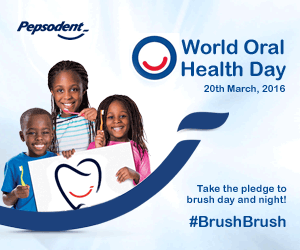 As this year's World Oral Health Day (WOHD) takes center stage at Teslim Balogun Stadium on March 18th, Unilever Nigeria plc has intensified commitment towards ensuring a cavity free Nigeria by targeting one million children in this year's oral health campaign.
Pepsodent in partnership with the Nigerian Dental Association (NDA) is taking the bold step to promoting the culture of brushing day and night in the country which is a global best practice to healthy oral-care.
Speaking with the media during a press briefing to kick off this year's World Oral Health Day, the Vice President, Brand Building, Unilever Nigeria plc, Robbert-de Vreede said Unilever is committed to doing business in a sustainable way and that is why they have partnered with Nigerian Dental Association, Federal Ministry of Health and other stakeholders towards getting better awareness for oral health. He said "90% of the world's population suffers from oral diseases. When kids are affected by such diseases they may not be able to bear the pain and as such affect them in school or cause them to drop out of school for a period of time".
Delivering his speech at the event, the President, Nigerian Dental Association, Dr Bode Ijarogbe detailed that World Oral Health day celebration is aimed at increasing awareness for oral health as well as the impact of oral diseases on general health, well-being and national economies.
This success was possible with efforts from various stakeholders including our major partner and sponsor Unilever Nig. Plc.
Dr. Bode Ijarogbe also stated "The theme for this year's celebrations "Brush Day and Night… Healthy mouth. Healthy body" reflects the major contributions oral health makes to our lives and focuses on us as Nigerians with a view to changing our attitudes with respect to our oral health needs. This year's theme particularly reminds us that the mouth is an integral part of the body as such systemic problems will not only manifest in the mouth but that poor oral health can also predispose to systemic problems''.
He concluded that this year World Oral Health Day celebration activities includes, Brush Day & Night Campaign, health awareness walk from LUTH, Idi-Araba to Jibowu bus stop, Lagos, dental outreaches with minor interventions to rural communities.
In her remarks, Category Manager, Oral Care, Unilever Nigeria, Bunmi Adeniba said that Unilever is committed to improving the oral health of ten million children in the country by 2020 through Pepsodent Brush Day & Night schools programme, adding that Unilever is targeting one million children in 2016. She said "We are driving positive behavioural change and promoting the culture of brushing twice daily – day and night- which is a global best practice to healthy (oral-care) living."
"Pepsodent Triple Protection toothpaste  is one big breakthrough formulation that guarantees protection against cavities, stains and bad breath and these are the most prevalent oral care needs in many homes" she concluded.
See more photos from the event below
—————————————————————————————————————————
Sponsored Content