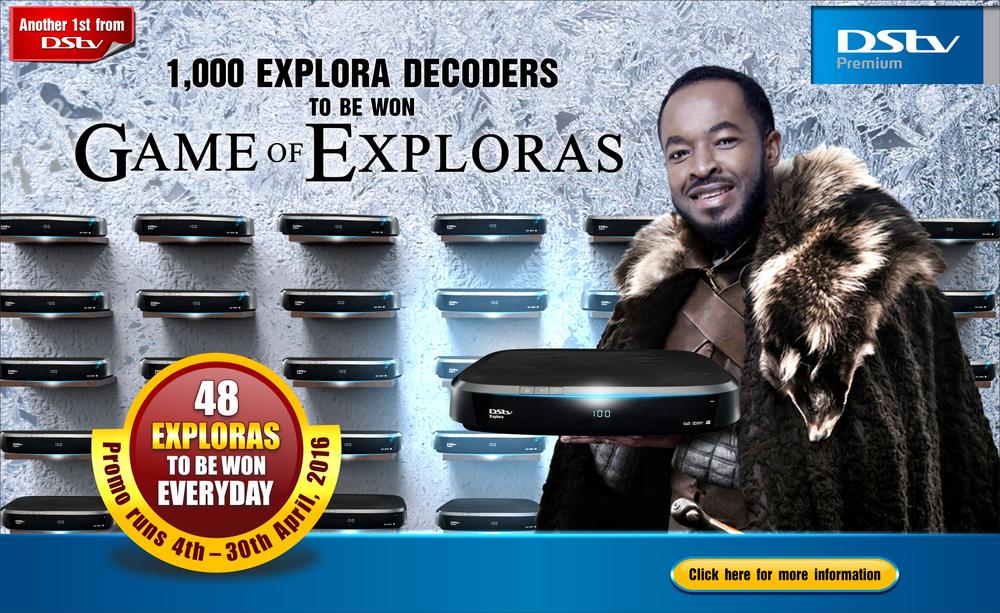 In anticipation of the all new season of Game of Thrones (Season 6), DStv is giving away 48 Explora Decoders everyday (Monday to Friday) to Premium subscribers in the Game of Exploras promo.
Take advantage of this exclusive offer to own an Explora by simply staying active on PREMIUM all through April… and get ready to rewind, record or pause LIVE TV, Rent BoxOffice movies or simply Catch Up on your favourite series on the amazing Explora.
You could be one of the winners. Winners will be announced weekly on www.facebook.com/DStvNg
Stay connected to Premium this April & Feel Every Moment!
Remember to watch out for the most anticipated return of Game of Thrones as season 6 Express from the U.S. airs on M-Net Edge (DStv channel 119) on Tuesday, 26 April at 1am and in Prime Time on Thursday, 28 April at 10pm. Best of all, you can record the entire season on the Explora. Amazing!
You have every reason to be on the Premium bouquet this April – with other new and exciting shows like Hush, The Voice Nigeria and Lip Sync Battle Africa coming your way on DStv.
________________________________________________________________________________
Sponsored Content