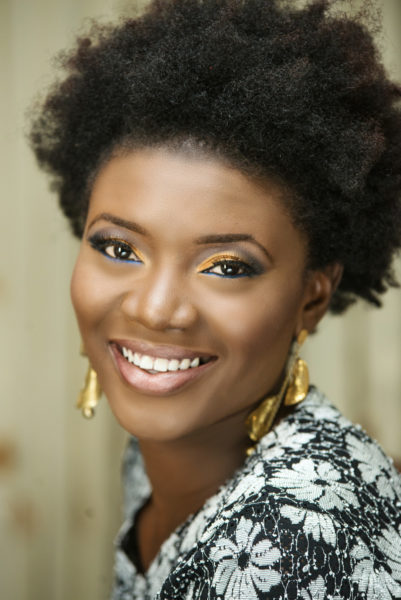 At the end of 2014, I proposed a travel destination to a friend of mine. She wasn't very keen, but I had been looking forward to going there, so I sent her a few links and reviews. After some research, she became just as excited as I was. In April last year, we set out for Thailand via Turkey!
We had a full day in Istanbul which was a lot of fun.  We left Nigeria on a Thursday night; this worked well as the flight was a midnight flight, so we both went to work. The next day was good Friday, which was a public holiday in Nigeria (Easter Monday was also a pubic holiday so we gained two days at work, yipee)
We spent that day in Istanbul then left at night for Bangkok. We arrived Bangkok and finally got to our hotel around noon.
We had two places in Thailand in mind, Bangkok and Phuket.
We spent the first three days in Bangkok. We had an idea of what it might cost us to get to our hotel so at the airport, so when someone said an extremely exorbitant price, we walked away. There were people who beckoned on have a look at tours, for some reason, we were both drawn to a particular gentleman who sold his product well to us.
We booked a tour for the next day. He arranged a taxi to take us to our hotel and we left. We were jet lagged and sleep would not come. We spent two days travelling so we needed to rest before starting activities.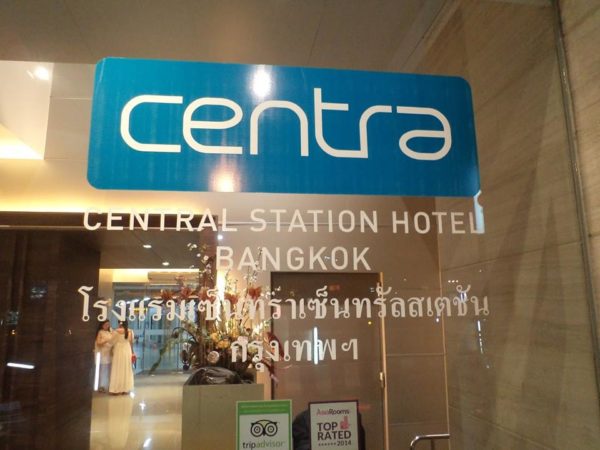 We stayed in this hotel. The rooms were spacious and nice, we had a good view from the room (we stayed on both sides of the hotel, on one side it was just the wall, on the other, you could see outside), the hotel staff were attentive, we had no complaints. It was in a nice location, it was quite central. We could get around very easily, by train, taxi or tuk tuk. The train station, Hua Lamphong, was just across the road from us.
The next day was a Sunday, Easter day, but it didn't seem like a Sunday…everywhere was bustling with life. At the set time, our tour guide was waiting for us at the reception. When we got to the reception, she picked us out very quickly, she didn't need to hold up name cards, she must have been told that we would stand out 🙂 Nancy was very pleasant, patient and sweet. Our first stop was Wat Pho Buddhist Temple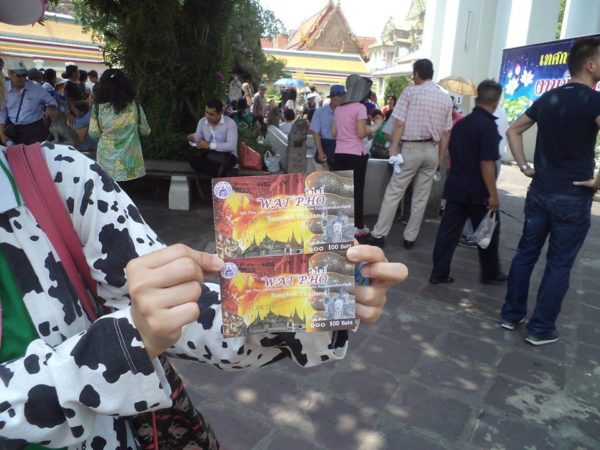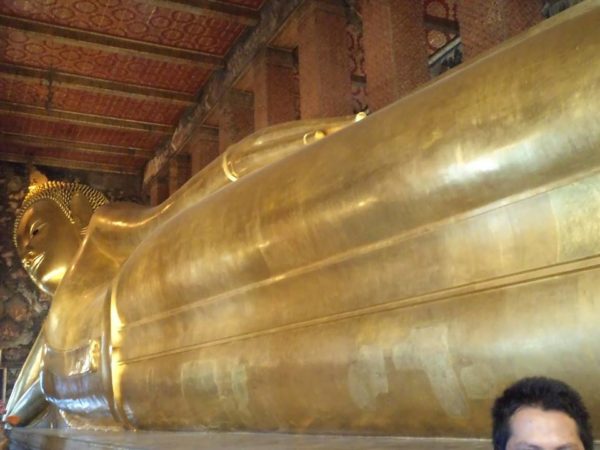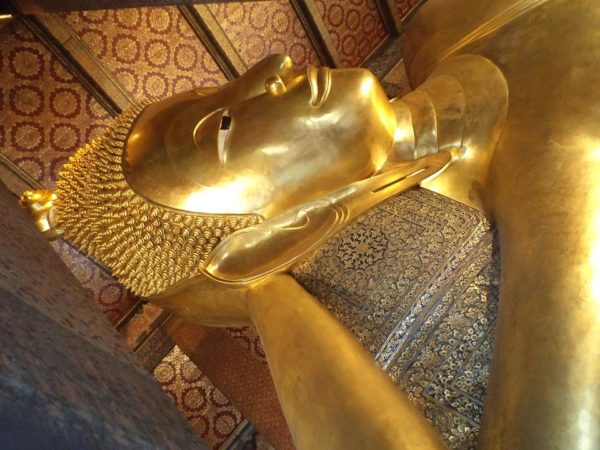 We went to other temples and saw many other things. In general, it was a good start.
Lest I forget, in one of the temples, as is customary, you sit with your legs folded. I was getting tired of this position and wanted to sit normally, but when I unfolded one foot and had it stretched out, Nancy instinctively hit it and made a sound. I asked what was happening and she said it was disrespectful to have your feet to the buddha. I tucked it back in quickly. That's a tip I will not forget in a hurry!
At the end of the day, we went by the office where Nancy worked as she asked that we pass by to give feedback. Her boss was a lovely woman. She made us an irresistible offer – one of the princesses' birthday was on Easter day and she is loved by the people. It was a significant birthday too! So on that day, there was 30% off many things…even tours! We had plans of all we wanted to do in Bangkok and Phuket, so there it was staring us in the face.
Everything would be organised for us and she told us more things to do, that were already part of the tour package. We thought it would be a good deal and that it would be worth every dollar, so we jumped at it! Everything was part of the package – airport and hotel shuttles, transport to all the sites, ticket payments e.t.c. This just meant, relax and enjoy it all.
The next day we headed North of Bangkok to Ayutthaya. The first place we went to was Bank Pa In Palace. The place has some history, if you open the link, you can read all about it.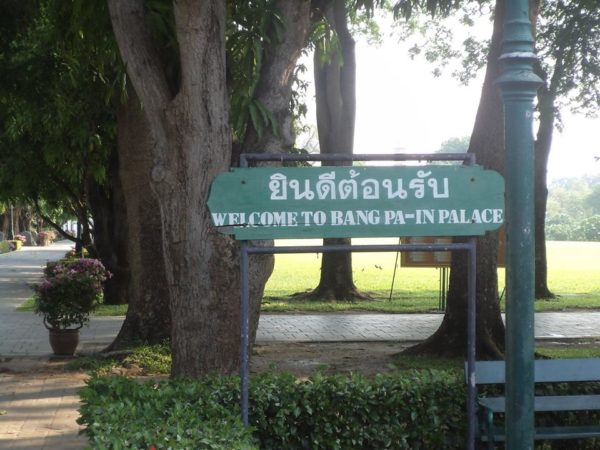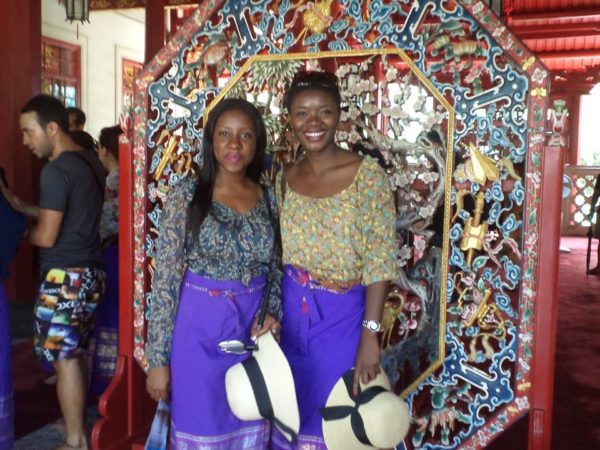 Photos were not allowed inside the palace, we were only allowed to take photos around the premises. We were given these wrappers as our dresses were not long enough. Others who wore shorts or had their shoulders exposed were given appropriate clothes to cover up also.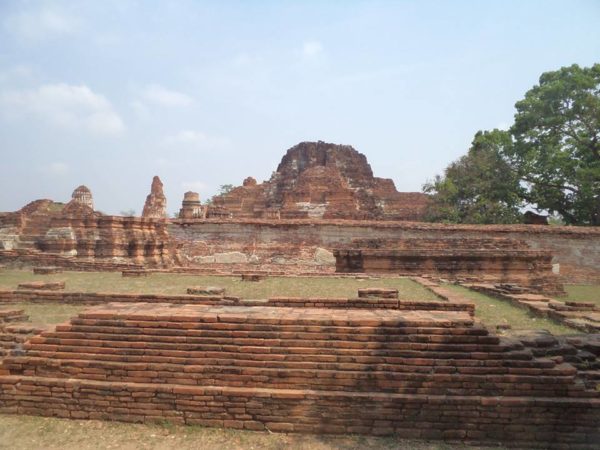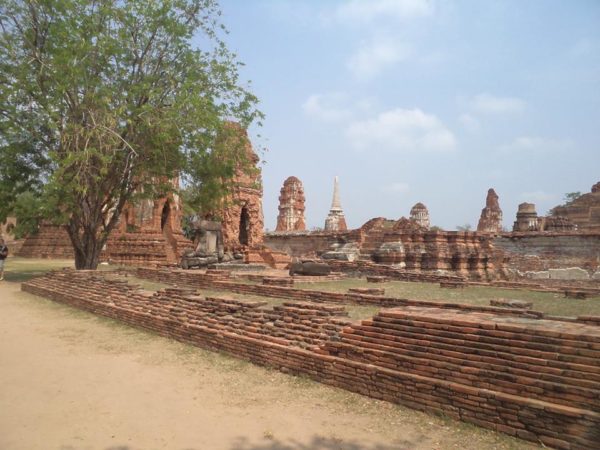 Ayutthaya is a UNESCO World Heritage Site with it's rich history.
While we were at this site, a certain woman kept following us and trying to take photos of us. I would have obliged if she had asked. I constantly turned my back when she tried to do so. At a point, she was walking behind us and trying to catch up with us so we started to walk really fast and she was almost running. It was all so funny.
Eventually, her son who must have been embarrassed, walked up to us and asked, so we took photos with him and his parents.
Three days passed so quickly and it was time to go to the next place. At the airport, we were trying to catch some sleep before our departure was announced; but about five ladies kept taking photos of us! Finally two of them asked….
We got the impression that they didn't see Africans all the time so we obviously stood out.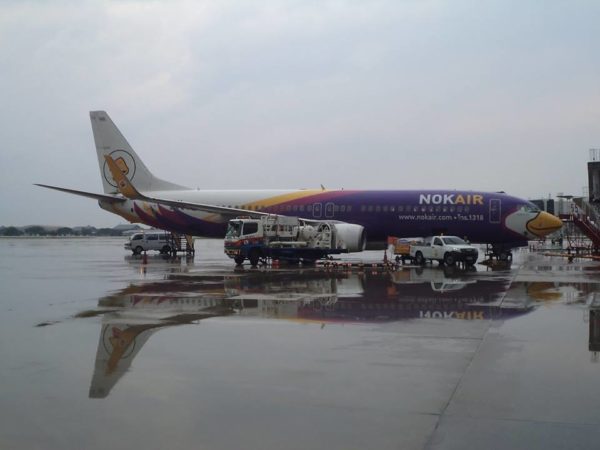 We used Nok Air for our local travel
This post is long enough! More about Thailand in the next post 🙂
Side note – When we returned to Bangkok, we found out that we had been ripped off  by tuktuk riders too many times. We took taxis from that point, and only taxis that would use meters. It was way cheaper!