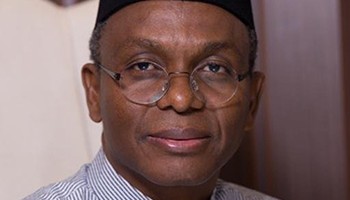 Governor Nasir El-Rufai of Kaduna State has closed down the Government House Clinic and redeployed its medical personnel to public hospitals in the state.
This is contained in a statement signed by Samuel Aruwan, the Special Assistant to the Governor on Media and Publicity and released on Sunday.
According to the statement, the drugs and medical equipment in the clinic have been moved to the Yusuf Danstoho Hospital in Tudun Wada.
The statement, therefore, directed the Government House members of staff to henceforth use the Yusuf Danstoho Hospital for their medical needs.
It explained that the decisions were taken to boost healthcare system in the state, especially in public hospitals.
The statement quoted El-Rufai as saying: "There are not enough doctors in the public health system in Kaduna State. Therefore, it is not prudent to assign doctors, nurses, and other medical staff to serve Government House alone…. It is better that everyone working in the Government House uses the same health facilities as the general public."
The statement said in parts:
Medical personnel from the Government House Clinic have been redeployed to public hospitals in the state. From now on, all Government House staff requiring medical services will proceed to the nearest public hospital to the Government House like other citizens of the State. It is expected that the management of the public hospitals will make good use of the medical personnel, drugs and equipment donated to them.
It also quoted Dr Muhammad Bello Armaya'u, the medical director of the Hospital, as confirming that the hospital had received the drugs and equipment.
The statement further said that Armaya'u expressed appreciation to the Governor for the move and promised that the hospital would make good use of the extra capacity received.