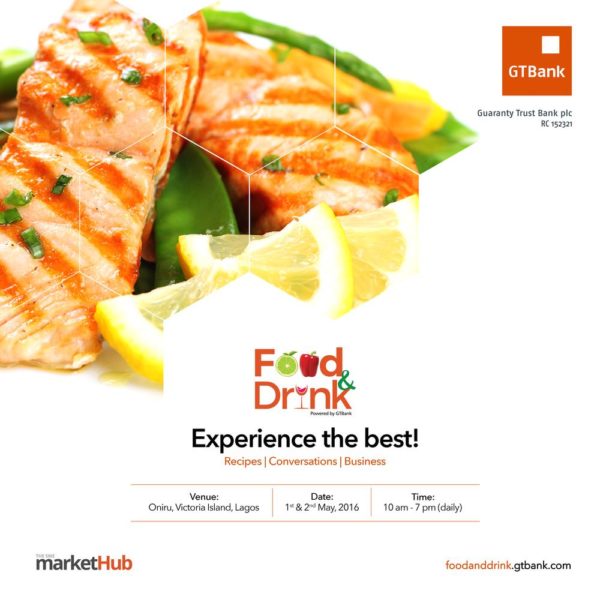 Lagos is set to be treated to gastronomic delights as foremost financial institution, Guaranty Trust Bank plc, announces the first GTBank Food & Drink Weekend – Scheduled for the 1st and 2nd of May, 2016.
The 2-day event is designed to showcase Nigeria's emerging food industry as well as offer a wide variety of cuisines, such that attendees will be able to taste their way around the world.
The GTBank Food & Drink weekend will be headlined by two critically acclaimed international chefs; Marcus Samuelsson and Raphael Duntoye.
Ethiopian born and Swedish raised, Marcus Samuelsson is a James Beard Award-winning chef, New York Times best-selling author, and a judge for the highly rated TV show CHOPPED. He is chef & owner of Red Rooster Harlem and Streetbird Rotisserie in New York. Nigerian born Raphael Duntoye is the chef patron and owner of Le Petite Maison in London, Dubai and Miami.
The food and drink fair, which is free to attend, will provide a platform for SMEs in the Nigerian food industry to promote their businesses by showcasing a wide variety of their products ranging from fresh organic groceries to dry foods, confectionery and pastries, ready to eat consumables, top quality crockery and wine & champagnes. The fair will also feature a series of Cooking Master Classes covering the latest culinary trends, and a diverse range of restaurants offering mouth-watering dishes, outdoor grills and thrilling entertainment.
The Cooking Master Classes will be headlined by our international chefs and accompanied by Tiyan Alile, who is the President of the Culinary Arts Practitioners Association in Nigeria and the founder of the Culinary Academy.
Other top rated chefs who will also host master classes include; Gbubemi Fregene, Ozoz Sukoh, Alex Oke, Atim Ukoh , Iquo Ukoh, Michael Elegbede and Uzo Orimalade. The chefs will demonstrate before a live audience how to apply modern twists to classic Nigerian cuisine as well as prepare some of the most amazing international cuisines. Attendees of the cooking classes will also be treated to savoury food and wine tastings as well as enthralling celebrity chef face-offs including one by popular mother and daughter chefs, Iquo and Atim Ukoh. There will also be a dedicated play area for children and  Uzo Orimalade will host the "I can bake" MasterClass series for the children.
Commenting on the GTBank Food & Drink Festival, Segun Agbaje, the Managing Director of Guaranty Trust Bank plc, said;
We are incredibly excited to showcase the diverse culinary mosaic that Nigeria uniquely offers to the world as a prime destination for food enthusiasts from around the world.
He further added that,
In addition to showcasing the wide array of Nigeria's culinary community as well as the richness of Africa's cuisine, this fair reinforces our commitment to supporting small businesses and promoting our rich heritage.
GTBank has consistently played a leading role in Africa's banking industry. The GTBank brand is regarded by industry watchers as one of the best run financial institutions across its subsidiary countries and serves as a role model within the financial service industry due to its bias for world class corporate governance standards, excellent service quality and innovation.

To register for this event please click here
_______________________________________________________________________
Sponsored Content