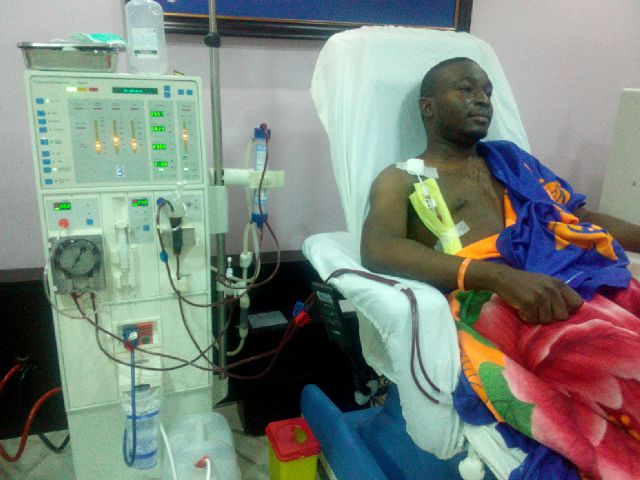 A Third year medical student, Olaoluwa Oluwamuyiwa, (Nickname – Dr Lulu) who is down with renal failure has appealed to Nigerians to help save his life.
Born on February 16, 1988, 28-year old Oluwamuyiwa hails from Ondo State from a small family of four, comprising his parents, himself and his younger sister.
"Dr Lulu", as he is fondly called, began to experience difficulties in pursuit of his childhood dream to become a medical doctor in 2000 when his father lost his job. Shortly after, he had a ghastly accident that made him unconscious for several months. He has been unable to fully use his legs well till date.
Undeterred by the challenge, Lulu travelled to Ukraine to study medicine, but had to abandon the study owing to financial difficulty.
He came back to Nigeria. But refusing to give up on his dream, he went to China after some years to study medicine again. He is currently in his third year.
However, Lulu now faces a major challenge as he is suffering from renal failure. He is currently undergoing dialysis pending the time he will be able to raise the N7m required for kidney transplant.
His family has appealed for assistance from good spirited Nigerians and corporate organizations to help raise the funds. He undergoes three dialysis sessions every week at the cost of N60,000, with his friends and family helping him run around to raise the fees to ensure he lives.
You can help keep Lulu alive by donating to OLUWAMUYIWA OLAOLUWA OYINDE's account no. 0108134961 at GUARANTY TRUST BANK.
Enquiries can also be made via telephone numbers 08177356420 (OLAOLUWA) or 08036607719 and 08029140079 (Dr Lulu's father).
__________________________________________________________________
If you've ever had a health-related issue in Nigeria, then you will probably understand that it is extremely difficult to fund your treatment and navigate the healthcare system.
In view of this, BellaNaija is launched the BN Community Centre. This online platform will feature "calls for help" as submitted to us. This includes information, photos and account numbers.
We encourage you to give if you can, however, please ensure you perform independent verification prior to donating any funds.