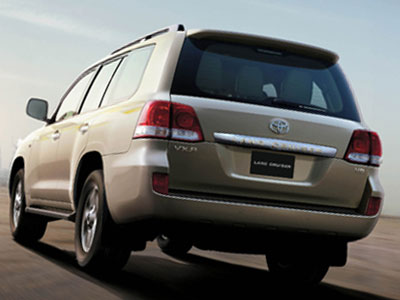 Chairman, Senate Committee on Services, Sen. Ibrahim Gobir, has said that the Senate purchased only 36 utility Land Cruisers at the cost of N36.5 million each contrary to media reports that it procured 108 cars.
Gobir made the clarification while briefing newsmen on Tuesday in Abuja.
Why 36 cars? He explained that the specification of Land Cruiser purchased by the senate was VXR V8 and not V6 as being speculated.
A lot has been happening within the last two days concerning the issue of cars, car loan, appropriation and cost of the cars and we feel it necessary to come out and inform the public about it.

This is so, so that people can have a better understanding of the whole thing to avoid wrong perception as being created among Nigerians.

First, I would like to say that we bought 108 cars is totally wrong; it is not correct. We bought 36 cars.
These 36 cars, each senator in each state is either a Chairman or a Vice Chairman and we gave one car to each state to share as utility car. So, we don't have money to buy 108 cars.

We had a close session and they agreed that we should give one car per state; we sat down and agreed who needs the car most and that was what happened.
On the cost of the cars, the committee char said;
Then, the issue of the cost of the car; the cost of the car is N36.5 million. The car we bought is Land Cruiser VXR V8, not V6.

The showroom price is about N31 million minimum and then when you add 10 per cent tax it becomes 36.5 million.

In fact you can go to the internet and download it; it is very simple, we can give you the website, and you can see them.

So, I think what we have purchased the car for is very reasonable,'' he added.
Process for purchase – The chairman also denied allegations that the senate purchased the cars without appropriation.
According to him, on the issue of buying cars without appropriation, it is totally wrong because this has been appropriated in the 2015 budget.
So, we used what we have in the 2015 budget to buy the 36 cars so that it can go round to each state.'
On speculation that lawmakers earlier accessed loans for the purchase of cars, Gobir explained that no lawmaker accessed any form of loan for the purchase of car.
Insensitive Spending accusations – He defended insinuation of senate's insensitivity in spending such money on cars in the present economic challenges, saying that buying 36 cars as against 109 was informed by senate's concern for state of the economy.
We are supposed to buy 109 cars but because of the paucity of funds, because of our sensitivity and concern for lack of funds, we bought only 36 to go round per state.'
Message for Critics – He decried the level of criticism on the National Assembly in spite of efforts to cut down on cost to meet present economic reality.
He said,
come to think of it, there is no minister that hasn't got about three, four cars – one Land Cruiser, maybe a back-up and two Hilux cars.

There is no director in the civil service that hasn't got a car. There is no permanent secretary that hasn't got a Land Cruiser.

In fact, every House of Assembly member has either a Prado or a Land Cruiser and here is a senator you say he cannot have one Land Cruiser.'