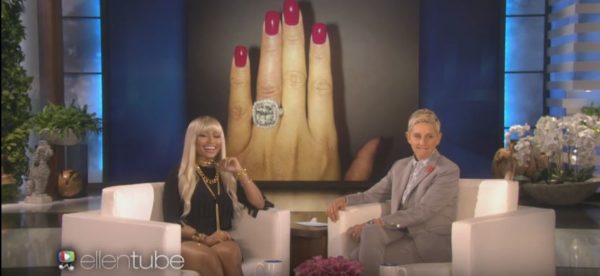 The host of daytime talk show 'The Ellen DeGeneres Show', Ellen DeGeneres, invited rapper/musician and now actress Nicki Minaj to her show and quizzed her on the lack of/absence of her "engagement ring" in recent times. Although Nicki tried to deflect attention form the ring to her hands, she eventually opened up, in a vague way.
She started like this, "
Are you really going to zoom in on my ashy hands? Come on, now. You have to prep women for that. You can't just zoom in on people's fingers and hands," "First of all, that's not an engagement ring. Right? I have two rings from this boy that likes me. And he gave me…" She was unable to finish her sentence, as a photo of her ring appeared on the screen behind her. "Oh my God! Stop!" she said. DeGeneres joked, "That boy has money. Whatever boy that is."

"That's not my engagement ring, though," the "Night Is Still Young" Rapper clarified. "He said that that's my second ring and that if I get a third ring that that would be the engagement ring."
Ellen then asked Minaj if she's "ready to get engaged," to which she answered,
"You know, I don't know. We're still figuring each other out. And in fact, I don't even want to say that I'm in a relationship anymore, because I think when people hear that, they go to like the mean place and try to like—not you, though. You're super. I love you to death." DeGeneres prodded her to "talk about it in a kind place," but the rapper wouldn't budge. "I would rather not. You know, I used to be secretive. You guys asked me about that before on my pre-interview," Minaj said. "I used to say, 'I'm not in a relationship,' even though I was in a 12-year relationship [with Safaree Samuels click here to read how that ended ]…Now I feel like just going back to that and saying, 'You know what? I'm single.
Watch her interview here: