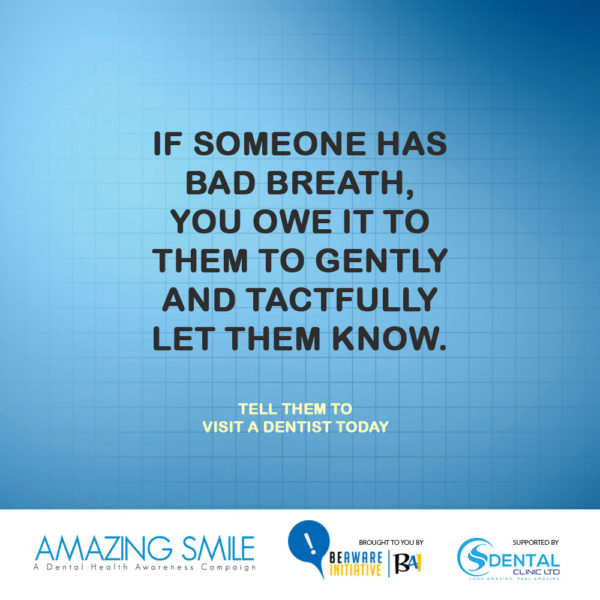 Most people know at least 1 person who has a dental condition. The most popular being halitosis; mouth odour (Badbreath) and because it does not cause any pain, they can go on for months, never knowing and worst case #NobodyTellsThem, who can? It must be the most awkward conversation ever. How can you even be sure that you do not have it? Brushing twice daily and using mouthwash is no guarantee.
The BeAware Initiative is a collective that brings awareness about health issues and some general life hacks and for our maiden edition, we are carrying out a dental campaign tagged #AmazingSmileCampaign and #NoBodyEverTellYou #TheOpenSecret #MouthOdour you can track or follow the campaign across the various social media channels using the hash tags.
The Initiative is also giving out 30 slots of free basic dental checkup to the general public at a top dental clinic in Victoria Island Lagos on the 21st of May and 4th of June 2016 (15 people per day respectively).
TIP: If you know someone with halitosis around and you don't know how to tell them, simply have them carry out the necessary activities and win a free dental checkup and help end their embarrassing condition.
To get a free visit:
Put up a post about the #AmazingSmileCampaign on Instagram (also share on Facebook and twitter) mention @beawareinitiative with any two or all the hash tags listed above or you can put up an Instagram video where you are telling an Imaginary friend that they have mouth odour/bad breath using the same hashtags.
After posting the video or message, visit http://www.beawareinitiative.com/dental-health/amazing-smile/
Click WIN ASC – FREE DENTAL VISIT, fill the form and select "#AmazingSmileCampaign – BAI" as the status. Also write or indicate your social media handles for tracking.
People with the most likes, views and shares will be contacted on or befor

e 19th May, 20

16
Find out more about BeAware Initiative and the #AmazingSmileCampaign:
Website: www.beawareinitiative.com
Twitter: @beawareinitiatv
Instagram: @Beawareinitiative
Facebook: BeAwareInitiative
YouTube: BeAwareInitiative
Don't forget to follow us across all social media platforms to learn more about how to get rid of bad breath and other health tips.
_____________________________________________________________________
Sponsored Content