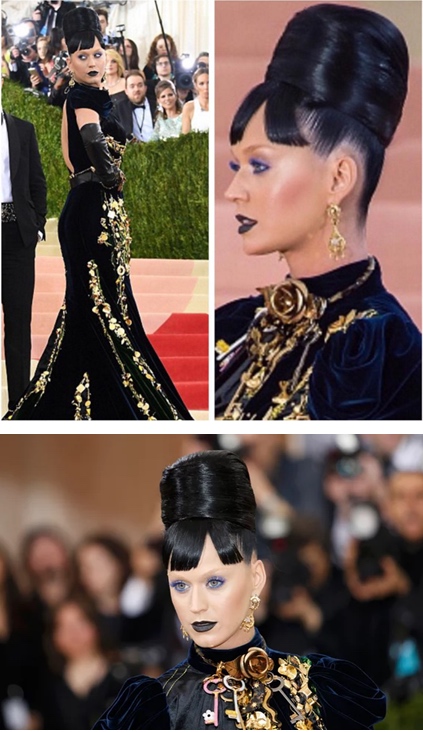 Katy Perry's hair reached new heights at last night's Met Gala. She was styled exclusively with Oscar Blandi Hair Care products by Chris Appleton who is calling the look a "modern day beehive." Below is the breakdown straight from Chris:
"The beehive is an iconic hairdo that we modernized and turned up a few notches to keep with the Manus x Machina theme. A romantic hairstyle wouldn't work. The beehive needed to look sharp and futuristic. I wanted her hair to look strong and striking yet still simple. Katy's dress is incredible and we wanted the hair to compliment and tie in with the overall look without competing with it."
Here's how he achieved the look:
1. On damp hair apply Oscar Blandi Hair Lift Mousse throughout and spray Oscar Blandi Jasmine Protein Mist from mid-shaft through the ends and comb through the hair.
2. Blow dry hair upside down so the hair dries in the correct direction and gets rid of any bumps or lumps. Spray your brush with Oscar Blandi Lacca Medium Hold Hair Spray for hold and shine and brush into a high ponytail. Secure with elastic.
3. Split hair into two sections pinning the top aside for later. The bottom section tease for volume sprinkling in Oscar Blandi Dry Teasing Dust as you go. I used a foam donut around the base of the pony pulling through the teased section to create more volume and help with the structure of the look.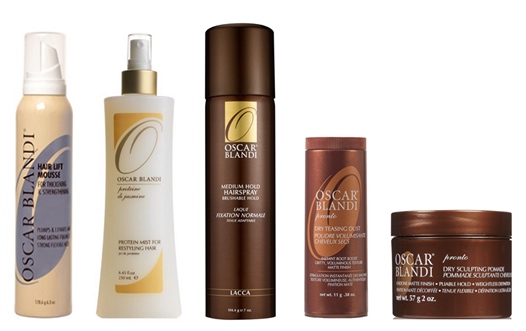 4. Now for the top section, work a small amount of Oscar Blandi Sculpting Pomade through the hair to get that glossy, high shine finish. That pomade is key in molding such a structured look. Add more Lacca Hairspray and blast on a lower setting with the blow dryer to set and seal in the hold and shine.
5. Take that polished, glossy top section and begin to wrap around the teased hair and donut in a clockwise direction. Pin into place.
6. I shortened her faux bangs to have a really sharp, edgy, blunt, editorial feel. They almost look tucked under the bouffant since the beehive is so high. I set the whole look with a ton of Lacca Hairspray which gives off a lot of light reflecting shine.
Credits: Ulta.com for the Oscar Blandi products | @OscarBlandiHairCare
Chris Appleton | @ChrisAppleton1