Hi BellaNaijarians, Adesola here!
If you follow @bellanaijaonline on Instagram then you've seen a sneak peek of my truly amazing time at Southern Sun Ikoyi. Let me tell you how it all went down. During the week I got a call about an amazing opportunity to visit Southern Sun Ikoyi for the very first time and enjoy their services and facilities.
I couldn't turn it down!
So on Friday, after a particularly long day at work I was on my way to Alfred Rewane, excited to enjoy a day of relaxation and pampering. I got the chance to bring a friend along for the experience but I decided to be selfish and take some much needed alone time *chuckles*.
Getting to Southern Sun Ikoyi, all that was going through my mind is how the hotel is described as this upscale hotel with "sophisticated rooms with warm wood furnishings and subdued tones feature free Wi-Fi and flat-screen TVs, plus safes, minibars, and tea and coffee making facilities". I was really eager to see if it'll live up to my expectations.
Checking in was super-easy and the guys at the front desk were so friendly. Maybe I was already giddy with excitement or maybe they made it easy to talk to them, but either way I spent a couple of minutes at the reception even after I got my room key just generally chatting with them. It was pretty cool.
I got upstairs to my room and what did I see? A personalized letter and chocolates to welcome me! Yup.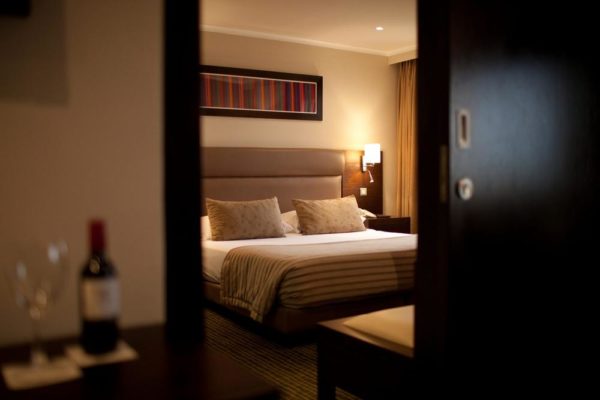 First thing I always do in hotel rooms is to check the bathroom haha. This one was begging me to take a shower with that huge shower head…
After my quick inspection I went down to take part in the Friday Seafood Extravaganza buffet complemented with a Live Jazz band.
The seafood extravaganza and jazz dinner happens every Friday so it was the perfect way to tune into the weekend.
Ok, let me not lie. One of the things I was looking forward to during my stay at Southern Sun Ikoyi was the Seafood Extravaganza. Yes, I'm a foodie…and a seafood enthusiast.
Not to make you guys jealous but the buffet was amazing and there was EVERYTHING. I kicked things off with a salad that literally had everything *side eye*. I've been on a small diet for the past couple of weeks but I was determined to indulge. My salad had chicken and calamari for my protein and I went hard on the vegetables with baby corn, lettuce, tomatoes, bell peppers, avocado and more deliciousness.
I had a game plan for the buffet. I was determined to pace myself.
Honestly there was no rush, because by the time I started eating, the live band had started up with lovely jazz renditions. They did this thing were even modern songs were given a unique spin. I got to hear what Wizkid's "Ojuelegba" would sound like if it was had jazz undertones. It was such a relaxing environment. By the time I finished my salad I had gotten my laptop and was really just chilling with a glass of long island iced tea.
For my second course I went in on the shrimps because there were so many varieties. They had crispy tempura battered shrimps, shrimp fried rice, sautéed shrimps, a spicy shrimp sauce and more. They also had lobsters. By the time I finished this meal I couldn't even have any dessert. I was stuffed.
Lucky for me I got a chance to meet the sous chef after my meal and I enthusiastically told him how delicious everything was. He really appreciated the gesture.
I sat in the restaurant for a couple more minutes to enjoy the music from the band as they serenaded the guests with beautiful jazz songs.
Honestly guys, it's an experience you've got to have for yourself.
After dinner I stepped outside for a couple of minutes to see a friend and I couldn't resist getting a shot of the exterior of Southern Sun Ikoyi. It was beautiful.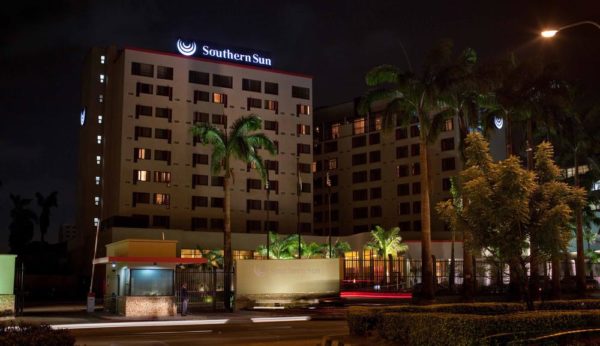 When I got upstairs to my room I had the best sleep that I've had in quite a while. I switched off my phones and just let myself enjoy the moment.
The next morning my experience with breakfast was just as thrilling. I've already told you that I am a foodie so don't judge me okay?
I couldn't think of anything better than the full English breakfast to start my day and it was right there. The best service in the restaurant, ably provided by pleasant and professional staff with wide brimming smiles and an eagerness to help.
I'll definitely be going back to Southern Sun Ikoyi, especially for their seafood extravaganza and live jazz band experience. It's the perfect chill zone.
After my night stay at Southern Sun Ikoyi, one thing I can say for sure is that even though it is more popular for being a "business hotel", Southern Sun Ikoyi is also the perfect spot for a relaxing and luxurious evening. It's a pretty awesome getaway spot for couples and a good place for you to get some alone time as well.