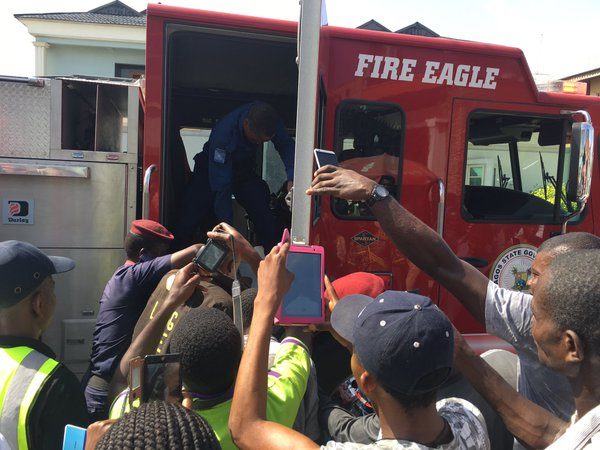 The identity of the man who attempted suicide in Lekki has been revealed and he has been brought to the ground safely. This was after he refused all forms of help and even foiled the LASEMA officials attempt to rescue him.
According to Instablog9ja, his name is Frederick Gino from Cameroon and he has no idea how he came into Nigeria.
For the rescue operation, two men went up a ladder to rescue him and to do that, they tried to topple him over with sticks. He held fast to the pole before he started using his teeth to tear off the cables. When the pain became unbearable, he jumped off and landed on a low rooftop. Before landing, he cut a corner of the roofing sheet and began using it to slit his throat once he landed. In the end, he had to be bound hand and foot so he could stop.
#CitizenPoleClimber being 'loaded' into the fire ambulance #SuicideAttempt pic.twitter.com/B1l4ROGSqZ

— Ken Egbas (@kenegbas) May 5, 2016
When LASEMA officials were asked why  they didn't show up in time, they said they were not aware of the incident until 2 PM, almost five hours after the first rescue call was made.
We're happy that he is safe and sound and we hope he gets treatment to soon!
Credit: Twitter/Ken Egbas