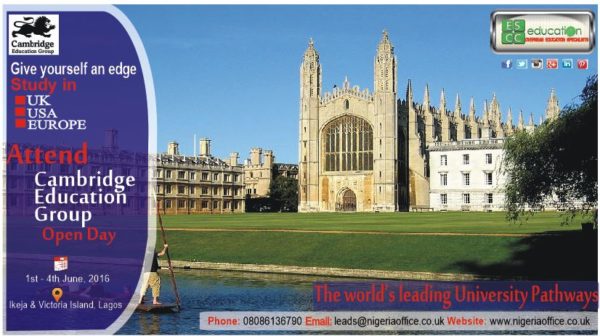 Cambridge Education Group (CEG) offers University pathways for prospective students to USA, UK and Europe. Also available are well a
variety of scholarships, of up to £6000 to international students for the September 2016 intake.
To jump-start your study abroad dream, come talk to representatives of CEG. There will be opportunities for university application, access to scholarships and visa application guidance and tips.
Don't miss this fantastic opportunity! Get started on your study abroad journey!
Register now, to book your place at http://bit.ly/ESCCCEG
Event Details
Victoria Island
Venue: ESCC EDUCATION Plot 16 Karimu Kotun off JMG, By Oko-Awo Junction.
Victoria Island, Lagos
Time: 10am – 4pm
Date: Wednesday 1st & Thursday 2nd June 2016
Ikeja
Venue: ESCC EDUCATION Suite 28, Lagos Airport Hotel Shopping Arcade. Obafemi
Awolowo Road. Ikeja
Time:10am – 4pm
Date: Friday 3rd & Saturday 4th June 2016
Contact: For more information please call Lilian on 08145703312 |
[email protected] | nigeriaoffice.co.uk/
Register now, to book your place at bit.ly/ESCCCEG
__________________________________________________________________
Sponsored Content