Estranged wife to Johnny Depp, Amber Heard, has revealed new photos showcasing more injuries allegedly caused by her husband in a domestic violence incident.
According to People Magazine, the 30-year-old actress' court filing accuses Johnny of domestic violence and she states that "there was one severe incident in December 2015 when I truly feared for my life". In documents filed May 27 to seek a temporary restraining order against Depp (which a judge granted), Heard alleges that during the "entirety" of their four-year relationship, "Johnny has been verbally and physically abusive to me."
Some of the photos in the latest issue of People show Amber Heard with facial injuries, including an apparently bruised eye and cut lip – allegedly caused by Depp in that incident.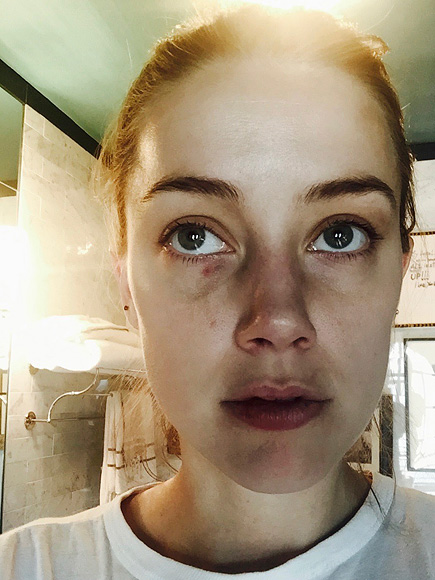 Heard also detailed two other alleged domestic violence incidents claiming that on April 21st, Johnny argued with her after showing up at the end of her 30th birthday party "inebriated and high". He then grabbed her by the hair and "violently shoved me to the floor." On May 21, she states, Depp "began obsessing about something that was untrue" and hurled a cell phone at her, "striking my cheek and eye with great force."
Johnny's rep has not responded to People's requests for comments about the photos, or about Heard's allegations of abuse. Depp's divorce attorney Laura Wasser said in court documents that Heard, who filed for divorce from Depp on May 23 after 15 months of marriage, is "attempting to secure a premature financial resolution by alleging abuse".
For more on this issue, Visit People.com