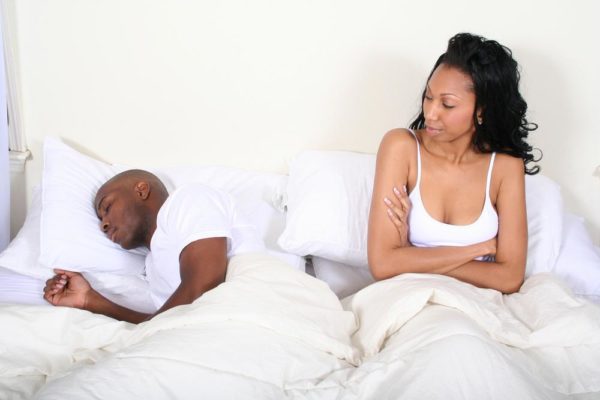 Aunty Bella is our  agony aunt column on BellaNaija. We launched this column in the early days of BN and periodically feature issues sent in by BN readers. 
We hope the BN family can offer insightful advice.
***
Aunty Bella,
To think that I'm having to write you for advise is so heart breaking…. My story goes thus.
Four years ago I married my best friend, lover etc. my husband is a cool guy, very nice caring and easy going. Truth is I married a good man and right now I question if he really deserves me.
Everything was ok when we got married, although we had our issues as normal couples do. I'm a go getter babe and he is a bit slow in his ways. but we've been able to manage things. Our issues started when I put to bed last year. Our sex life wasn't so fantastic when we initially got married, I was always in pain as a virgin and he was extra patient so we didn't get to really explore.
So the issue is since I have birh 11 months ago, my husband hasn't touched me. It's always been one excuse or the other. I know my body changed a lot after child birth, I even get irritated at the humongous stretch marks that formed on my skin, my breasts have become so flat and flabby but is that enough reason for my hubby to not find me attractive?
I cried to him, threw tantrums, bought sexy lingerie but nothing has worked. The few times we even had sex it was like I forced him.
Now my hubby has a lot of female friends, married and unmarried. I complained about some but he says I can't choose his friends for him. Sometimes I really wished I had one or two male friends too so I could share my thoughts with but I just didn't have anyone.
I have snooped to see if he is cheating on me and found nothing except one or two messages from his female friends which aren't so suspecting but honestly I don't know what else to think.
He always complains of being tired from work but he still has time to play ps4 or watch series on his computer after he returns from work While I'm left alone with my baby nursing my raging hormones.
Ive threatened him a couple of times that I will cheat on him since he's turned me into a log of wood but he just laughs it off which hurts me. I switched to pornography to help myself but how long will I continue like this?
Recently I went for a conference and met this young man. We got talking, exchanged numbers and soon became friends.
Mr Z is equally married and is very intelligent. during the fuel scarcity period, he sent me fuel a couple of times, always checked on me and soon made me feel comfortable in my skin once again.
Our daily communications made me sort of like him and Im sure he equally began to like me too.
All this continued with my husband still ignoring me at home and me trying my best not to allow Mr Z to encroach in my husbands space in my heart.
Now Mr Z suddenly confessed to liking me last week and although my heart trembled with fear of an impending adultery, it also skipped with excitement.
We even grew closer and had lunch a couple of times.
Now he's invited me over and although my body wants to go, my heart tells me not to.
I wish I met him about 5 years ago, I would have thrown all caution into the wind.
Please what do I do? I am attracted to this man and we shared a kiss already…
Ps. We both value our marriages but he tells me that I have flooded his heart he can't get me out his mind. I don't get it. I'm so confused help!!!
Photo Credit: Dreamstime