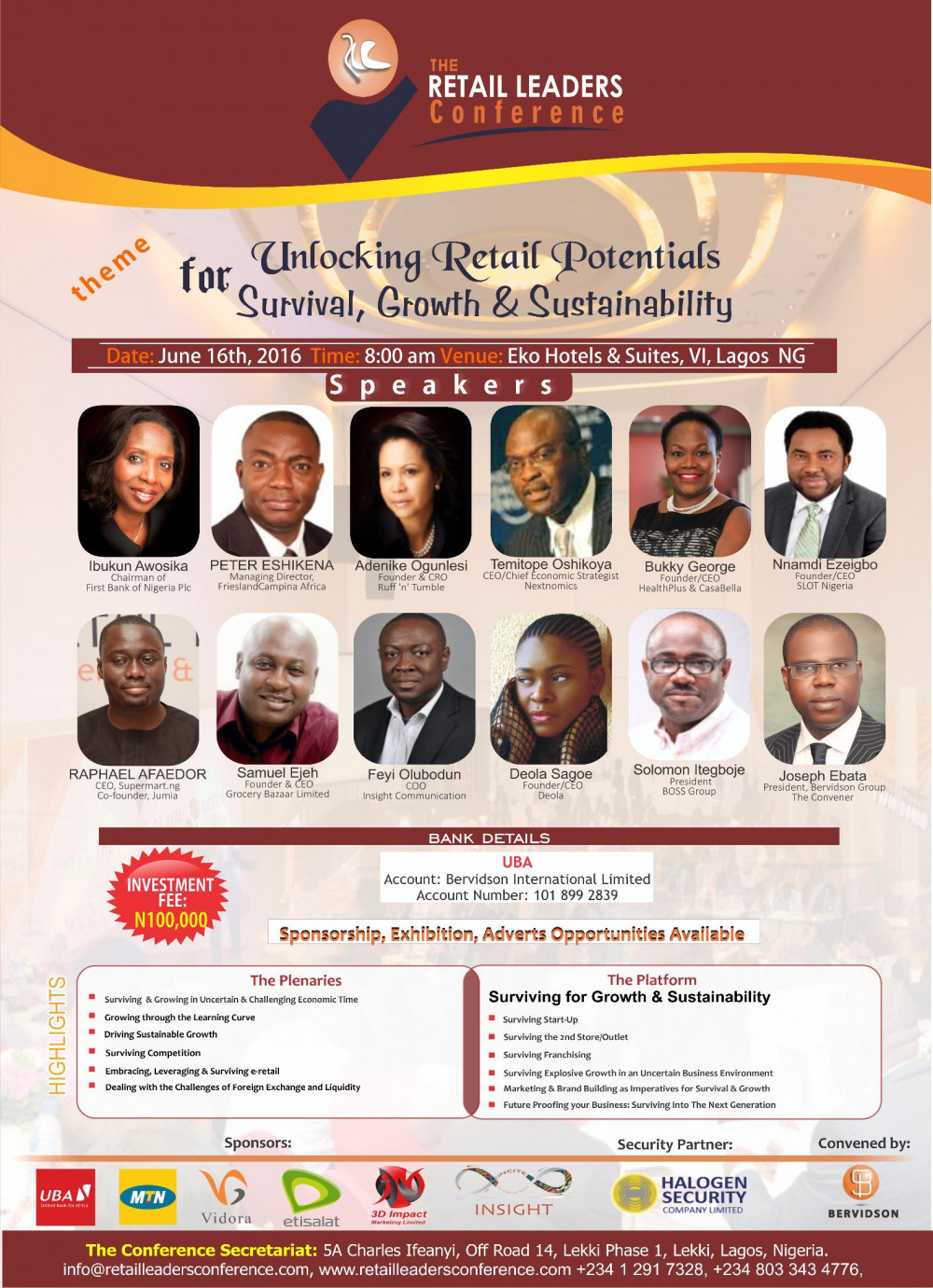 The Retail Leaders Conference (TRLC) brings together the very best of local and international retail thought and practice leaders to speak, hear, brainstorm, discuss and align on the key issues, challenges and opportunities of the Nigerian Retail Industry and importantly how to drive sustainable growth for the Industry.
This year's theme "Unlocking Retail Potentials for Survival, Growth & Sustainability" was picked because of the dual challenge of survival and growth that is probably what is keeping most retailers awake at night.
Nigeria is experiencing major economic challenges – from infrastructural to bureaucratic challenges and lately the challenges of foreign exchange and liquidity in the system and more.
Faced with the current realities, a lot of retail organizations are needing to take drastic measures to fight for their sustainable survival. Some retailers are cutting costs fast, by shrinking store footprints, limiting SKUs, tightening up supply chains, or cutting store labour etc.
What options do retailers have and what strategies can they adopt to guarantee their survival not only during this uncertain and challenging economic times, but grow their business in a way that is sustainable both now and in the future?
These are the kind of questions/issues that this year's conference will provide answers and road maps to.
The Retail Leaders Conference (TRLC), Nigeria 2016 will hold as follow:
Date:Thursday, June 16, 2016
Time: 8AM
Venue: Eko Hotel & Suites, Victoria Island Lagos, Nigeria.
Our speakers (already confirmed) are; Ibukun Awosika (Chairman of First Bank), Peter Eshikena (MD of FrieslandCampina Africa), Temitope Oshikoya (CEO of Nextnomics), Adenike Ogunlesi (CEO of Ruff & Tumble), Bukky George (CEO of HealthPlus), Nnamdi Ezeigbo (CEO of SLOT Limited) Deola Ade-Ojo (CEO of Deola Sagoe), Raphael Afaedor (CEO of Supermart.ng & Founder of Jumia), Solomon Itegboje (CEO of The BOSS Group), Samuel Ejeh (CEO of Grocery Bazaar), Feyi Olubodun (COO, Insight Communications), Joseph Ebata (CEO, Bervidson Group & Convener).
Click here for Registration.
Click here for Exhibition & Advert Opportunity.
Click here for Partnership/ Sponsorship Opportunities.
______________________________________________________________________
Sponsored Content