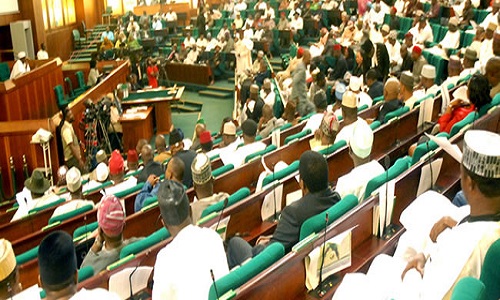 A Bill aimed at establishing Constituency Development Fund passed the second reading in the House of Representatives on Thursday.
Presenting the bill, Hon. Solomon Adaelu (PDP-Abia), said the bill proposed that 2.5 percent of the country's annual budget be set aside for constituency projects.
He expressed optimism that the establishment of Constituency Development Fund would guarantee even development of constituencies across the country.
According to Adaelu, this move will ensure probity in the execution of constituency projects.
"Unfortunately, there is no record of the level of implementation of constituency projects in the country. While these projects reside with Ministries, Departments and Agencies, there is a wrong notion that funds for constituency projects are remitted to lawmakers," he said.
Adaelu added that the constituency development fund would have direct impact on people living in rural areas.
"According to the National Bureau of Statistics, 65 per cent of Nigerians live in rural areas. So, this fund will promote the development of infrastructure in rural areas. If we have constituency fund, the present administration may not have the need to appropriate N500 billion as social intervention fund," he added.
Supporting the bill, Hon. Nicholas Ossai (PDP-Delta), said the bill was a reflection of the legislative agenda of the 8th Assembly.
"If passed, Nigerians will say that this assembly has done well in ensuring that developmental projects are brought to their door steps," Ossai said.
The Speaker of the House of Representatives, Yakubu Dogara, referred the bill to Committees on Constituency, Appropriation and Finance for further legislative actions.