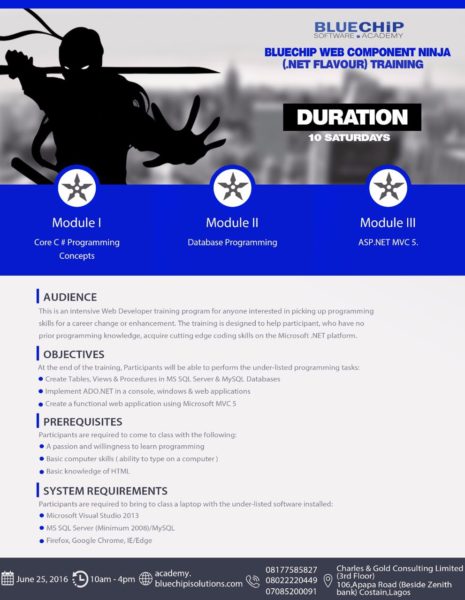 Software development is one of the most attractive career paths to follow, not only in Nigeria but globally. Vacancies for developers appear very frequently both locally and internationally and not many people are skilled enough to fill these vacancies. This is mainly so because Institutions are not producing enough graduates to fill these vacancies and the few ones produced still need to be retrained to be able fit the job descriptions.Also, the misconception that you have to be a mathematics geek or a computer science genius to become a software developer has also deterred people from exploring a career in software development.
You don't have to be a genius or a geek, neither do you have to be a degree holder to be a developer. It is NEVER too late to follow your passion or your dream to be a developer.
If you have a passion to be a software developer and you are willing to acquire the necessary skills to become one then join us at Bluechip Software Academy. We are holding a 10 Saturday intensive software development training aimed at conferring on every participant the skills required to build a functional web application of any scale, making you immediately employable as a web applications developer. The Training will commence on June 25th 2016.
Date: Saturday, June 25th, 2016
Time: 10AM-4PM
Venue:Charles & Gold consulting limited, 3rd floor, 106, Apapa road (besides Zenith Bank), Costain, Lagos
For more information please contact Sola on 08177585827,07085200091.
_______________________________________________________________
Sponsored Content