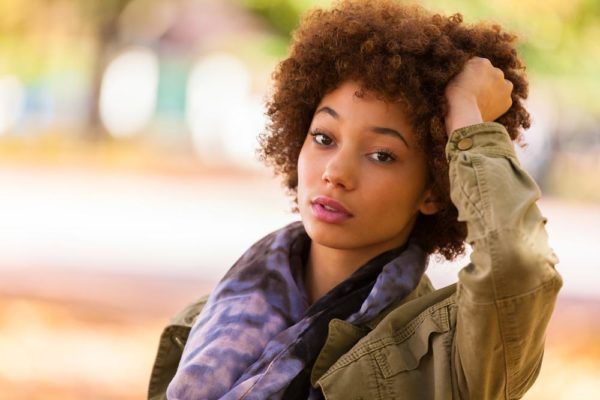 I find after being a 'seasoned' natural for some time (say 5 years +), many natural haired ladies tend to go through different phases depending on their 'hairsonality'. Have a read through the list to see which one of them describes you:
1. The Real 'MVP'
Yes, these are the true soldiers, and were wearing our natural hair truly a 'movement' as some like to call it, we would nominate them to be our leaders. These guys are super committed, and their passion unyielding as they continue to explore the world of natural hair. They are never short of looking out for new products or hairstyles and when bored, come up with their own styles plus 10 more ways to achieve that same look. If they do blog, they are constantly updating their blogs (unlike some of us), tantalizing us with their new buys, which are few and far between given that they already know what works for their hair, or are constantly gifted with new products to try in exchange for publicising a new brand. We often look at them in awe as their hair either keeps edging higher towards the sky or lower towards the ground depending on which way their curls grow. Interestingly, I find that these types hardly straighten their hair, as they are truly in love with the creative process of experimenting with their texture.
2. The Rainbow
Or 'Colourmaniacs' as I like to call them. These guys experiment with several hair colours over the course of their natural journey. It really is a nice way to spice up one's look by figuring out which tones complement you and which are a real NO-NO. The hues I find often range from different shades of brown to blonde, with a dash of oxblood or plum on the red spectrum. It makes logical sense as the hair is in its healthiest state when natural and can withstand the harshness of the colours better than hair that's already chemically processed. So why not experiment?
In terms of styling, I find a lot of naturals chose either to dye one section of hair, the entire head of hair or just the tips a l'ombre. The last option makes sense as after a few months (err, ok maybe a year or two), they are fully back to being a 'virgin' and can re-experiment again.
3. The T-shirt
You know the 'been there, done that, got the T-shirt' kinnda people? Well, these guys have been natural for some time now and after a while the euphoria starts to wane of being a product junkie, shingling till the sun comes up and experimenting with pretty much every natural hairstyle in the book. At the end of such a marathon (because it sure is), they become burnt out and reach the point of being 'unbotherable'. The satin scarf starts to spend the night in the bedside drawer instead of on their heads. Wash days turn into wash months and the thought of deep conditioning starts to evaporate with their daydreams. If they are really philosophical, they may start to wonder if this natural hair thing was just a fad to begin with instead of fessing up to the fact that they've lost interest or possibly picked a lazy bone. They also may begin to whine about how their hair doesn't grow like it used to.
4. The cover up
And no they are not trying to be modest but only surface in the dark with no one watching like a wolf on a full moon. Yes the frequency of seeing a full moon pretty much matches often you see their natural hair. They may hide under the guise of 'protective styling' with the weaves, wigs and braids, but lets be real, the stresses of a 9-5 job, sitting through hours in traffic (unless there are now hairstyling hawkers), doing school runs, running businesses and the lot, leave little to no time to sit in front of a mirror for 6 hours trying to perfect that twist out. However, I am sure in the other camp you will have some die-hard, sincere naturalistas quoting '5 minute professional styles' from the natural hair bible, which if you do find by the way, please send to me.
And last but not the least…
5. The Genesis
These lot get so bored of the routine that they decide to chop it all off and start again, just for the fun of it. There must however be an euphoria of sorts of watching that baby afro puff grow into a full mane of hair; being able to erase the mistakes of the past by doing it differently this time, with a different set of products or more patient hands, hoping to see a different result. It kind of reminds me of mothers or grandmothers indeed, who cannot wait for the arrival of new baby, teaching it all the tips and tricks from the motherhood arsenal. Sometimes however, these lot may take it a bit further by doing a 2nd, 3rd and even 4th big chop whilst many natural haired youngings sit at the mirror are tugging at that strand, struggling to make it past chin length whilst the long BSL locs from these ladies, lay lifeless on the floor beside them. (No shade at all….just love *cough.*).
Maybe it's the boredom, maybe it really does become tedious to deal with at certain lengths. It may be that the hair goals we have are just disguised hair frustrations waiting for us. I guess I'll have to wait and see when I get there. #sweepingfloorlength (SFL)
Photo Credit: Dreamstime