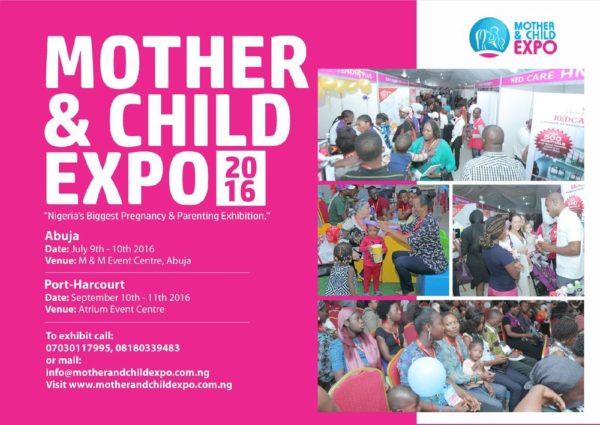 Following the success of the Lagos edition of the Biggest Pregnancy, Parenting, Home and Family Exhibition, The Mother and Child Expo is ready to storm Port Harcourt and Abuja.
Abuja
Date: Saturday 9th – Sunday10th July, 2016
Venue: M & M Event Centre, plot 900 Herbert Macaulay Way, behind international conference Centre, Area 11 Abuja.
Time: 9am -6pm Daily
Port Harcourt
Date: Saturday 10th – Sunday 11th September, 2016
Venue: The ATRIUM Centre, Stadium Road, Port Harcourt.
Time: 9am – 6pm Daily
The Mother and Child Expo has become the most comprehensive exhibition for the baby, maternity and parenting industry in Nigeria. The event embraces a wholesome approach to family and childcare, highlighting issues affecting not only children, but also parents and mums to be.
These editions of the exhibition will feature an impressive array of brands, retailers and vendors that will attend to the needs of expectant mothers, mothers, fathers and children.  It will also hold FREE educative seminars and workshops facilitated by advanced Medical Professionals and Nutritionists to give practical tips on everything from nutrition, infertility, and pregnancy to breastfeeding.
Who should Exhibit?
If you are in any of the following businesses, the Mother and Child Expo is the Right Market for you and your Organization.
Mother's Products
Maternity wears & fashion |Antenatal books & CDs |Hygiene products |Cosmetic & toiletries | mobile Spa |Prenatal & Postnatal care |Travel accessories | Photography and Others
Newborn's Products
New Born wears & accessories |Diapers & Wipes |Baby Bedding & Furniture| Baby Outing wears|Electronics & safety products |Nursery products | Soft Toys and more
Children Products
Garments & fashion Accessories | Shoes & accessories | Room Interiors & Furniture|Health care products |Health drinks & foods |Stationeries & School accessories | Sports & recreation products |Safety devices & child monitoring | Investment plan | Insurance, saving plan & education | Books and more
Home Products
Kitchen Equipment & Appliances| Home Appliances | Furniture |Light Decorations | Others
Related Services
Schools, Crèches and others
Booth Information
Shared Booth: N50, 000 | Standard Booth: N100, 000 | Preferred Booth: N150, 00 | Premium Booth: N300, 000
Remember you can book for your booth with a deposit so hurry and do that today!
To see pictures of the just concluded Lagos edition please click the Link below
https://www.facebook.com/media/set/?set=a.778805952254220.1073741835.309567905844696&type=3
https://www.facebook.com/media/set/?set=a.777345245733624.1073741834.309567905844696&type=3
The Mother and Child expo has a proven track record of delivering value through its highly targeted, well attended, quality visitors.
CONTACT INFORMATION
For more information, please visit www.motherandchildexpo.com.ng
To become a vendor:
Call 07030117995, 08180339483 or mail "[email protected]
To sponsor and own any of our Special Feature Zones like the DIAPER CHANGING AREA, CHILDREN PLAY ZONE, BABY FEEDING AREA, MOTHER and FATHER'S LOUNGE – 07030117995
Connect with us on social media for more updates!
Facebook: www.facebook.com/motherandchildexpo
Twitter: www.twitter.com/macexpong
Instagram: www.instagram.com/motherandchildexpo
______________________________________________________________________
Sponsored Content