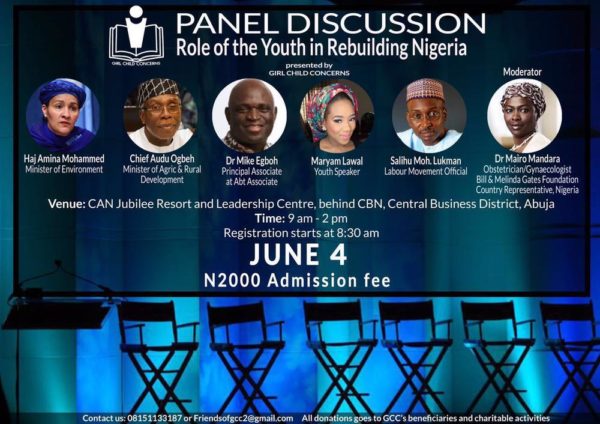 The inaugural girl child and youth engagement dialogue hosted by Girl Child Concern (GCC), a non-Governmental Organisation (NGO) dedicated to improving the lives of youth particularly girls through improved education opportunities while ensuring availability of qualitative broad based education for all, holds on:
Date: Saturday June 4, 2016
Time: 9am to 2pm
Venue:CAN Jubilee Resort and Leadership Centre, behind CBN, Central Business District, Abuja.
The event which is centred around the 'Role of the Youth in Rebuilding Nigeria' will feature a distinguished panel including Haj. Amina Mohammed, Minister for Environment, Chief Audu Ogbeh, Minister for Agriculture and Rural Development, and Ms. Maryam Lawal, Youth Speaker and researcher studying at University College London (UCL), London. Ms. Lawal has a background in Information Systems Development, Digital Innovation, Development Planning and Administration.
The role of the Youths cannot be overemphasized given the fact that they remain one of the greatest assets that any nation can have. Not only are they regarded as 'Future Leaders', they are potentially the greatest investment for a country's development given their intellectual competence, characterized by a sense of purpose and adventure, which is only matched by the acuteness of their physical strengths.
'While we cannot always build the future for our youth but can build our youth for the future,' in the words of Franklin Roosevelt, the Nigerian youth is confronted with the challenge of an ailing educational system and health care system which is seen as an economic drag rather that a net contributor to economic growth and development.
However, there is no meaningful agenda-setting and development objectives that can be attained in a situation where the girl-child is sidelined without conscious policy considerations for empowerment through acquisition of quality education that will liberate and equip her for sound economic, political, social, and cultural participation for self-actualization and development.
The United Nations adopted the Sustainable Development Goals (SDGs), a roadmap whose "goals and targets will stimulate action over the next 15 years in areas of critical importance for humanity and the planet."
This appears like a 'silver lining in the sky for the female gender' in the wake of thousands of women and girls living with the damaging effects of female genital mutilation (FGM) and child, early and forced marriage (CEFM), both of which have an irreversible and lifelong impact with millions more at risk of both FGM and CEFM.
These societal ills, the forthcoming dialogue, seeks to solve in an effort aimed at repositioning the Nigerian Youths towards the part of greatness
For inquiries, contact +234 815 1133187 and/or [email protected] for more details.
______________________________________________________________________
Sponsored Content