Shop Fashion items and accessories at Jland Family Connections and get 10% discount off all purchases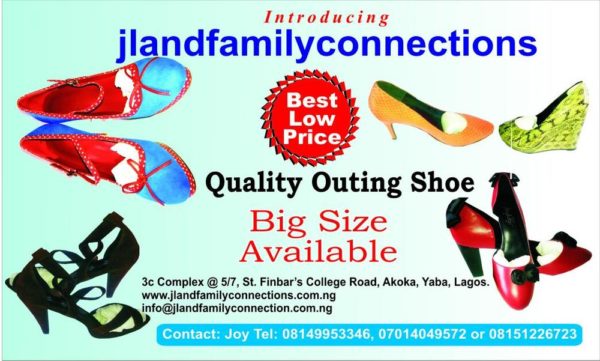 Introducing  JLAND Family Connections your one stop shop and online boutique store located in the heart of Lagos. We are offering a 10% Discount on all our products for this month of June and July. We are into clothing, shoes, bags, cosmetics, gifts, perfumes, wrist watches, children clothes, shoes, educational books and CD, toys, gift packaging and lots more.
We are offering best prices to you on our wide range of shoe selections and clothing, shoes are also available in big sizes for corporate dressings to events like weddings, church, conferences and office. Also casual clothing and shoes are available. Customers & clients can use the opportunity to order for their children or family & friends party packs , training / conference packs or resources for their meetings, school products and hampers for special occasions.
 Call on today for a taste of high fashion and luxury items.
__________________________________________________________
Sponsored Content