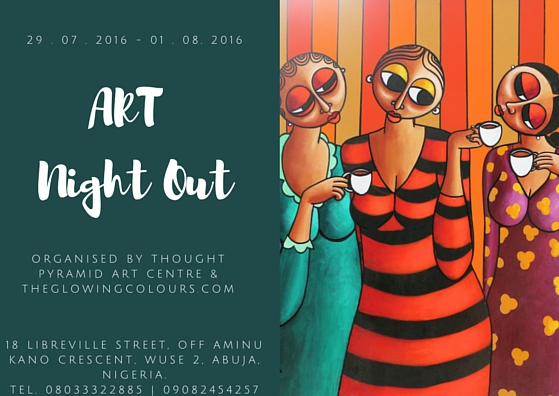 TheGlowingColours.Com and Thought Pyramid Art Centre are pleased to invite you to Art Night Out (#ArtNightOut), a special initiative of appreciation and celebration of African art and fashion design. Art Night Out II is the second edition of the much anticipated event taking place in Abuja.
This special exhibition will bring together the spectacular worlds of fashion design and art. It will be running from July 29th till August 1st 2016 and returns with an expanded programme of exciting activities that celebrate the diversity and dynamism of the Nigerian creative scene.
Art Night Out, initiated by TheGlowingColours.com and Thought Pyramid Art Centre is an event in Nigeria's cultural calendar, playing an important role in bringing together and showcasing Nigeria's creative achievements and ambitions. It aims to celebrate the culture of fashion and art as well as promote public awareness while connecting with local fashion and art establishments.
The exhibition will feature some of the finest pieces from Nigerian fashion houses and art works ranging Nigerian contemporary art and masterpieces to the public in the 3-day event. There will also be art exhibitions with affordable art sale, fashion exhibition, musical and spoken word performances and open house painting workshop.
The plans for Art Night Out II include the following:
Day 1: Friday, July 29th 2016 – Opening with the Nigerian Tenors & Fashion Exhibition
Day 2: Saturday, July 30th 2016 – Fashion Exhibition & Art Exhibition
Day 3: Sunday, July 31st 2016 – Spoken Word Performance, Fashion Exhibition & Art Exhibition. Art Night Out II closes on this day.
Featured fashion designers include:
Maison Mimi, a modern & neoteric women's ready-to-wear brand based in Nigeria
YVK, an easywear line founded in 2013, providing chic and elegant pieces for the everyday woman who can change it up from day to night
Pink Fleur believes in incorporating designs from various cultures to create chic and stylish ready to wear pieces. A little bit of the client goes into making their bespoke pieces because there is a story behind every dress
Exquisite is a contemporary fashion brand that aims to meet the daily needs of individuals. It ranges from simple ready to wear outfits, to highly sophisticated evening dresses
Date: Friday, July 29th – Sunday, July 31st 2016
Time: 6.30pm – 10.00pm
Venue: 18 Libreville Crescent, Wuse II, Abuja FCT
For more info on Art Night Out: Email – [email protected], [email protected] | Tel – 09082454257, 08033322885 | Website – www.theglowingcolours.com | Instagram: #ArtNightOut, @theglowingcolours, @thoughtpyramid
PAC Center Abuja is an official partner of Art Night Out II
____________________________________________________________________
Sponsored Content