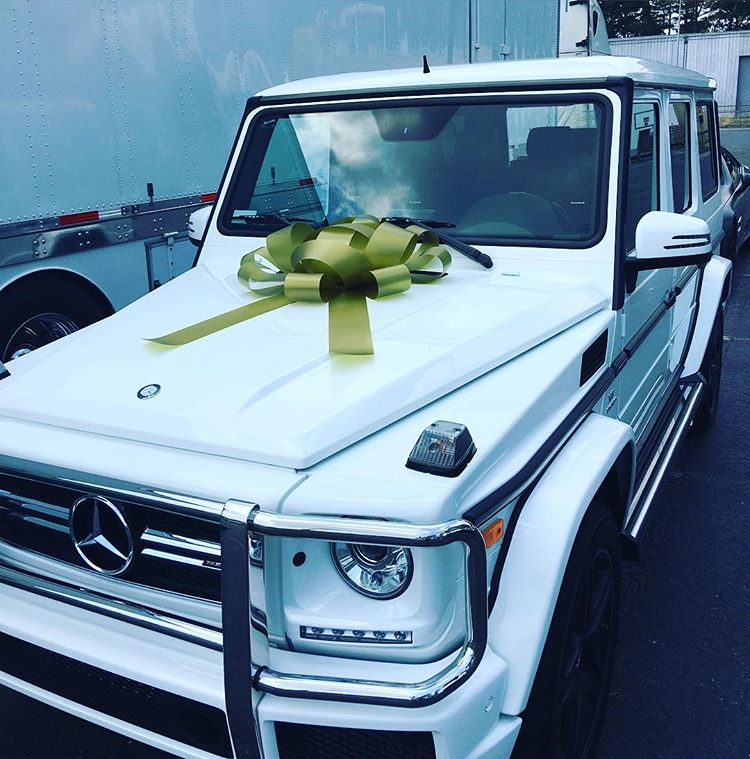 It's raining car gifts this year!
We have reported on a number of husband to wife car gifts on BN recently (Click to See Here & Here) and the trend continues…
Yesterday, Ludacris invited his wife Eudoxie to visit him on set. She kept wondering why he insisted that she should come on that particular day but she found out why soon enough.
Assisted by his friend Tyrese, Luda presented the white Mercedes-Benz G-Class to an elated Eudoxie.
Gabonese beauty Eudoxie has been married to Ludacris for over a year and are blessed with a daughter Cadence Gaëlle Bridges. They also co-parent Luda's 2 daughters Karma and Cai Bella as well as Eudoxie's younger sister who resides with them.
In Luda's words,
Who needs a birthday, holiday or special occasion!? Whatever happened to #justbecause ? #happymrsbridgesday
Eudoxie responded to the kind gesture with these words,
I was up late last night and early this morning talking with someone I have never met. She is a young woman who has a baby in the NICU and I couldn't sleep until I worked out a plan to bless her and her baby. Little did I know I had a blessing of my own on it's way. Give with your heart and the Lord will always make sure you are good. It's not my birthday or anything.
It's just my #husbandoftheyear @ludacris being the blessing he is to me. I thank you and love you for always thinking of me and all that you do for our family. We love you so much. ❤️??
A video posted by @ludacris on