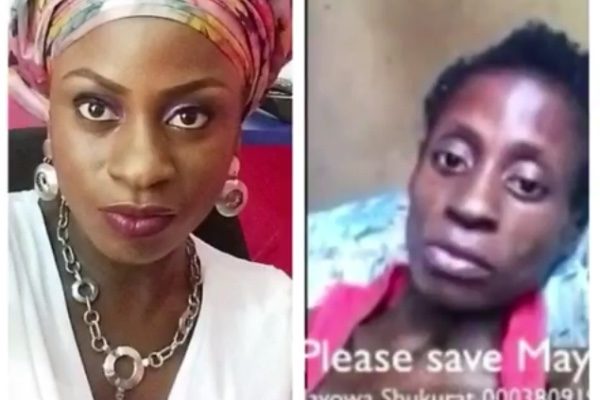 During the past weekend, we came across the Instagram page of a young entrepreneur, Mayowa Ahmed, who described herself as "a young sexy lady with ambitions" in her bio.
Browsing through her photos, we could see her zest for life and love for her family and friends as she shared various photos.
Her most recent posting at that time was a cry for help and assistance.
See below.
This was before all the press attention.
As soon as we saw the video, we sent a message requesting for information on her medical case.
We received an email containing her medical records as well as an account of her medical journey till date.
Around the time we received the information, Mayowa's story went viral especially after actress Toyin Aimakhu visited her and appealed to fans all over the world to support.
In 2 to 3 days, over $100,000 was raised via a GoFundMe page while about N30Million Naira was (reportedly) deposited into Mayowa's account in Nigeria.
See our BN Community Centre feature on Mayowa.
***
Then the confusion started; an unverified message went viral stating that donations were complete and people who tried to donate to the Nigerian bank account were unable to as a block had been placed on credits into the account.
Today, it is being reported that "#SaveMayowa is a scam" because doctors had classified her case as terminal and did not release her medical records to any institution abroad.
We have reached out to Mayowa's family and have not received a response yet. However, we believe it is important for us to share the information we have.
***
While we look forward to more details emerging, see below, all the hospital records and recent correspondence with a major hospital in the USA.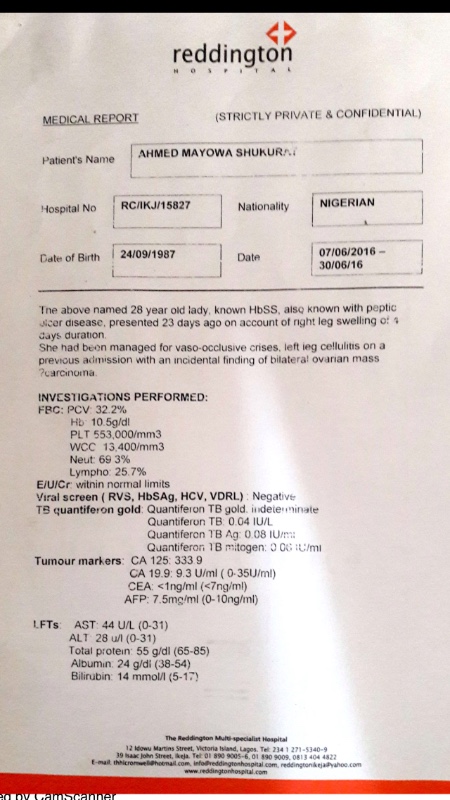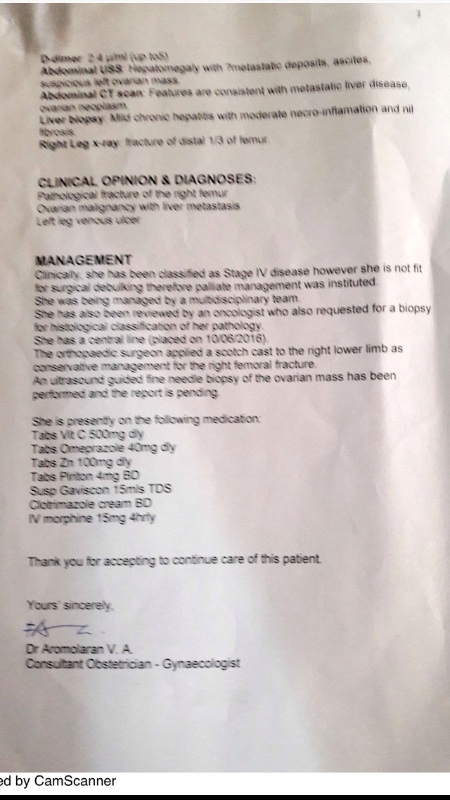 Correspondence with Emory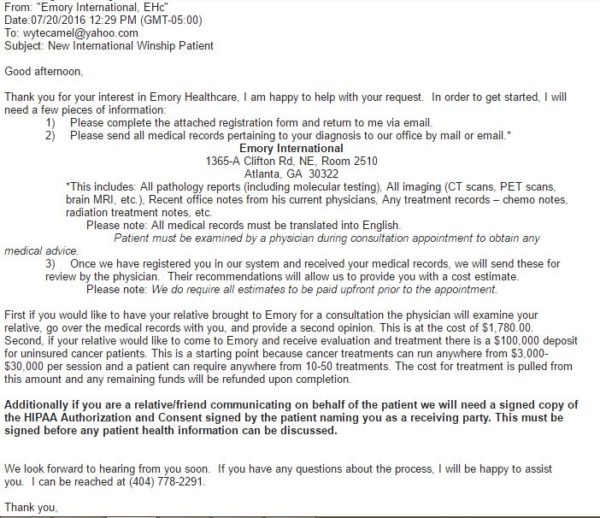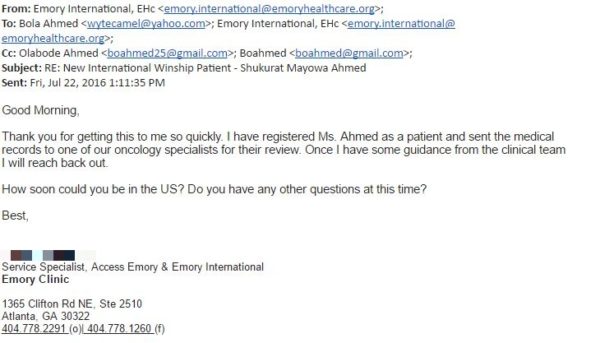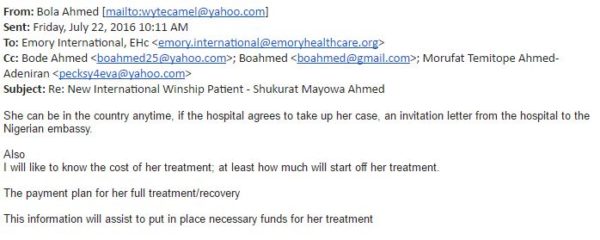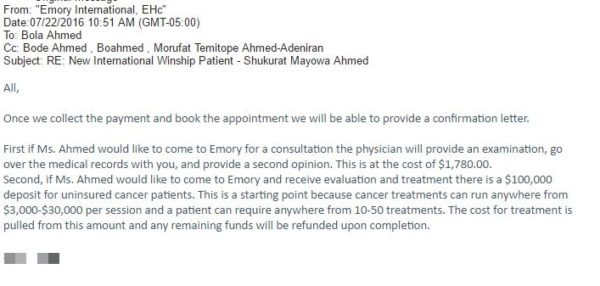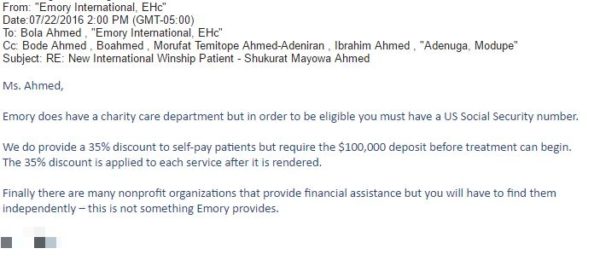 Radiology Reports
Biopsy
***
We are sharing because while we cannot ascertain all the details of the case right now, we do not want people to be discouraged from giving and praying for others in dire situations.
The bigger issue is, how can we overhaul our healthcare system where a young woman was bounced around from hospital to hospital, from diagnostic center to x-ray center and in the end, no one properly diagnosed her until her cancer spread!
A system where her family had to pay for all this out-of-pocket before they struggled to sign up for a HMO which in their words, got exhausted within a short period of time.
Whether or not someone mischievous and greedy decided to capitalize off Mayowa's case is not the main point, for us, the overflow of donations and prayers despite the present economic situation shows that Nigerians care for each other and should continue to do so.
**
When we put up the BN Community Centre post some BNers voiced their concern about Mayowa's case that she was too far gone for adequate medical care as what she actually had was liver cancer that metastasized to the ovaries and other places.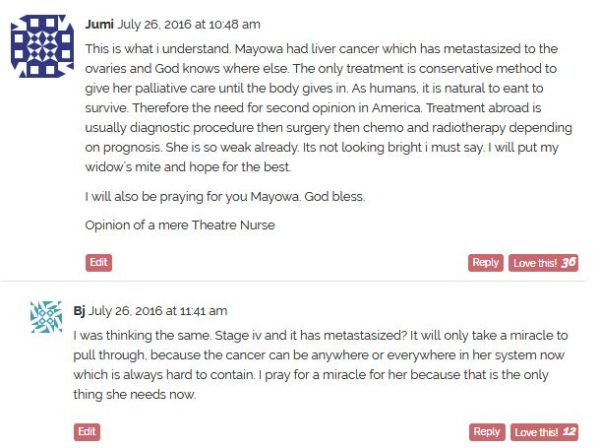 ***
Read the full medical story from Mayowa's family below.
Ahmed, Mayowa Shukura has been a known healthy HBSS patient from her early years and because we detected it early, we have been able to manage her condition very well with mild and in rare cases minor crisis.

She has always been a lively person and was never known to be down for more than a day when she had crisis situation.
She went through her education stages without medical issues and graduated from the University of Lagos but after graduation she seemed to have more frequent cases of hospital visits with Ulcer being the diagnosis most times and no more bone crisis.

Hence, we began to manage Ulcer in LASUTH. In early 2015, the visit became more frequent and she did series of tests as required by the consultants; from blood tests to multiple endoscopies to CT Scans, Abdominal scans and a whole lot of others.

By July 2015, the ulcer as it was diagnosed, became worse as it had progressed from pangs to vomiting and stooling blood so frequently. She was always on admission every other week and we spent so much on bills for the drugs and maintenance. We had to watch what she ate and drank. She started to lose weight as she would be unable to eat anything when the vomiting starts. Meanwhile any time the ulcer comes due to the stress, it always resulted to bone crisis, implying that we spend two weeks treating ulcer and the another week treating the crisis.

And as the year ran out, we spent more time on hospital admissions and more frequently. At this point, our confident in LASUTH was not firm anymore because it just wasn't working and we were not getting enough care so we tried another place- Isolo General Hospital as we knew a Management Doctor there. It was fine for a few days but then we went back to status quo.

By this time, we went to other private clinics too near our home as emergencies come especially in the night. She began to have more crisis along with the ulcer, her body began to change and due to the crisis, she began to take more pain relieving IVs, she reacted to so much and she got stuck on pentacosine.

By December, we were really worried that this is beyond being an HBSS and all the hospitals kept discharging us after a few days, saying we should go and manage it at home and would end up referring us back to LASUTH. Her body had changed, she started to have swollen tummy and bed sores. We did some scans and it showed her liver was inflated, spleen was not present. We suspected Hepatitis but no Doctor looked into that.

On one of the days, we were referred back to LASUTH in December due to hip bone shift, we decided to take her to Lagoon Hospital as a private patient, they ran series of test to confirm is she needed to operate but nothing was detected and as she spent about two weeks there, she was being managed of pain reliever and fluid to keep the bone pains down and the maintain appropriate PCV (blood level).

At the end of the period, we were discharged and she kept on managing the situation at home, treating bed sores, ulcer or gastro issues, bone crisis and pains without any help from hospitals. Family members had to learn how to administer IVS and IMs as well as body fluids.

Sometime in the first quarter of 2016, she met a group of Nigerian surgeons from UK, and they said she couldn't be operated upon because of her condition and her hipbone shift was slight and would get better, which it did and they introduced her to a fellow Nigerian Gastro surgeon. She visited and he read her medical report on the ulcer. He concluded that she hasn't been well diagnosed and treated by the hospitals and gave her a drug (ROBIDOM-SP) to be using morning and night; this helped dramatically as all the vomiting and stooling stopped.

We had spent so much at Lagoon Hospital that we decided to save up for HMO for Reddington Hospital. By April 2016, at this time, her leg would keep swelling from the feet up to the the thigh. We were able to save up and we started treatment at Reddington Hospital, Ikeja and she went on admission there. She spent like two weeks there and for the most part they kept saying they needed to run some scans and test which didn't yield any diagnosis. She got blood transfusion for the first time in her life as her blood level and PCV was now too low. At this time, we couldn't access her veins so they had to do a cut down both on her leg first before they found a spot on her hand to set a central line to administer drugs, water and blood.

Eventually, they said she needed to do liver biopsy as the CT scan showed there were masses on the liver. We were referred to LUTH for this and she spent about some weeks in LUTH for this. The result at the end of the day was inconclusive.
We then went back to Reddington VI, and they did more tests from contrast to CT Scans to Blood tests and so much more after a short while she was discharged as been stable but was soon brought back after a few days because her thigh bone gave way and she was put in a cast.

They told us in June that our HMO of 1 year had been exhausted in less than 1month and we need to re-negotiate payments. She was then told that they suspected cancer and had to do Ovarian and liver biopsy again. This we had to pay for privately, after which she was sent home as we couldn't afford the hospital bills anymore as we queried that there was no logic in HMO service ending after a month. The conclusion after the result was that the masses on the ovary were malignant and it was affecting the liver as that was the primary site.

Since then up until now she have been at home and we get doctor friends to come check her from time to time. Finally, we decided that due to wrong earlier diagnosis and improper management and care from most of the Nigerian Hospitals we need to send her out of the country coupled with the fact that most of the doctors and hospitals have given up and saying they can't do anything for her right now.

We have been misled by the so called top hospitals in Nigeria and have only helped to make the issue worse. We require every support to help to give our dear Mayowa an attempt to regain her life and live the remaining as God as ordained.
***
Update:
Recent updates from @lifestakefoundation show that Toyin Aimakhu and Aramide Kasumu were at a police station to report the alleged scam of Mayowa Ahmed's family. They uploaded videos from the scenario on the @lifestakefoundation Instagram page which you can watch below.
***
Toyin's interview with YNaija

Update:
A BNer commented as a member of Mayowa's family saying: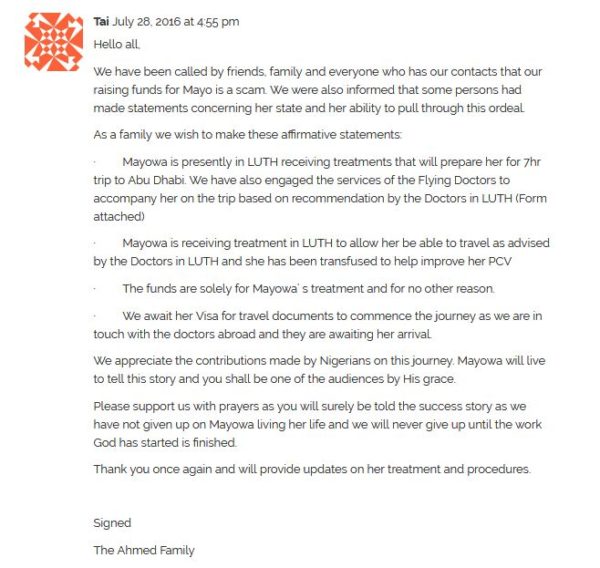 ***
Through all of this our thoughts remain with Mayowa who is still holding on to hope of survival as she battles stage 4 cancer.