U.S Launches $1 Million Program to Assist Children and Families Affected by HIV/AIDS
The U.S Mission to Nigeria together with Edo state leaders on Thursday, launched a $1 million program to Assist HIV/AIDS-affected children and families.
First Lady of the state Iara Oshiomhole and the Commissioner for Women Affairs Aenena Jemitola Fulani-Ojo hosted the U.S. Consul General John F. Bray and the U.S. Agency for International Development (USAID) Mission Director for Nigeria Michael Harvey at the Banquet Hall of the Edo State Government House.
The program, funded by the U.S. President's Emergency Plan for AIDS Relief (PEPFAR) through USAID, will help lift out of poverty 15,000 families affected by HIV/AIDS in Edo, Benue, Kogi, and Nassarawa States and the FCT.
Each selected family will receive a cash amount to enable them to pay for school, purchase food and other necessities, and become self-sufficient entrepreneurs.
"Since the inception of PEPFAR, the U.S. government has made a point of focusing on children who have been most affected by the HIV/AIDS epidemic," said Mission Director Harvey.
"The program we are launching today brings hope to 2,400 vulnerable families here in Edo State alone. We want this to be a model for how such programs can effectively and affordably be put in place, so that other states can follow suit," Harvey added.
Bray and Harvey also visited the Power Africa projects and partners in the state to assess the progress of partnered investments that advance U.S. President Barack Obama's signature initiative.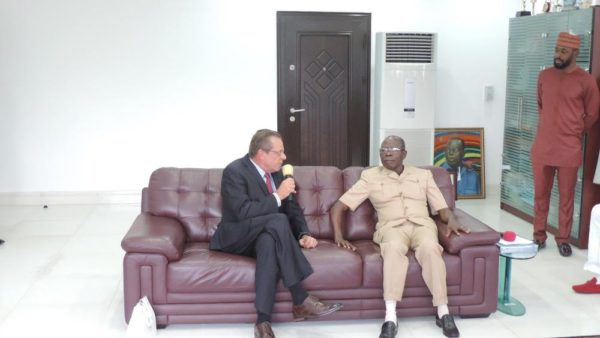 The also met with Governor of Edo State Adams Oshiomhole and His Royal Highness Edaiken N'Uselu, Crown Prince Eheneden Erediauwa.