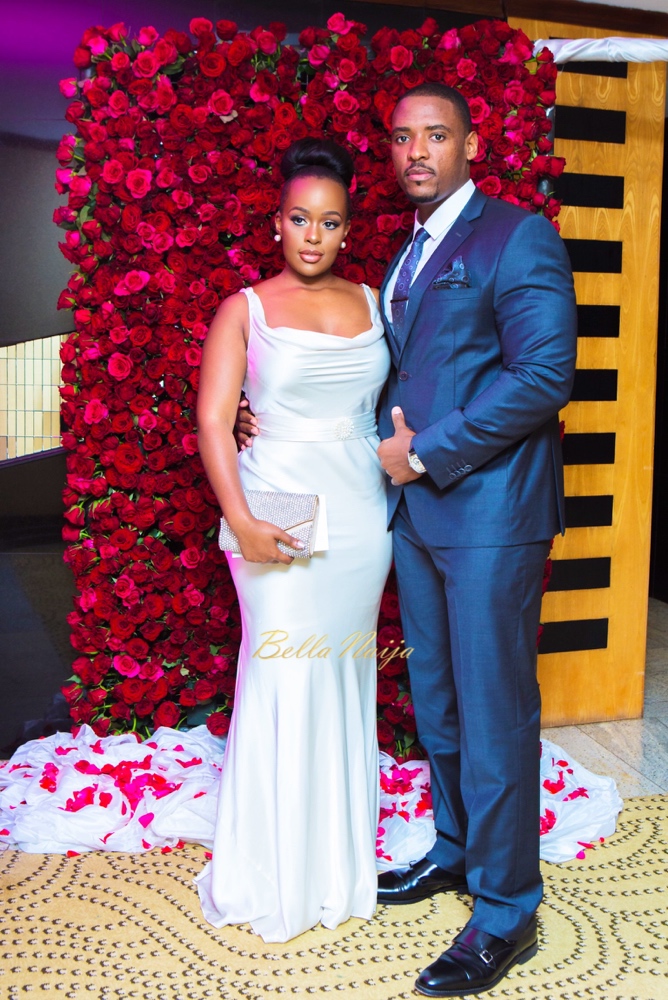 It was meant to be…
Today's groom Yassah was the page boy at his bride Nadia's parents' wedding. The Ugandan couple met when she moved back home after her university studies in the UK.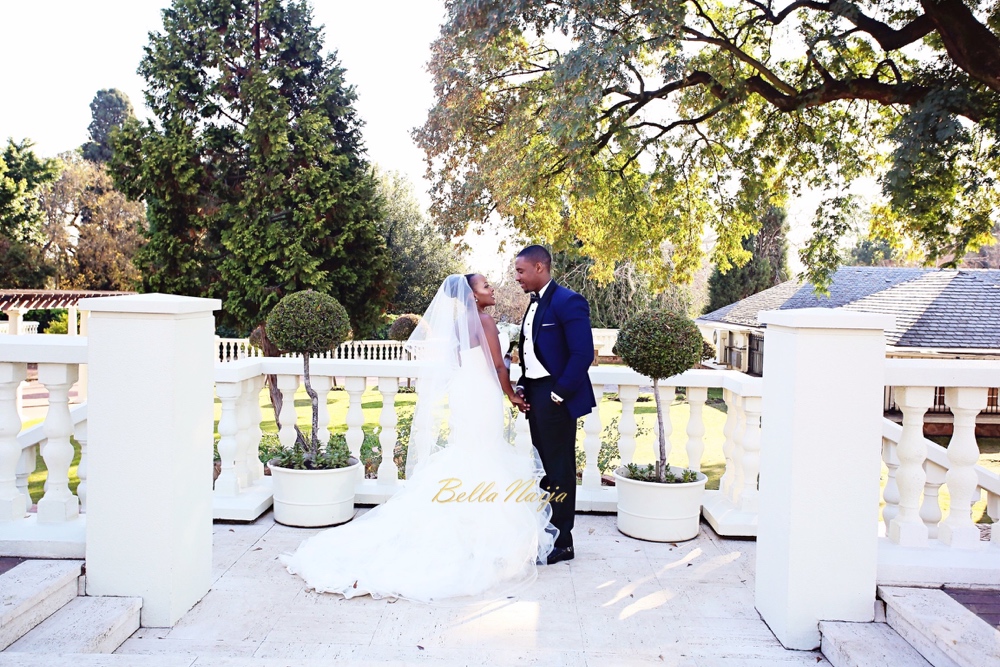 The beautiful bride Nadia is fondly known as 'Black Kim K' by her friends and on social media because of her curves.
The bride and groom honoured both their religions – he's Muslim and she's Christian, while celebrating their rich Ugandan culture.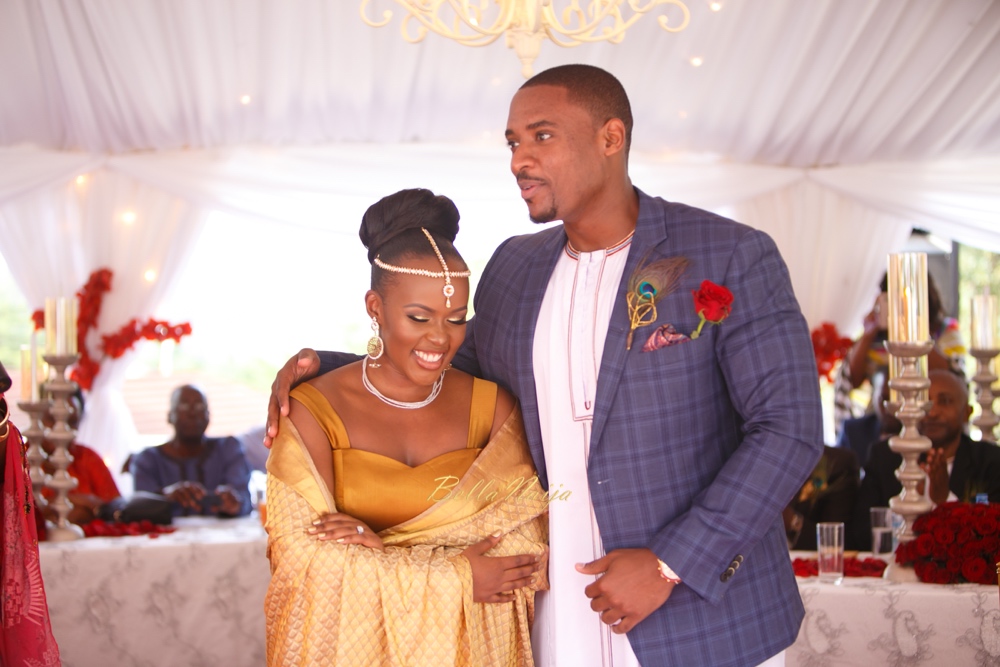 They also infused Southern and West Africa by inviting the Soweto String Quartet and Burna Boy to perform at their wedding in Kampala and Johannesburg, while Lagos-based makeup artist Elaine Shobanjo of ShoMya did the bride's makeup. Tevin Campbell also added an American flavour by serenading them during their first dance.
Here's their love story and spectacular wedding!
BellaNaija Weddings wishes Nadia and Yassah a blessed and beautiful home.
***
How We Met
by the bride, Nadia
Our families have always been close; my husband was a page boy at my parents' wedding (I guess you can say us our union was fate!), however we only met as adults in 2012 when I moved back to Uganda from the UK after finishing my first degree, there was an instant connection between us.
The Proposal & Ring – special significance
We would prefer to keep the proposal details private- Its' a special moment just between us two. I didn't see it coming at all and the ring blew me away. The cut is perfect, and the ruby is special because it represents my birth stone and he knows how much I love horoscopes.
Wedding Day Tips
Enjoy your wedding day as much as possible, live in the moment! Don't worry about anything just enjoy yourself.
I also advise brides to have backup shoes because you'll be doing a lot of standing. No one sees your shoes through your dress, so the change won't be noticed.
Wedding Highlight
The first dance was truly magical. Although there were 300 people around us, it felt like it was just us two in the room.
We both love 90s music, and are big fans of Tevin Campbell, so having him perform the song for our first dance was special.
Pre-Wedding Dinner | Photos by Owaraga
This was a dinner to celebrate our union before the Nikkah and white wedding, as well as receive a blessing from a priest (we wanted our union to be blessed by both our religions). After the blessing, guests had dinner and were entertained by the Soweto String Quartet.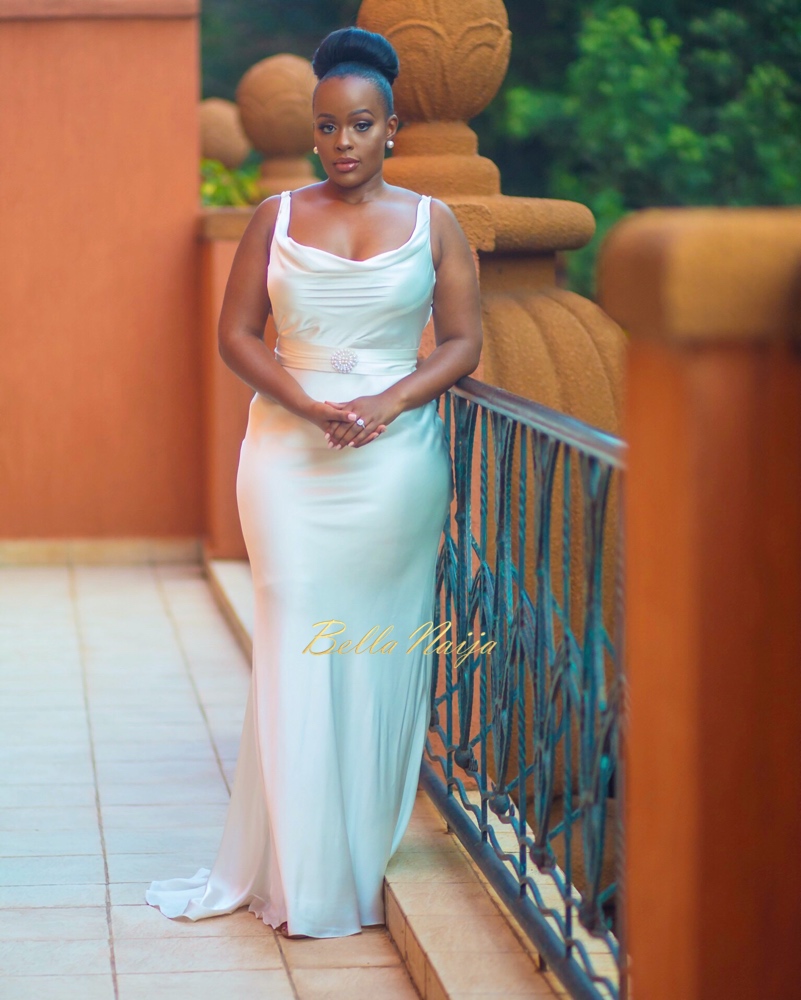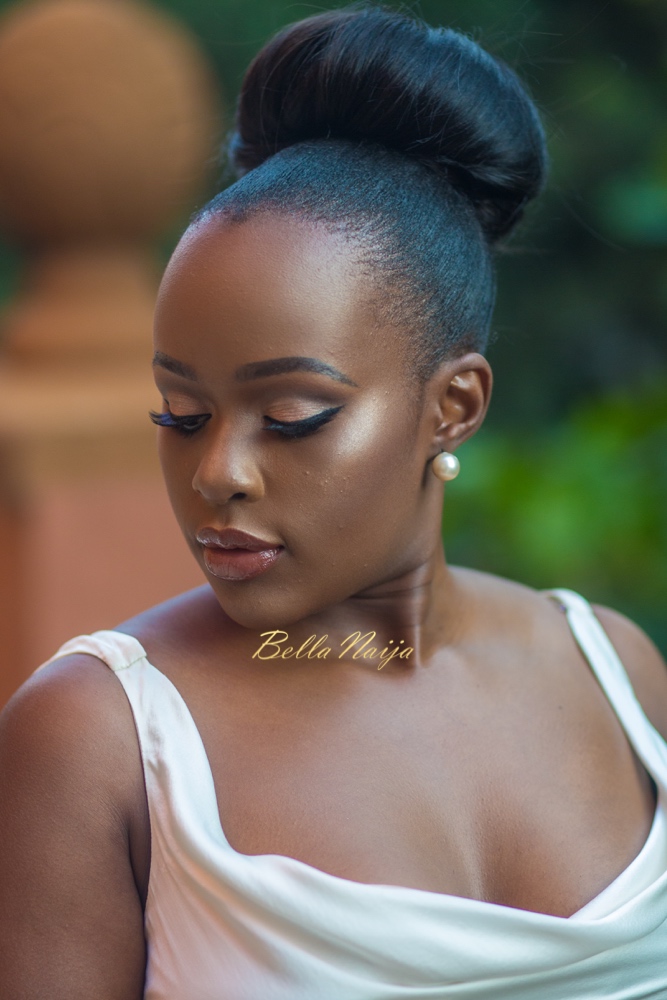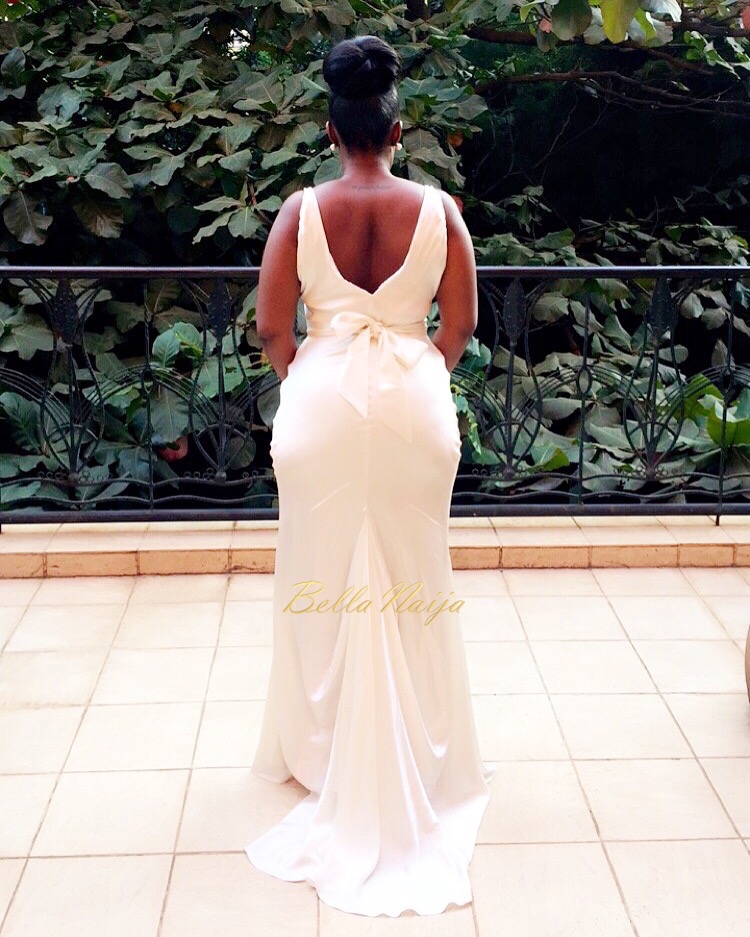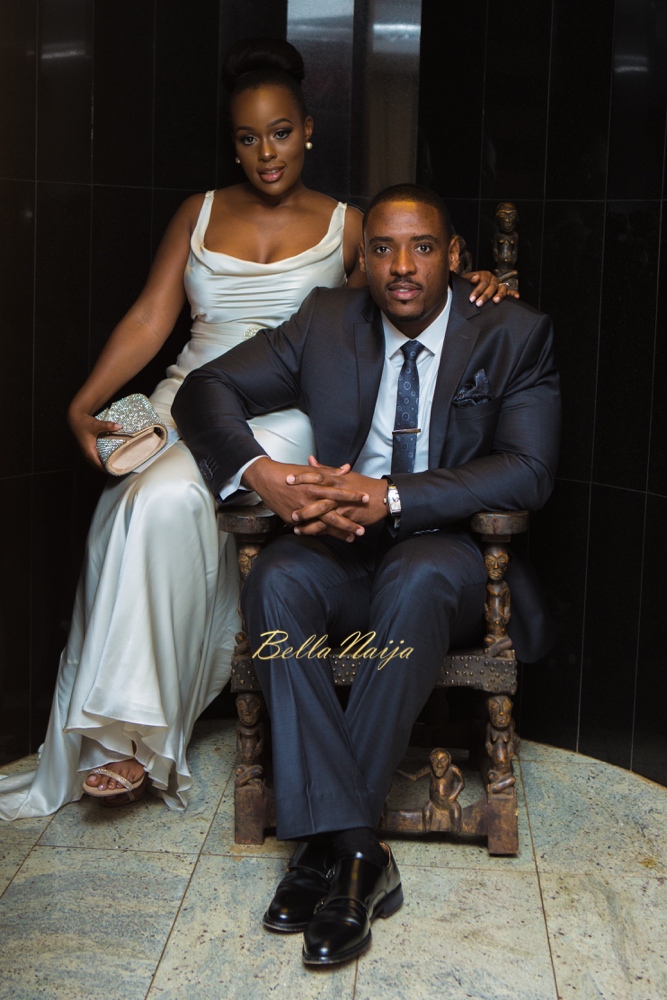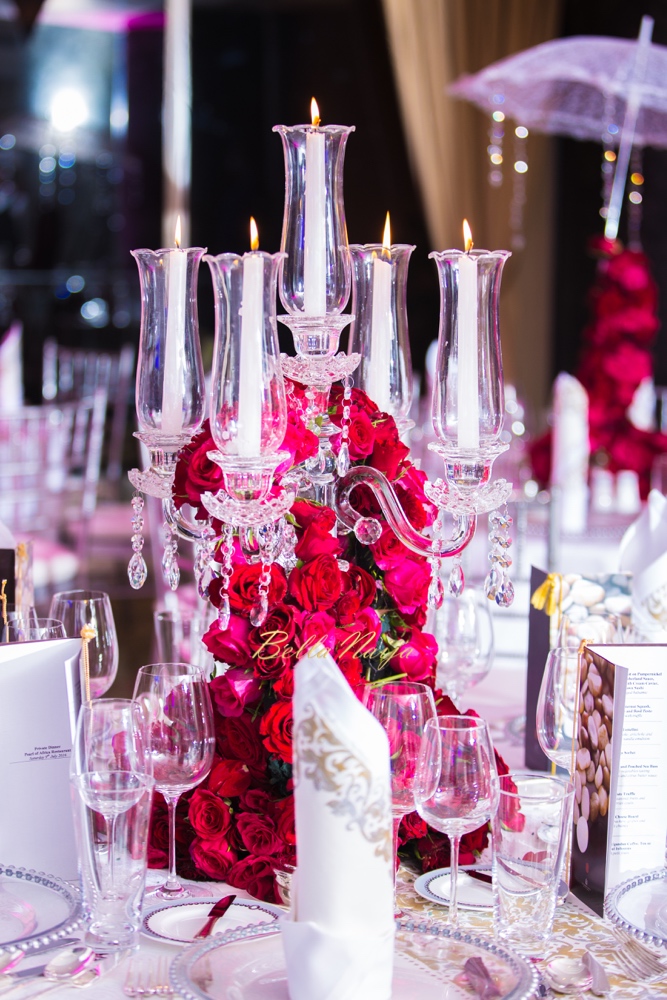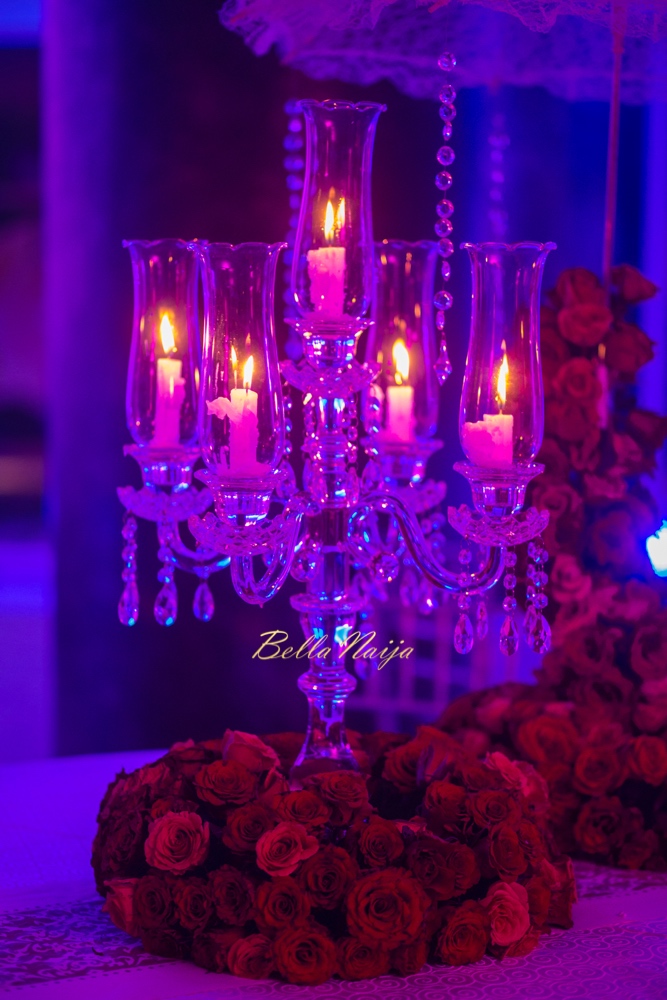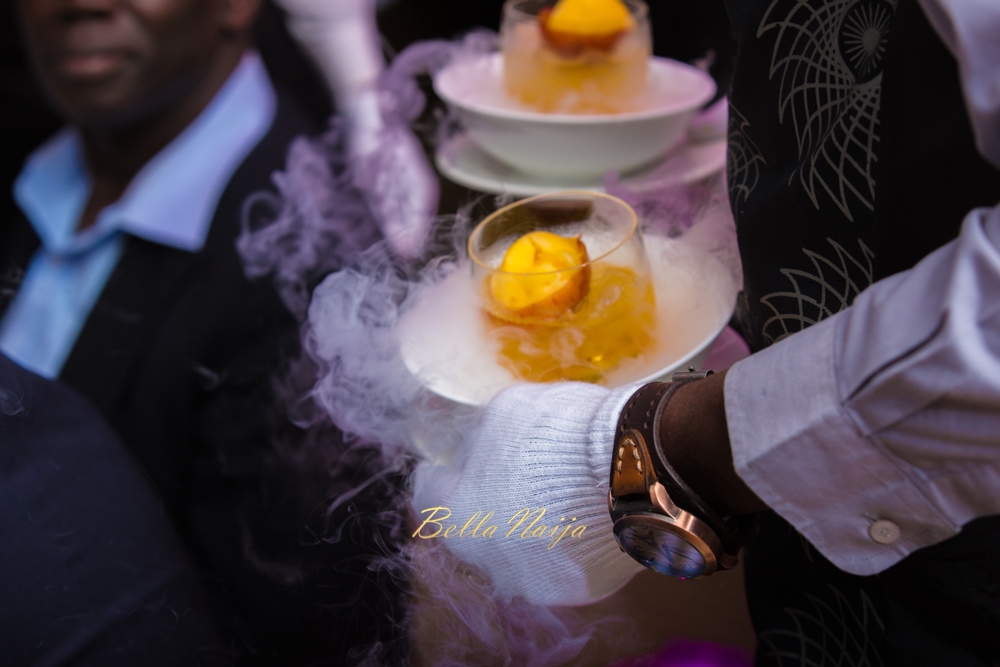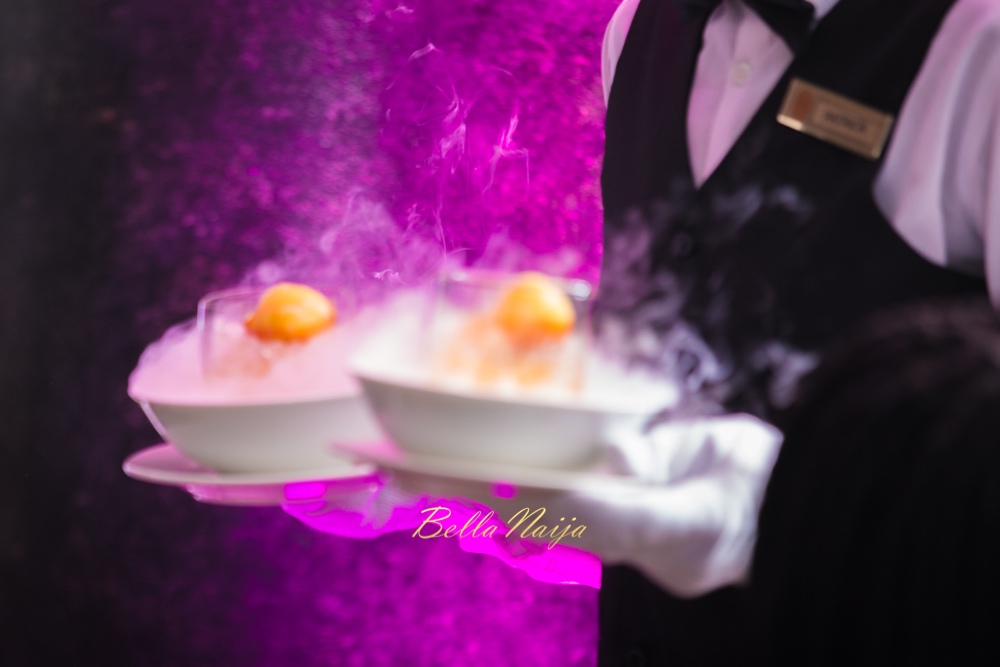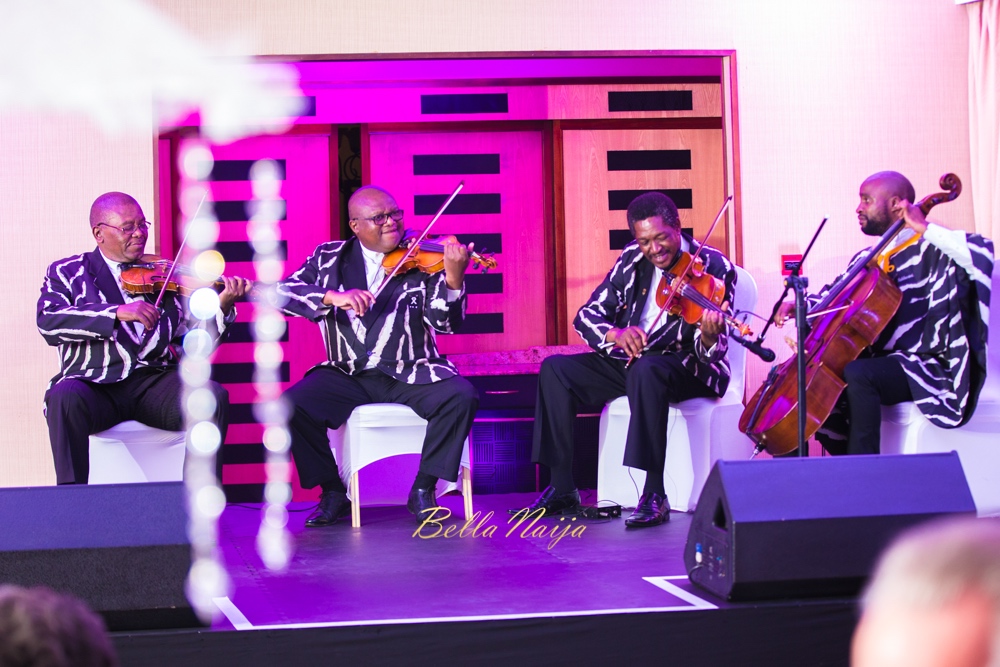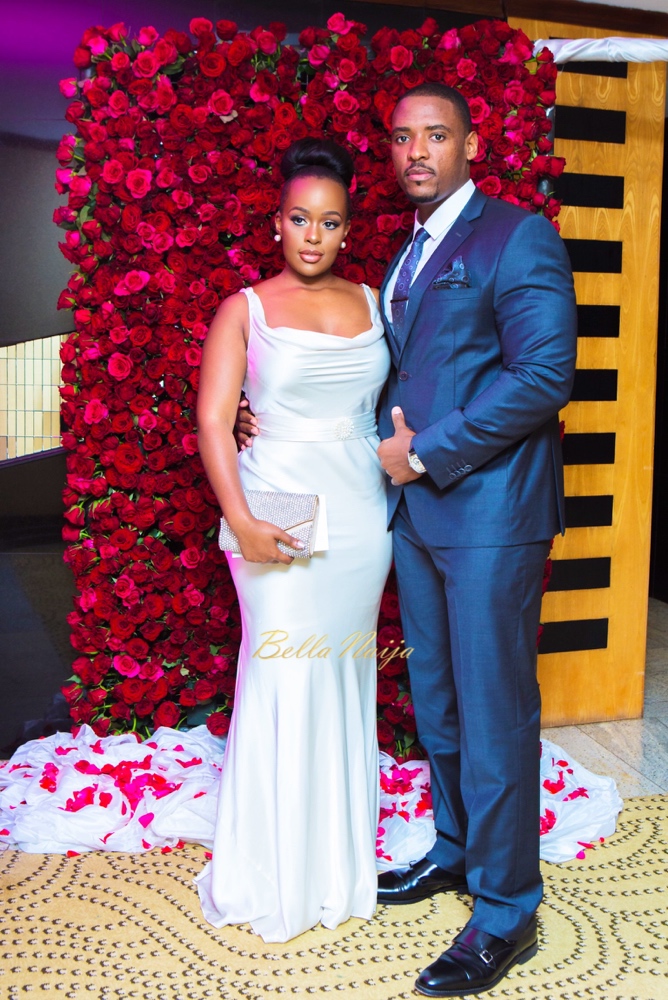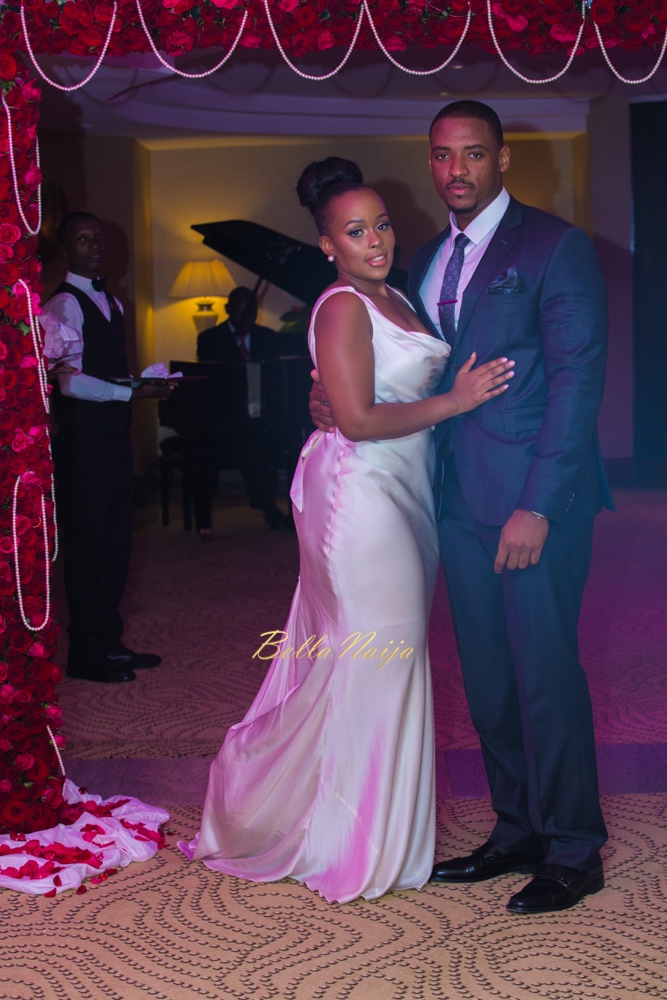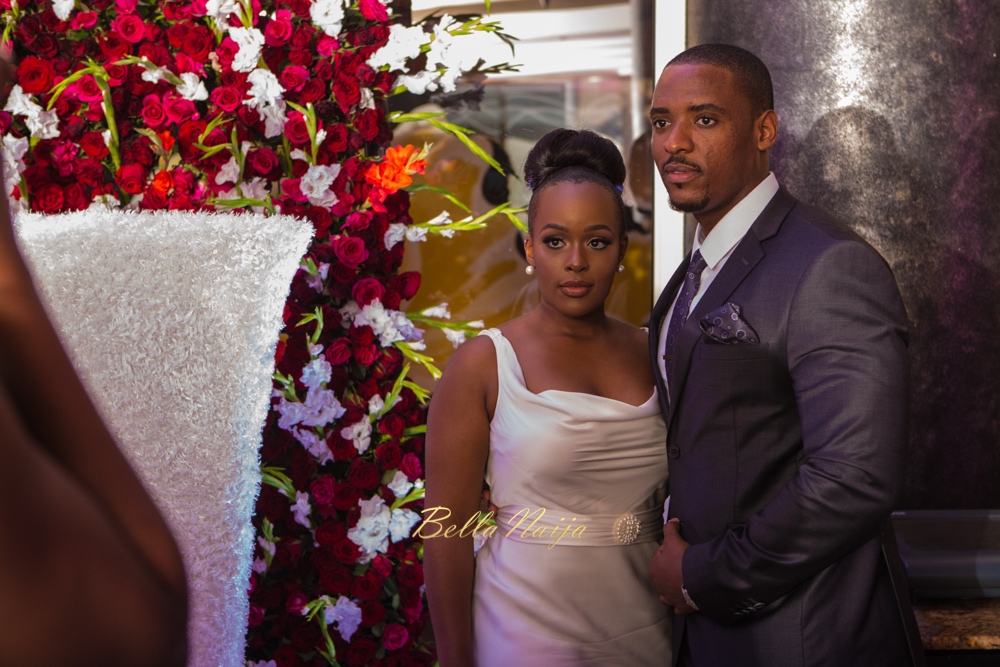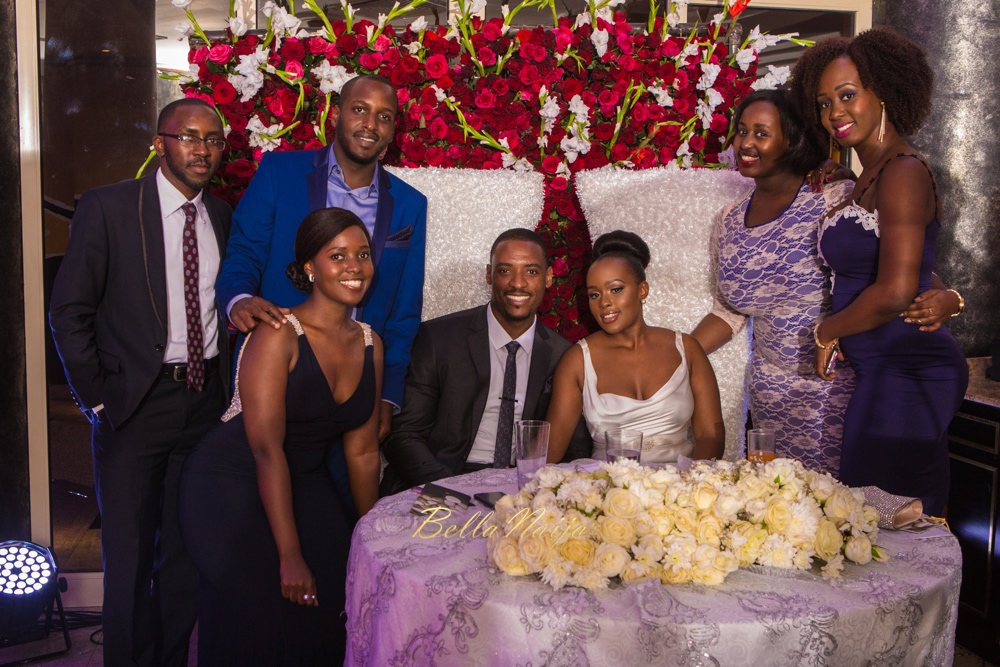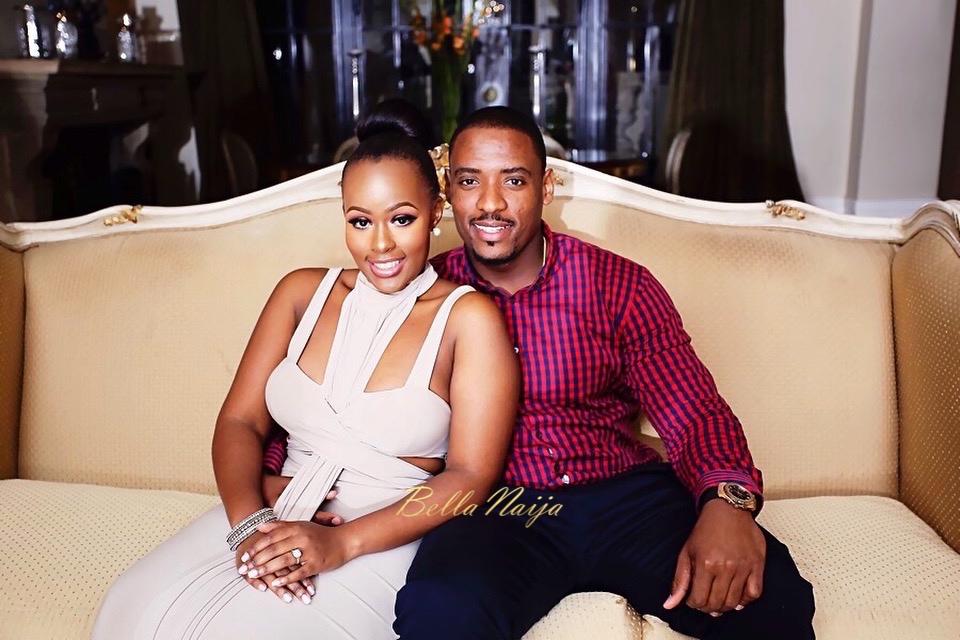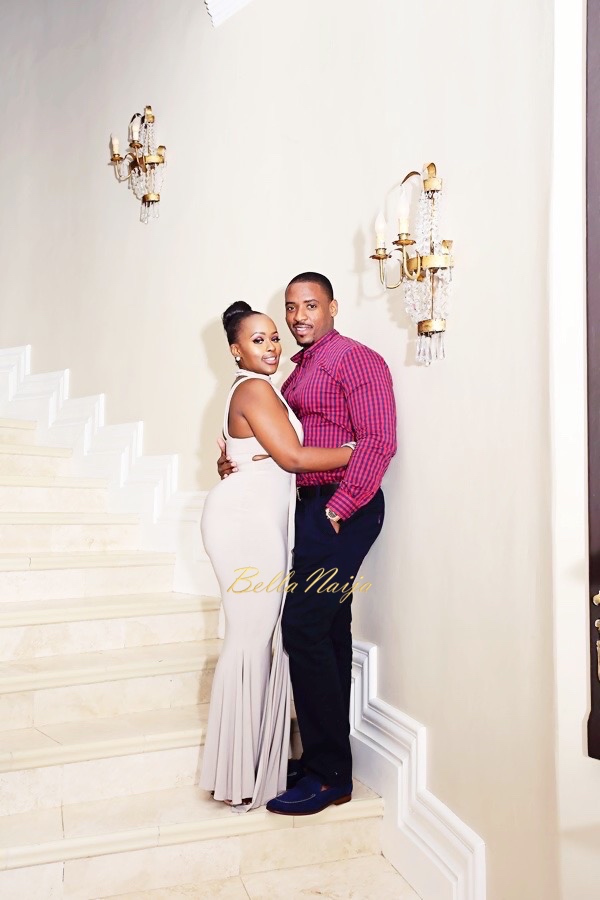 Traditional Wedding | Photos by Mega Pix and Owaraga
This is called an O'kuhingira. It is where the bride introduces the groom to her family, and always takes place at the bride's home. The groom identifies his wife, and the family of the bride officially hand her over to the groom's family. There is traditional dancing and traditional entertainment.
The first outfit I wore was a gold traditional Bakiga outfit, I then changed into a maroon traditional Bakiga outfit. With both outfits I word head jewelry as well as earrings, and bracelets. In our culture a lot of jewelry is worn at the traditional wedding.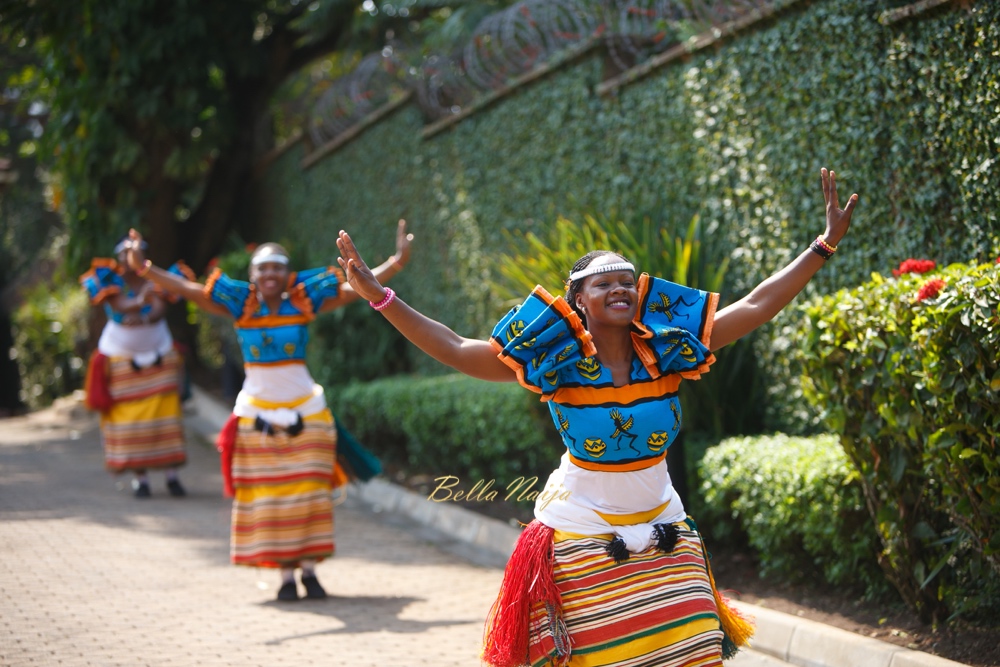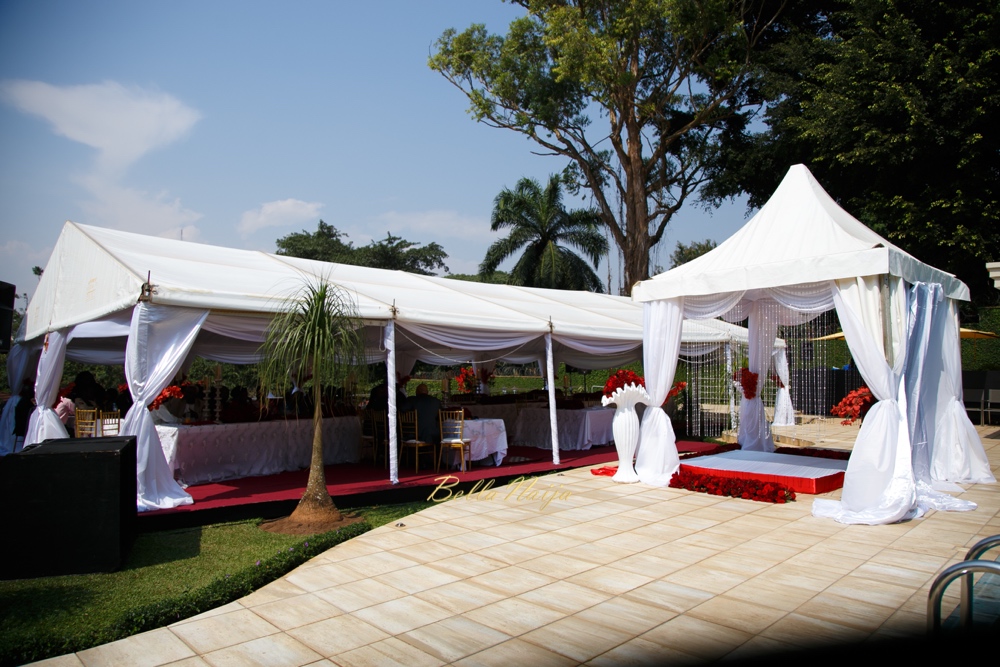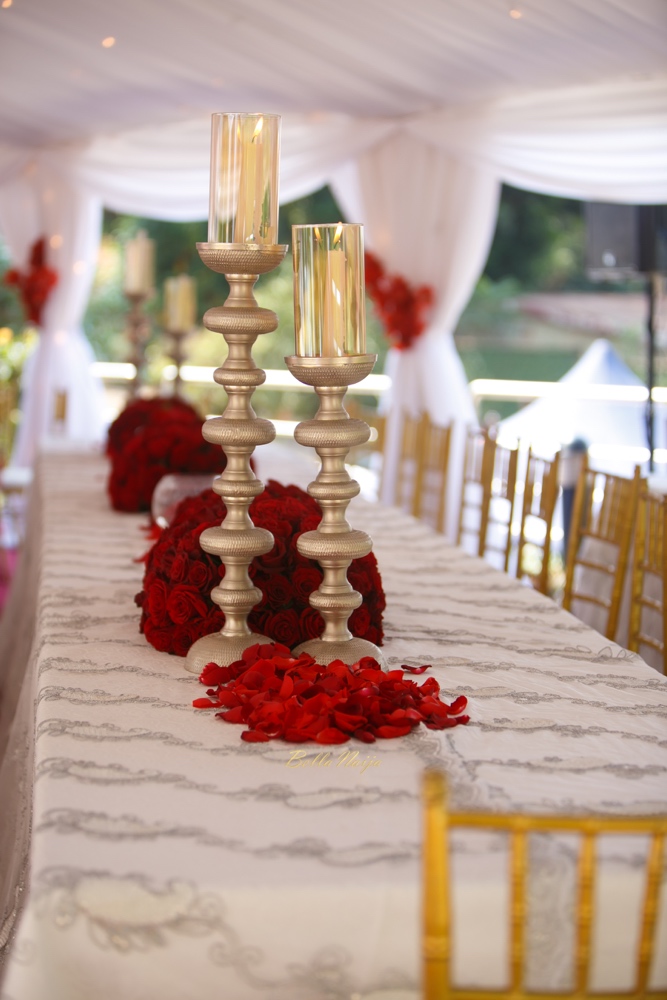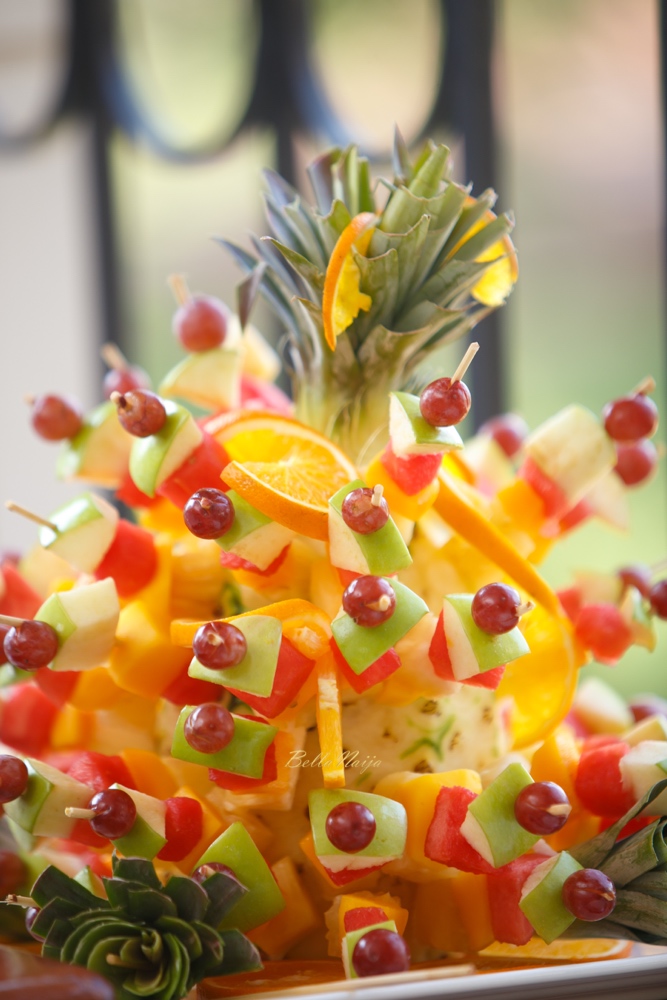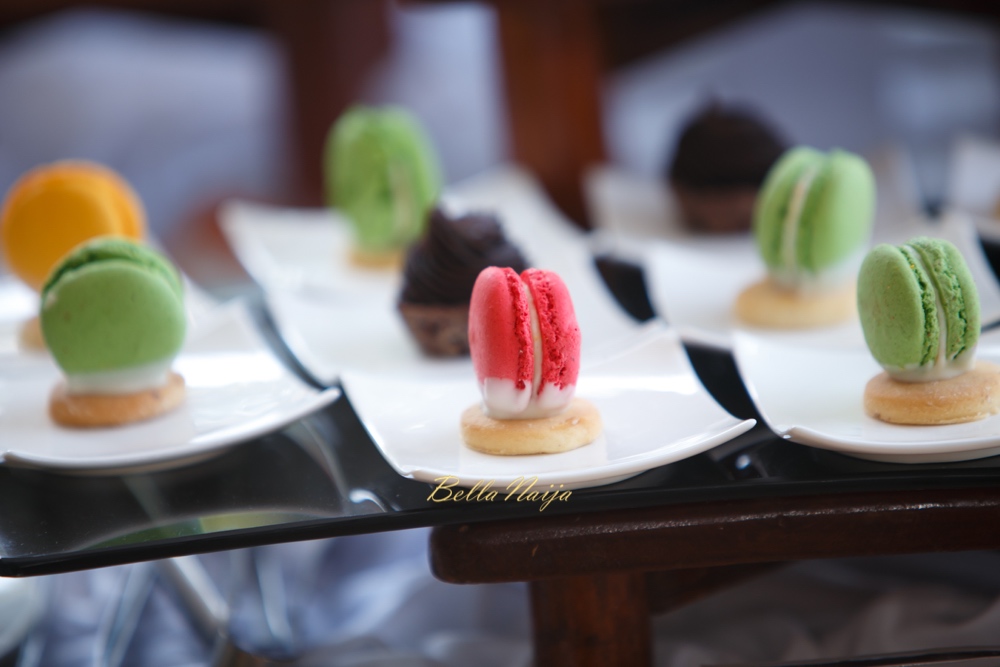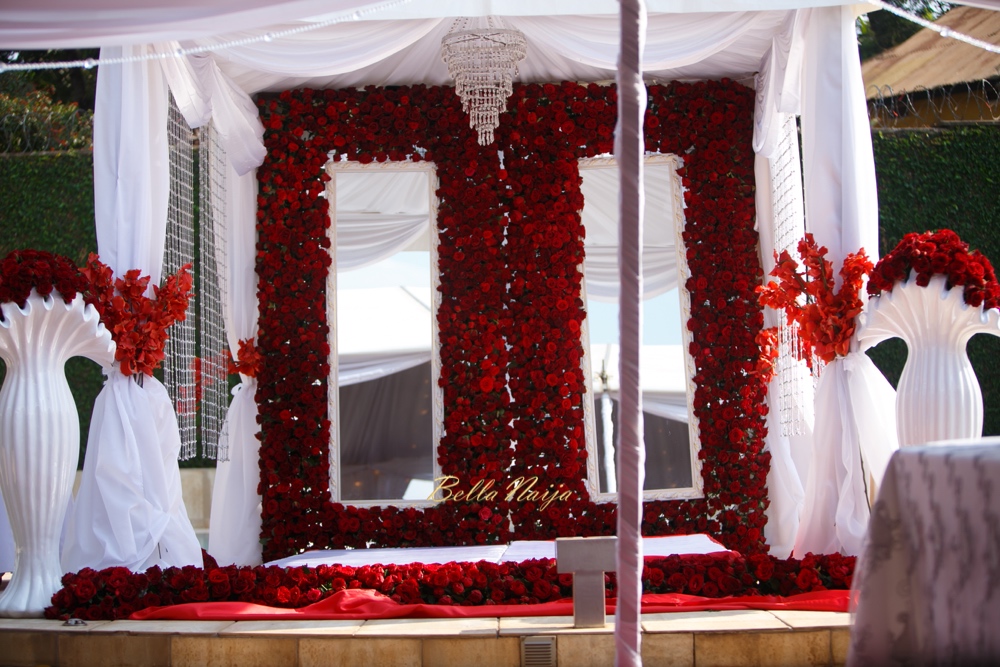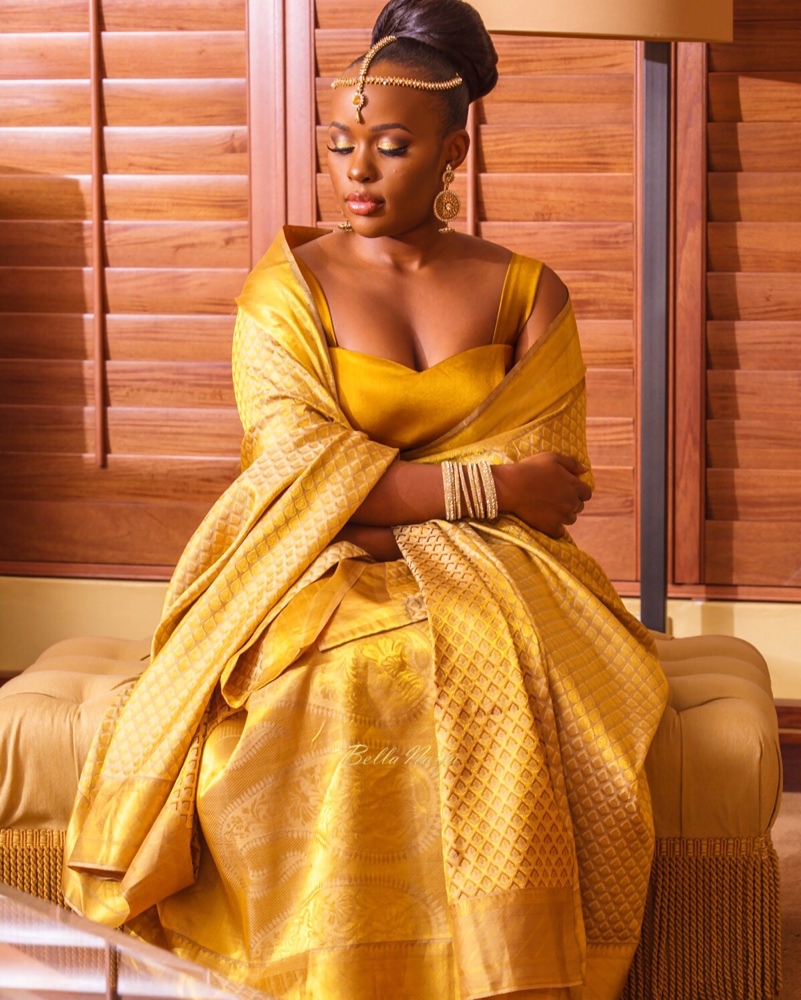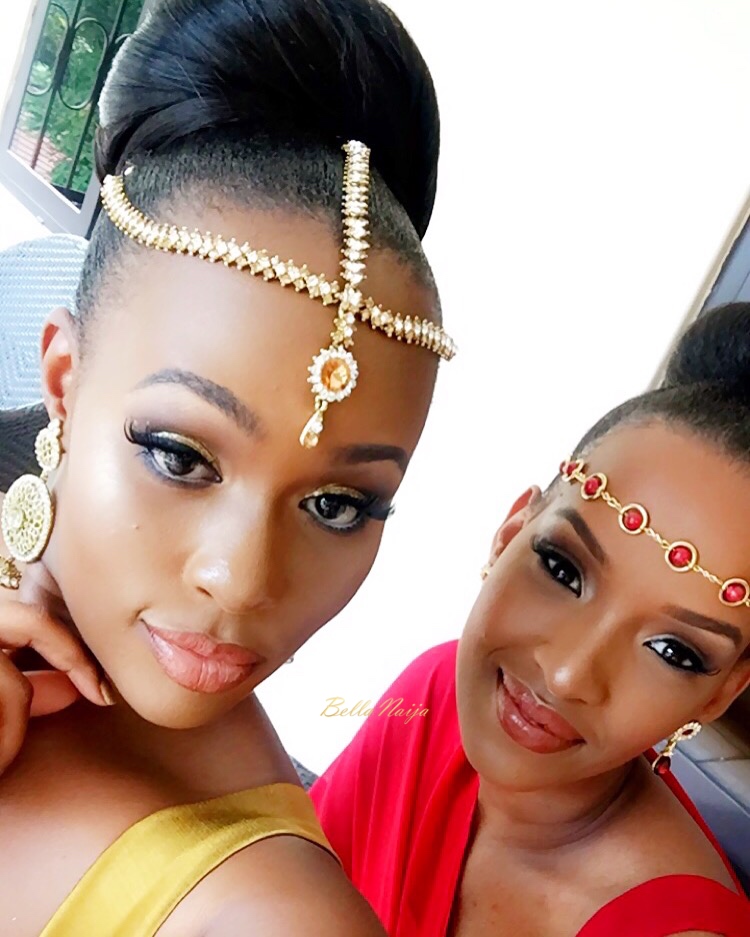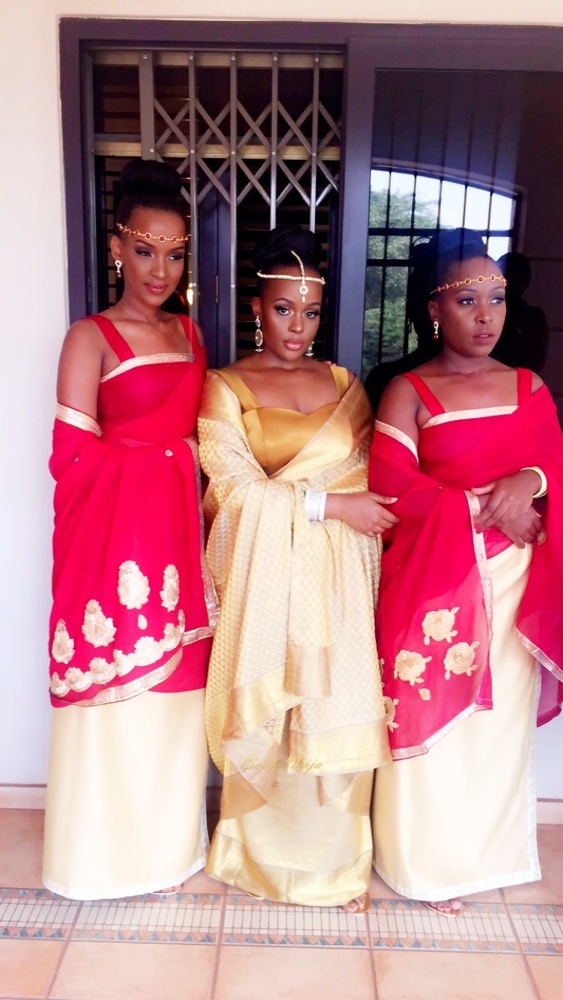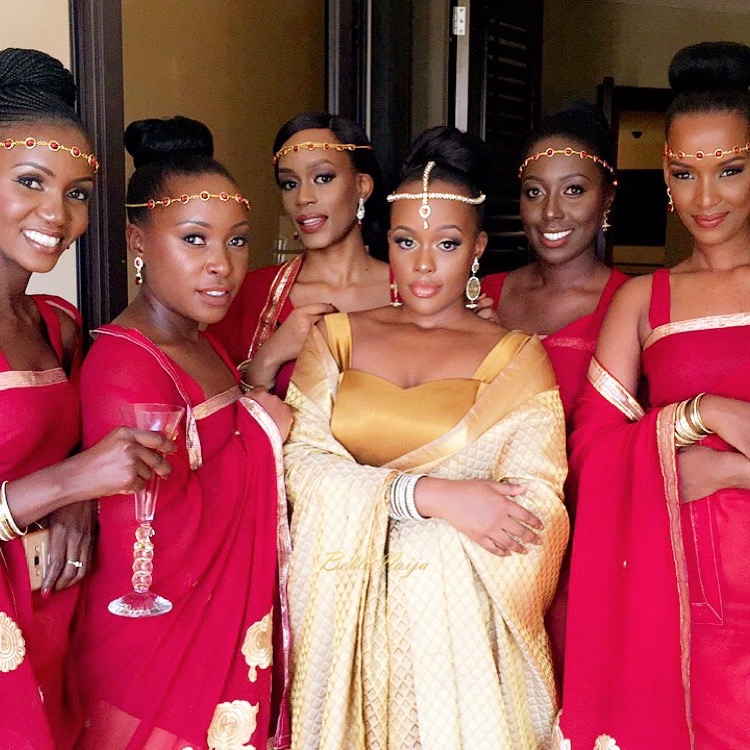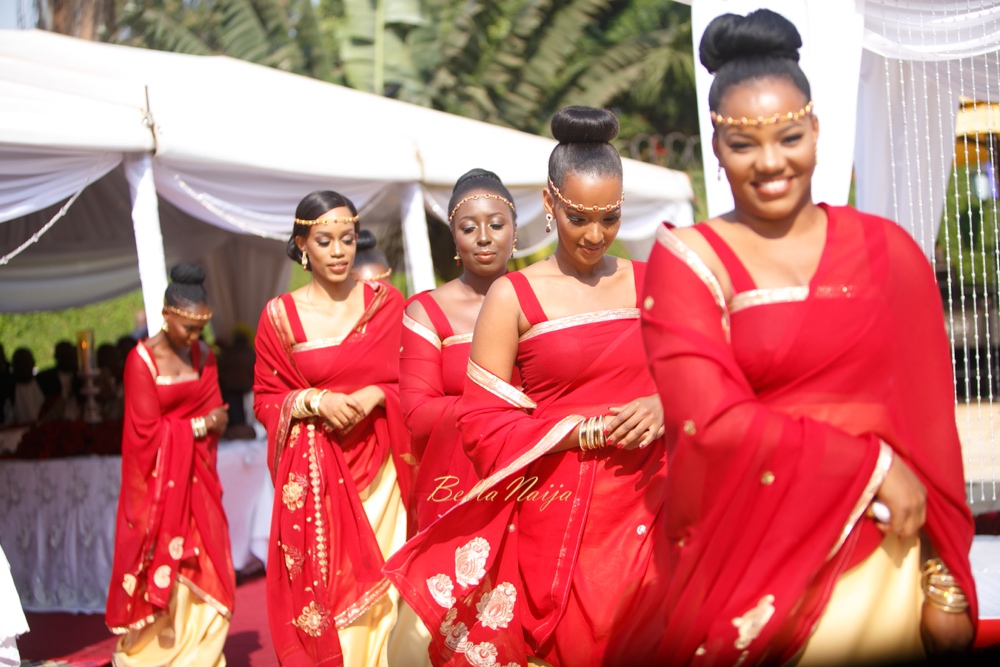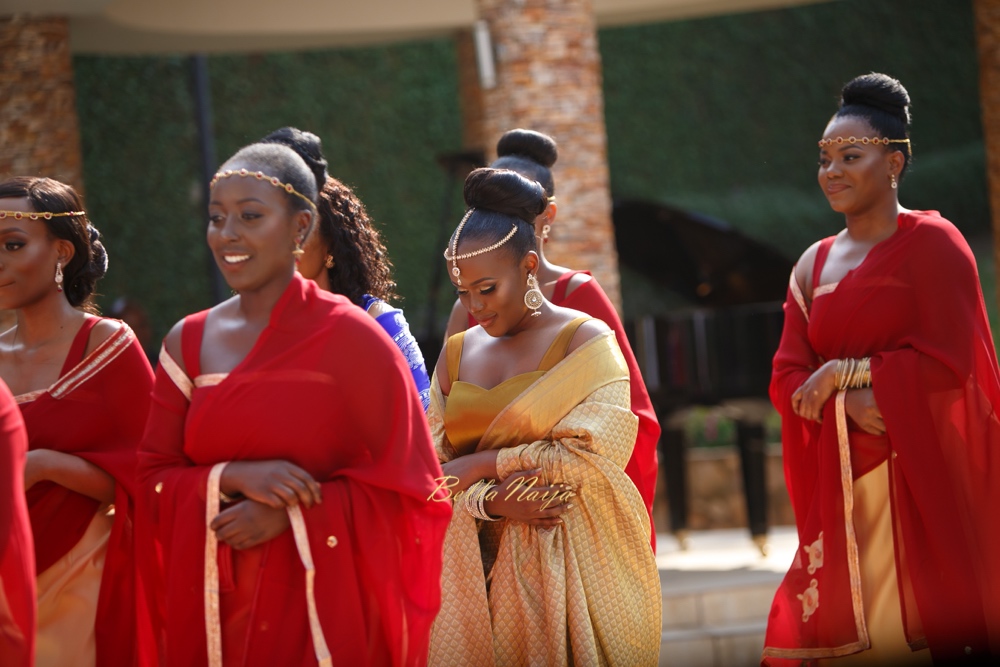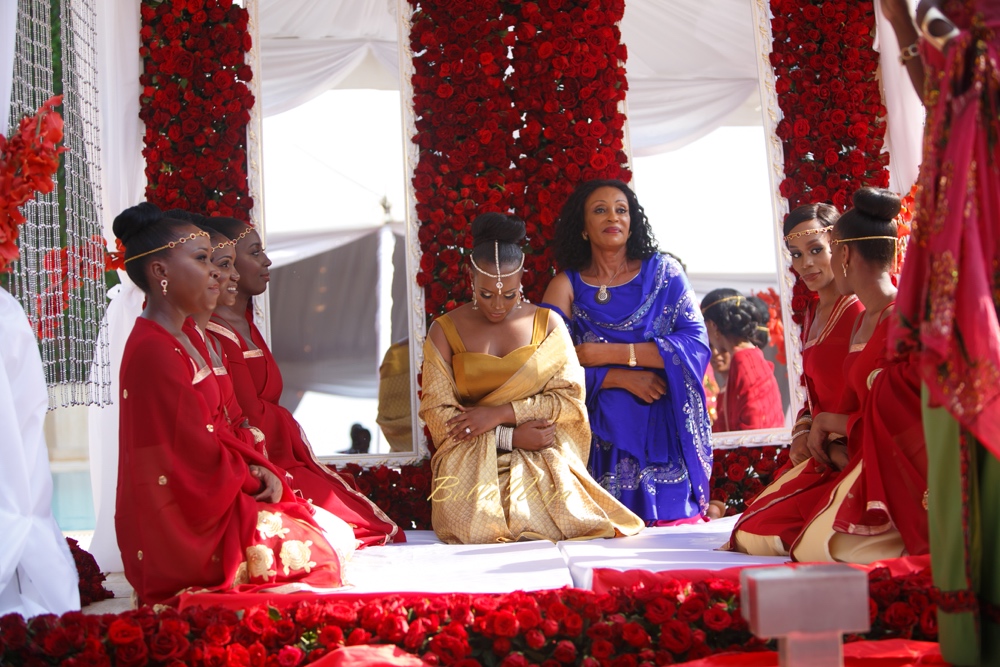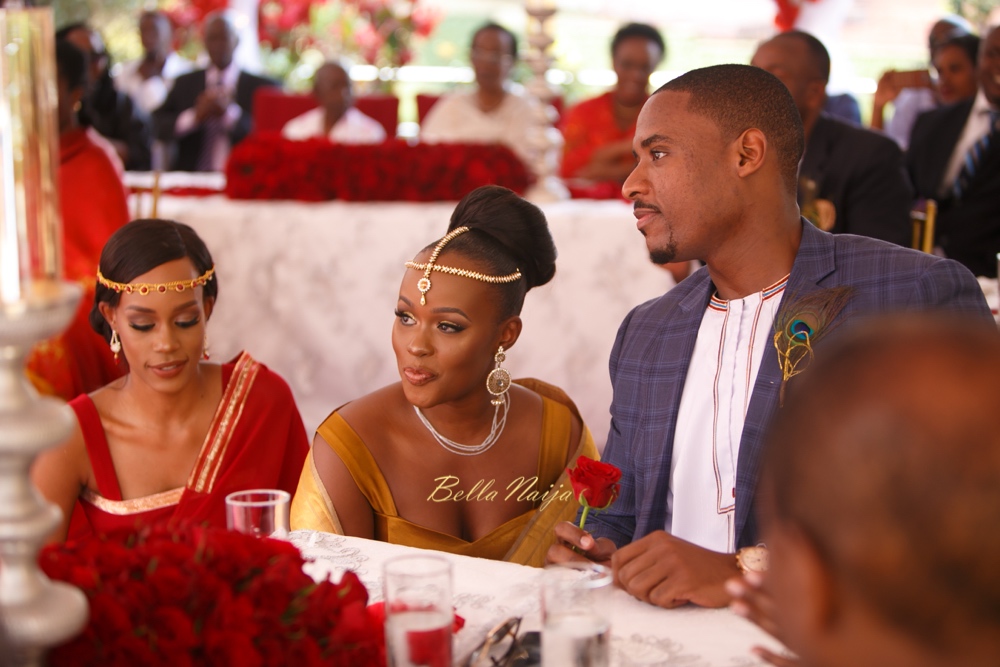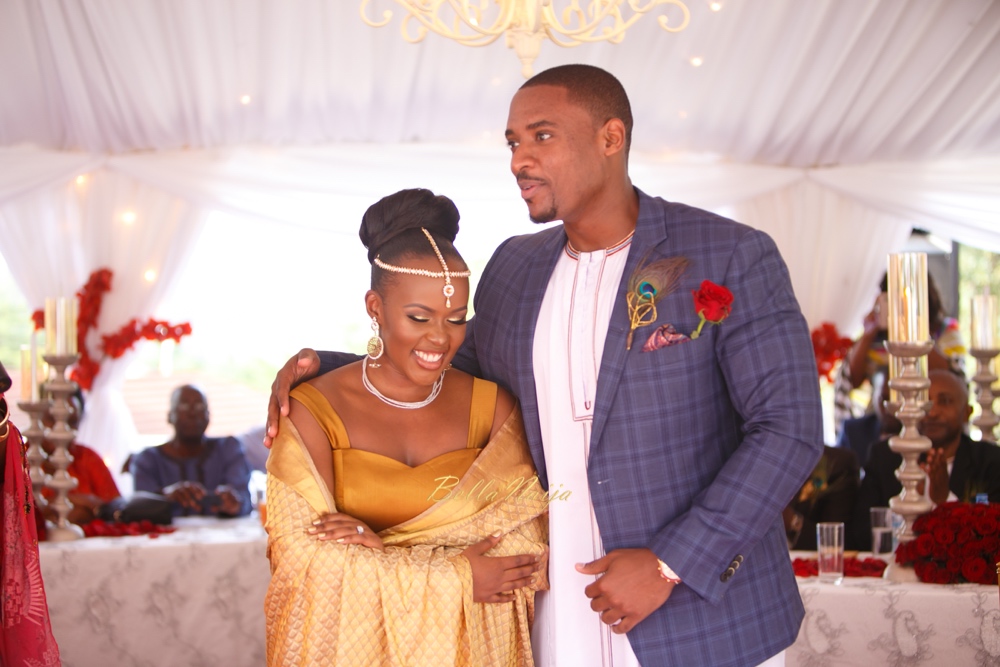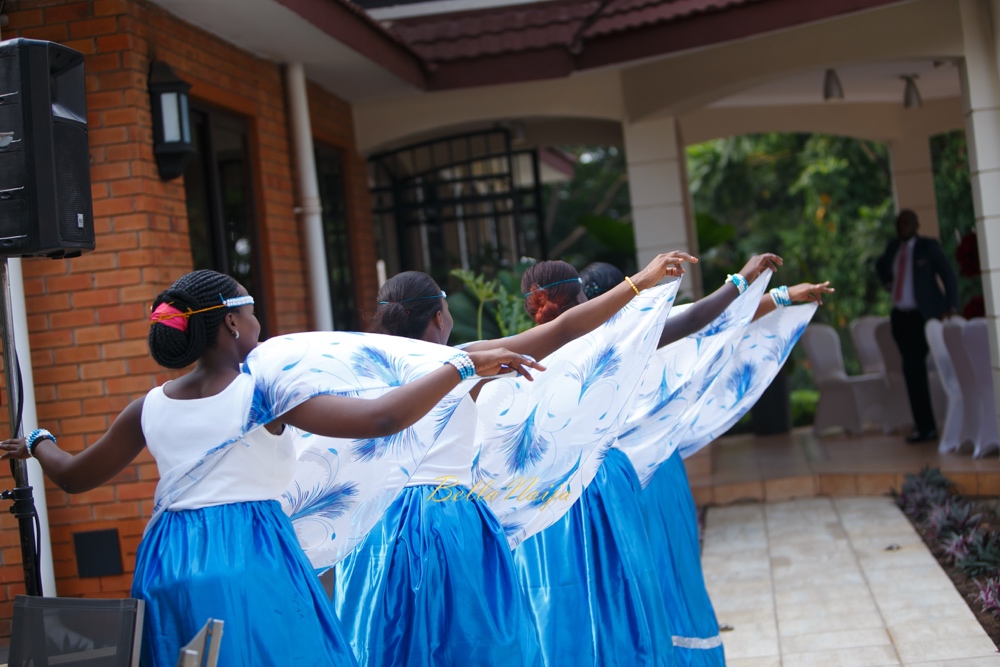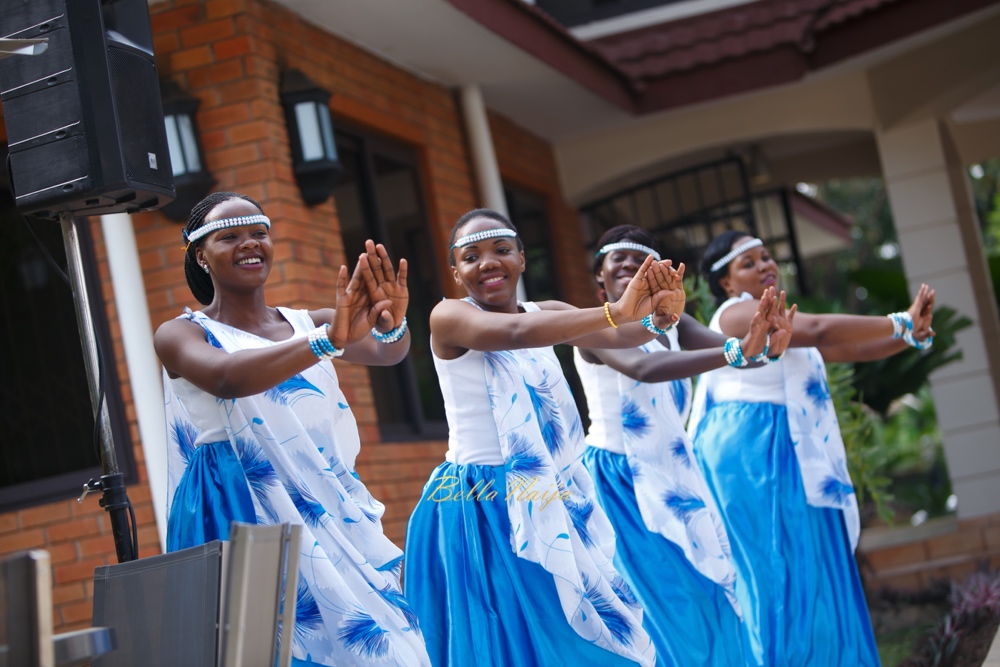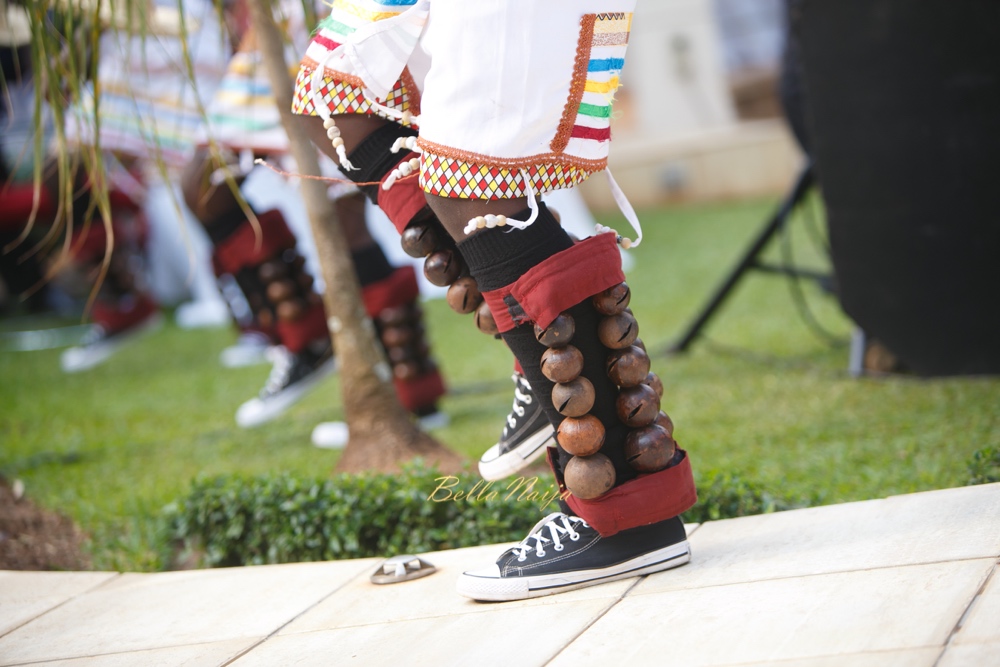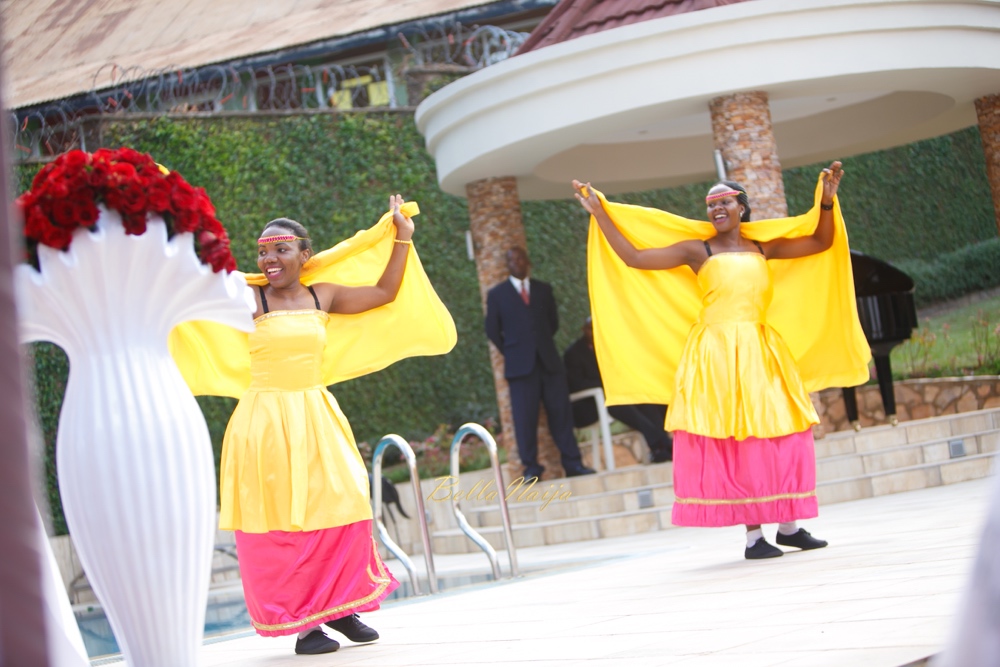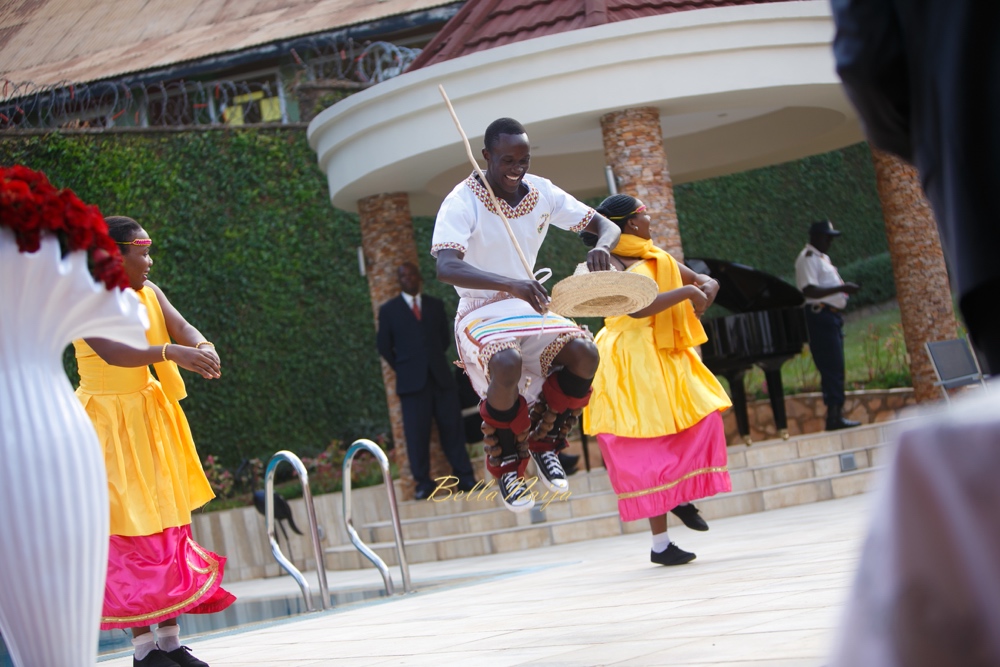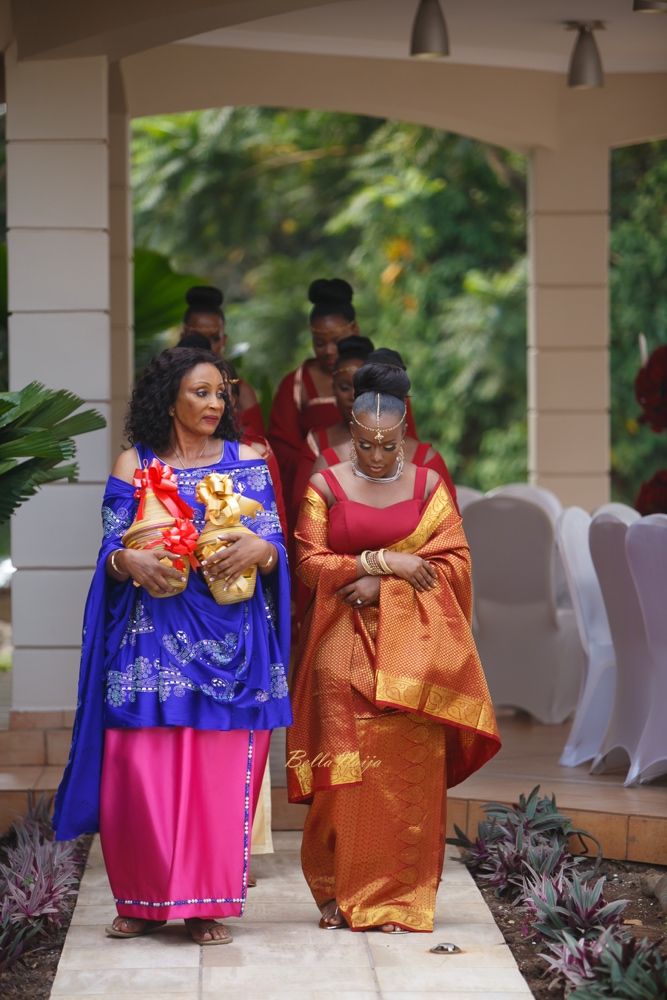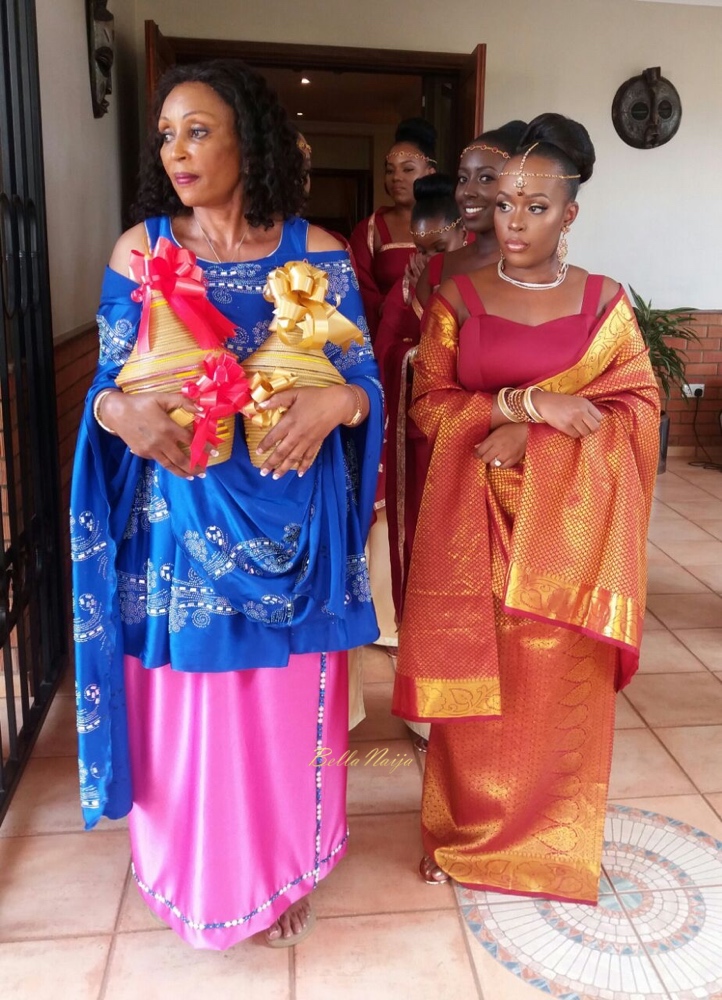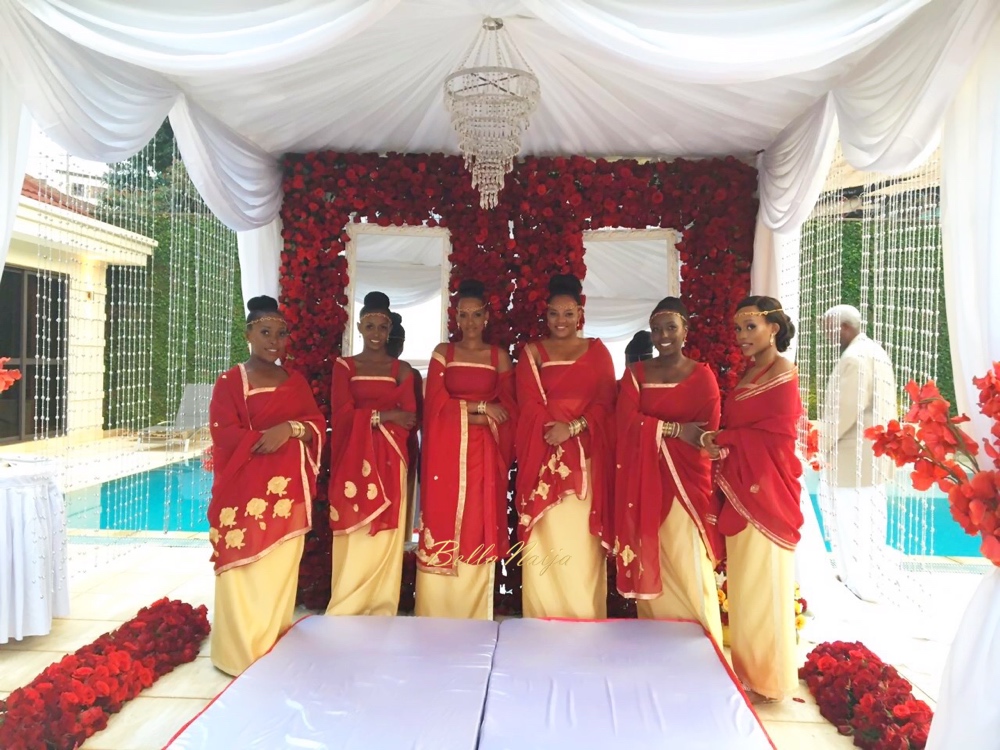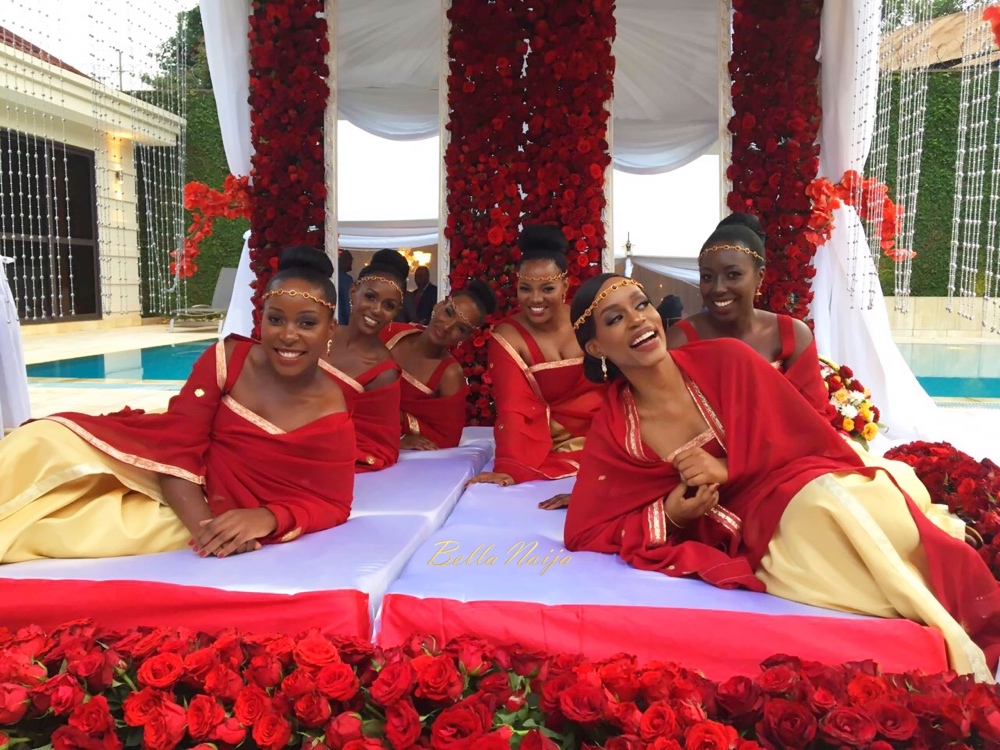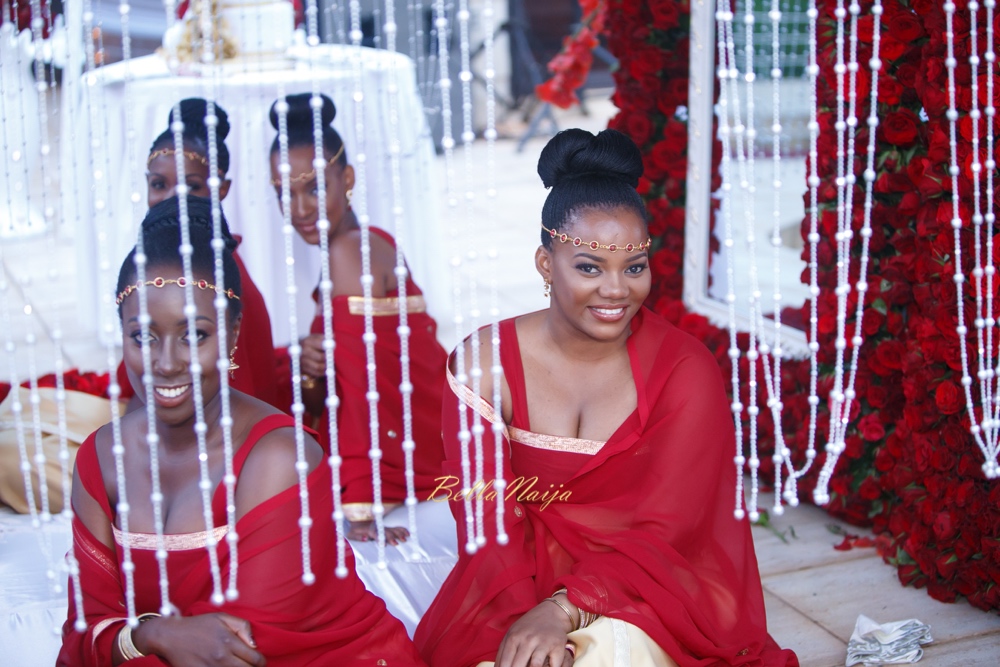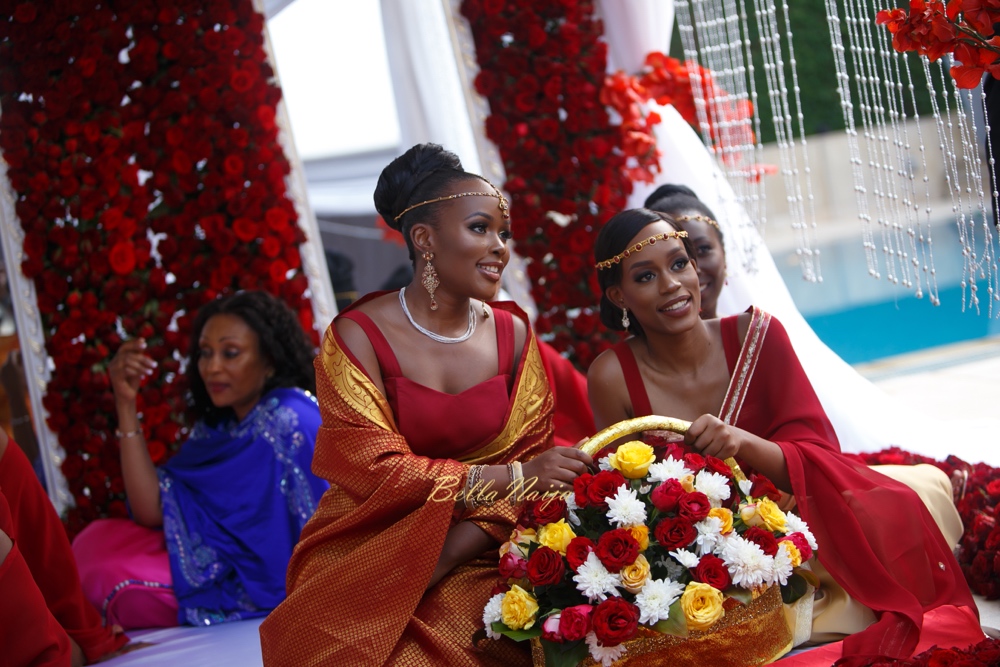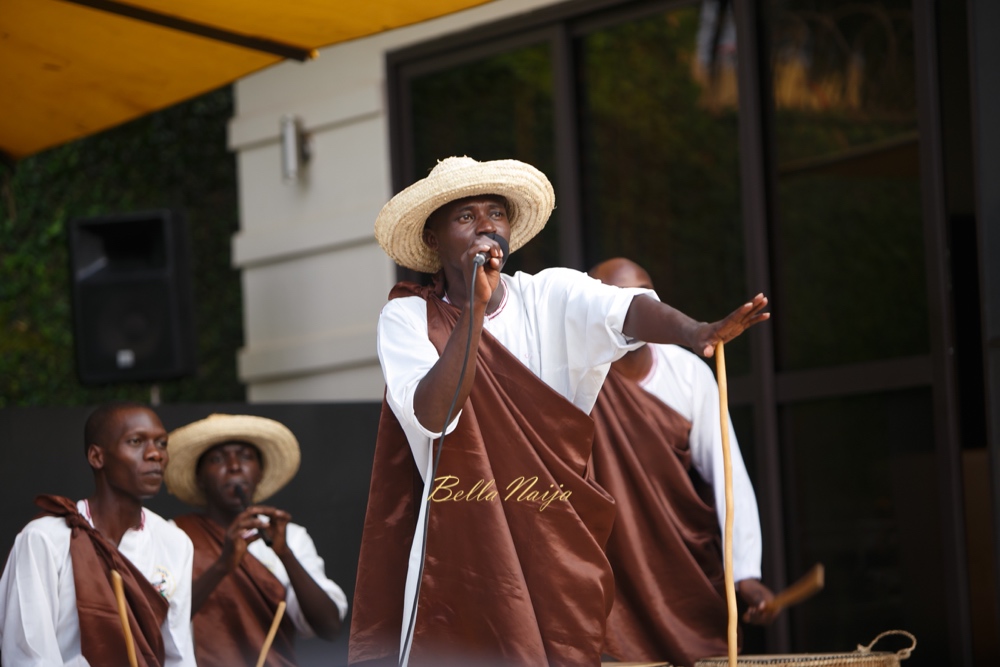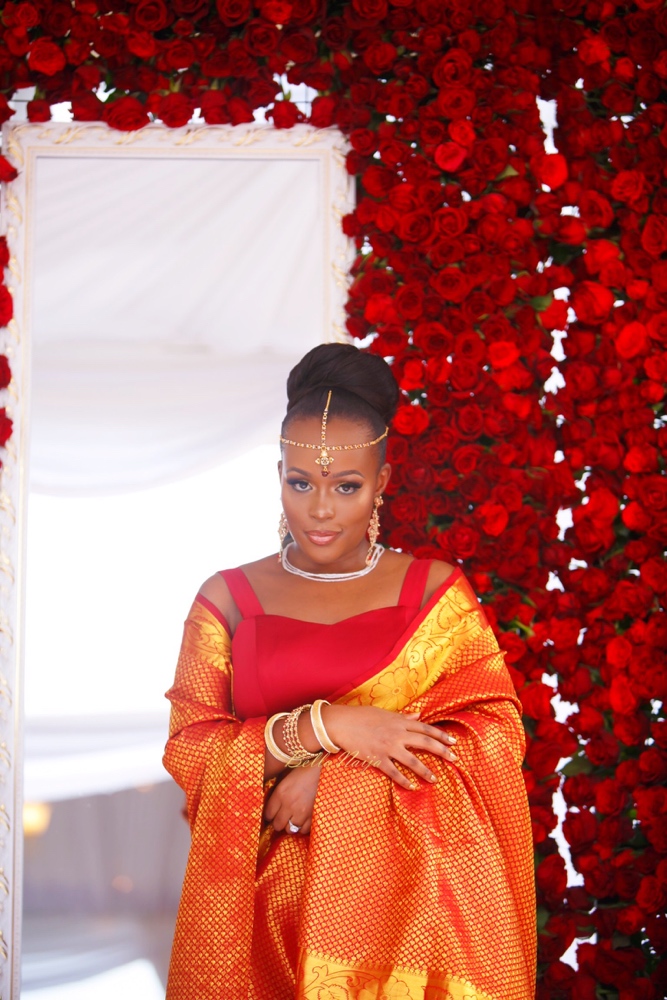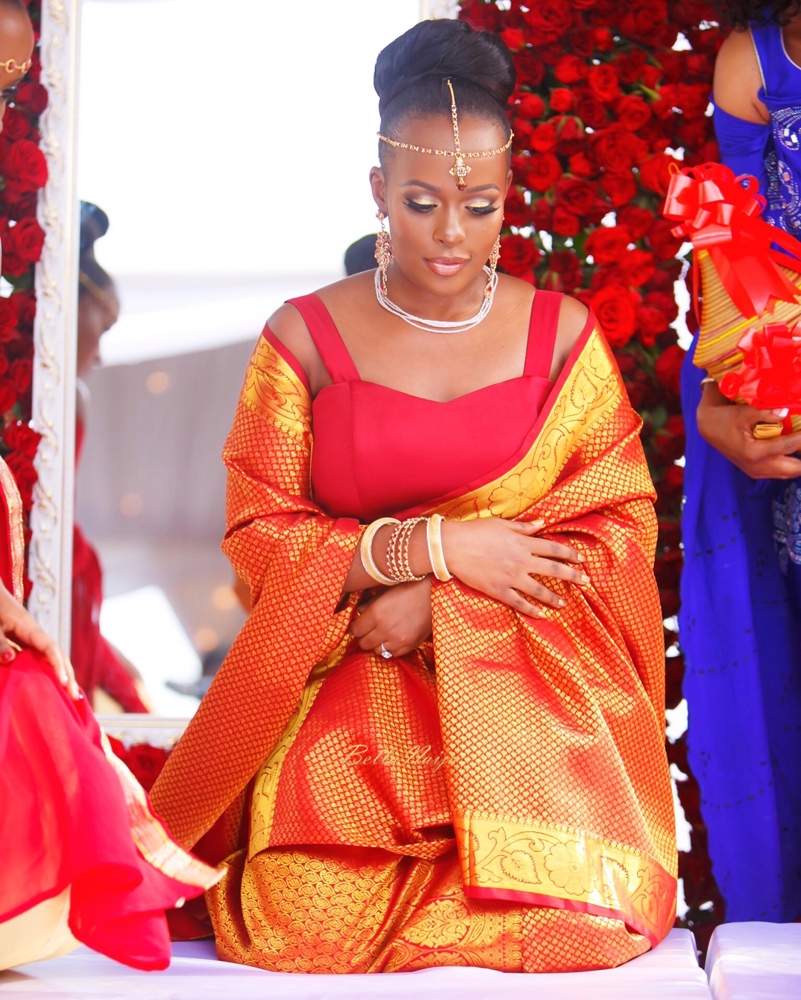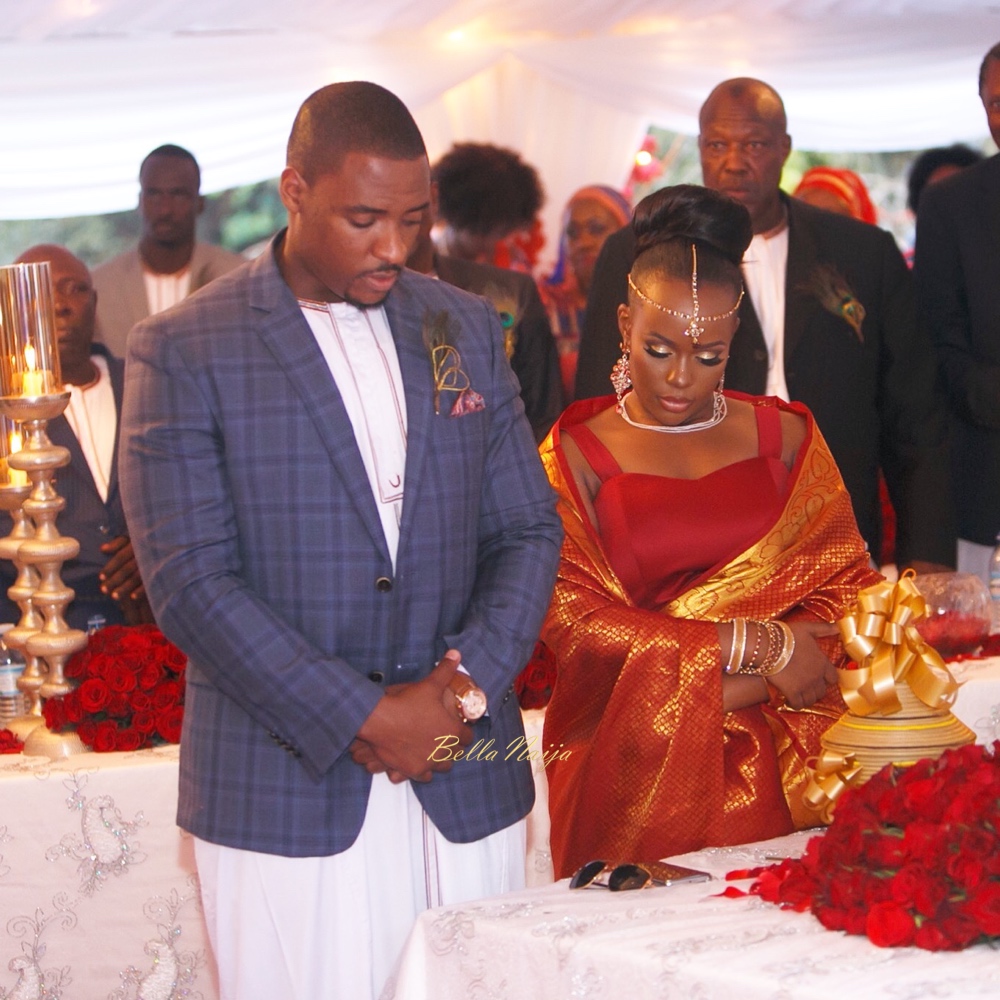 Nikkah Ceremony
This was a Muslim wedding for the marriage to be blessed in the groom's religion. The first outfits we wore were gold and silver for the prayers. After the prayers there was a reception dinner and we changed into blue outfits. Guests were entertained by Steve Keys.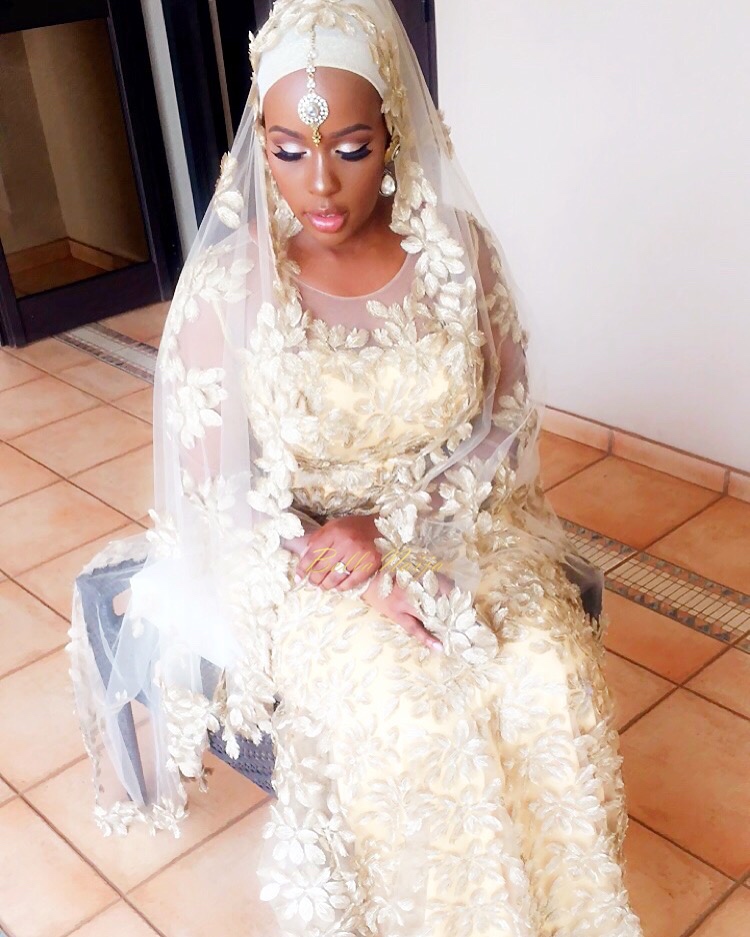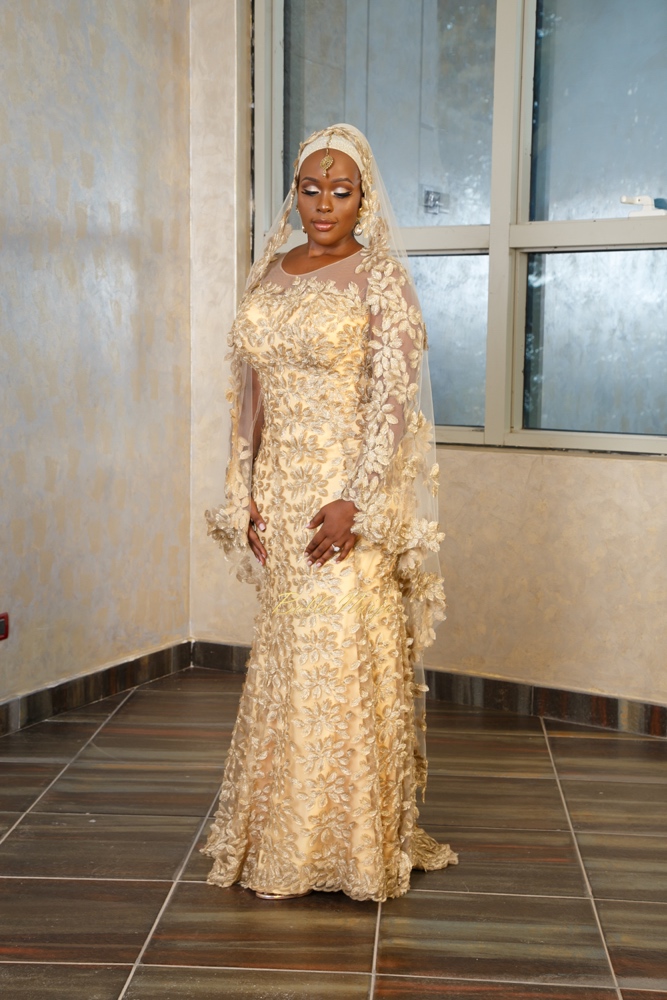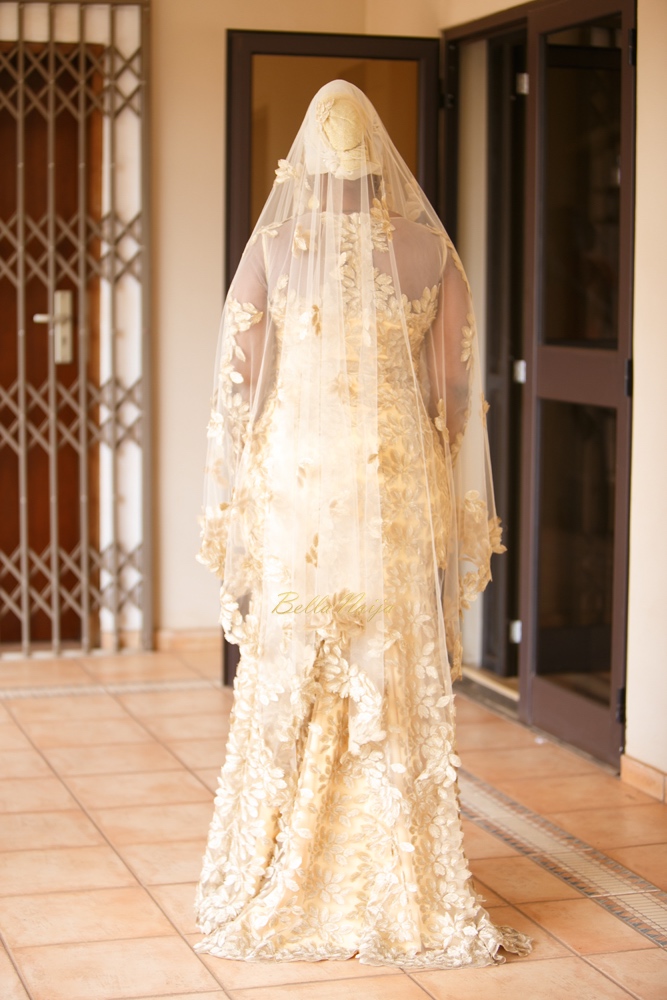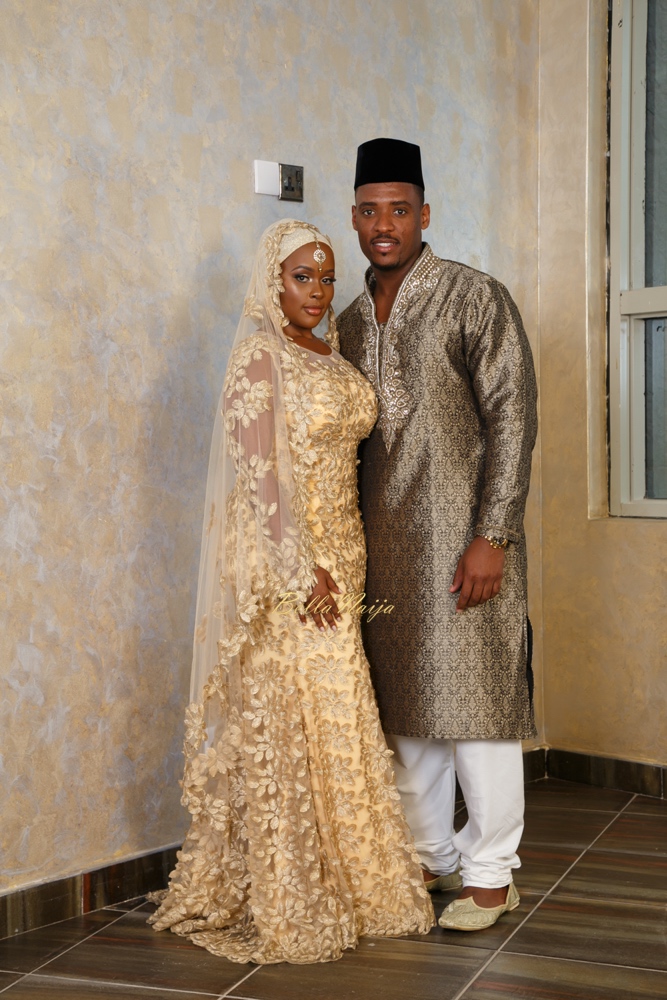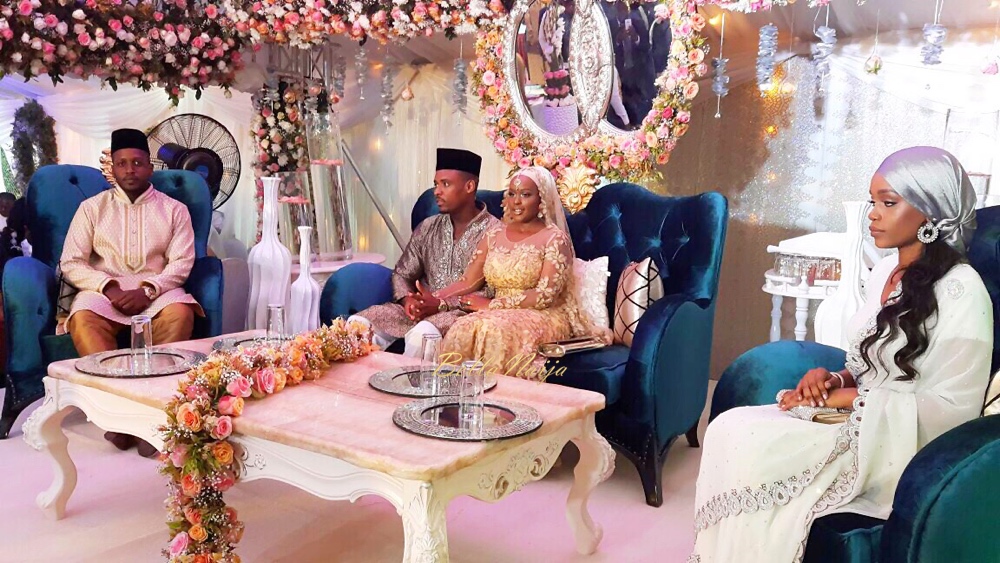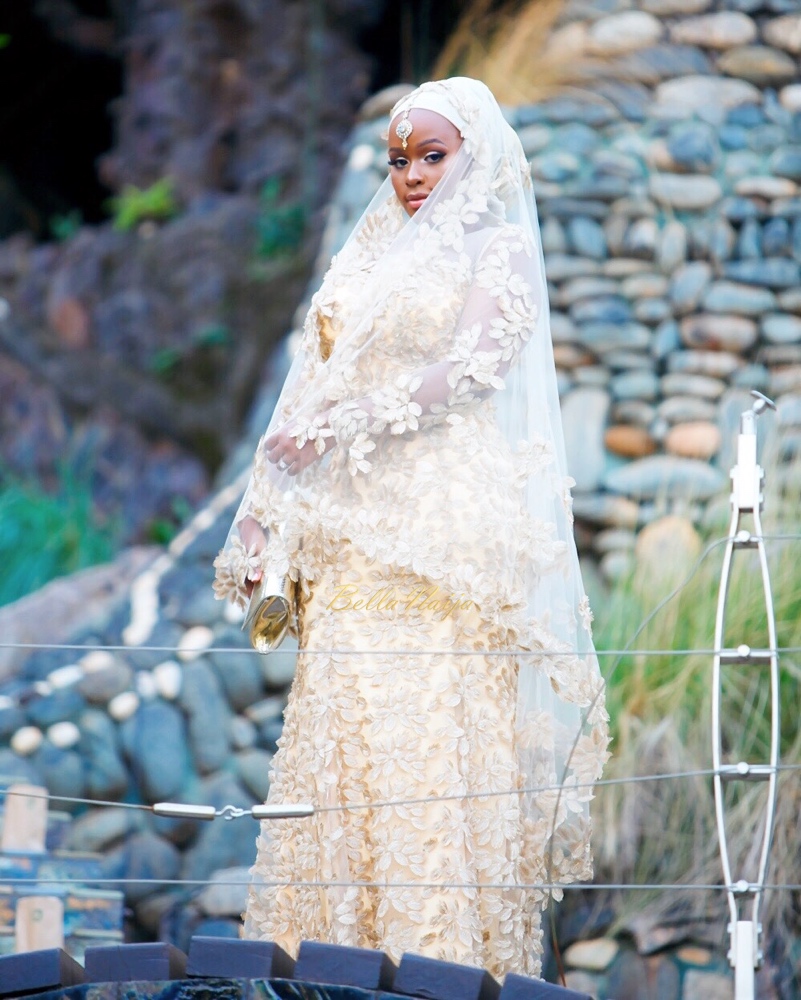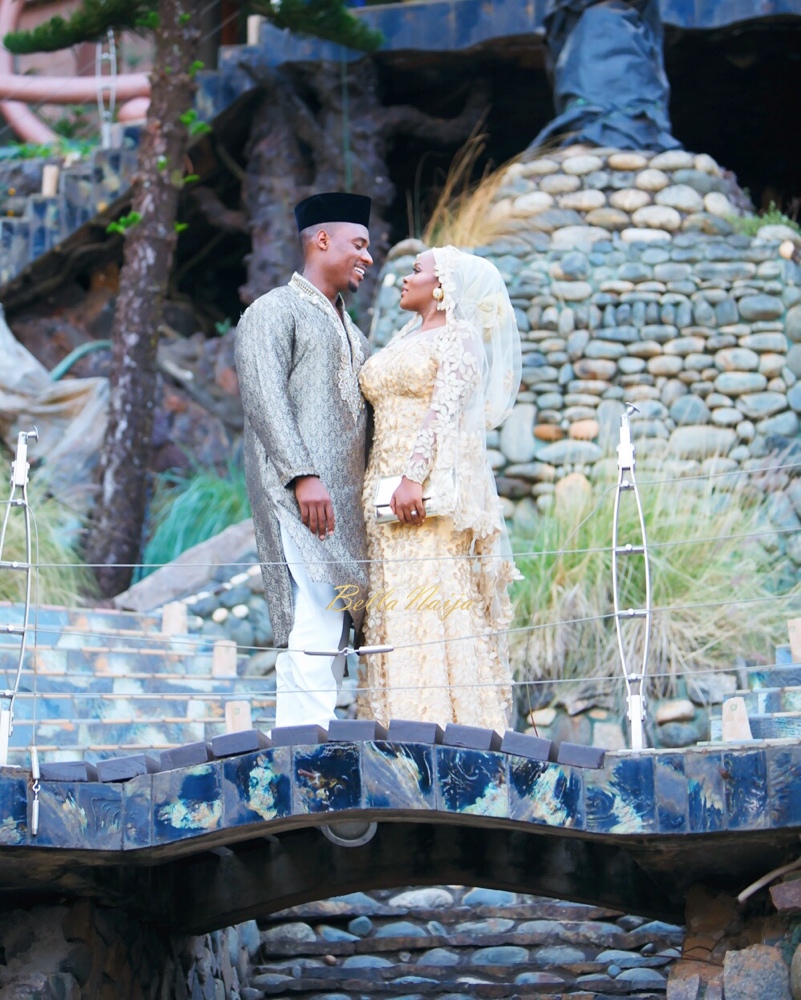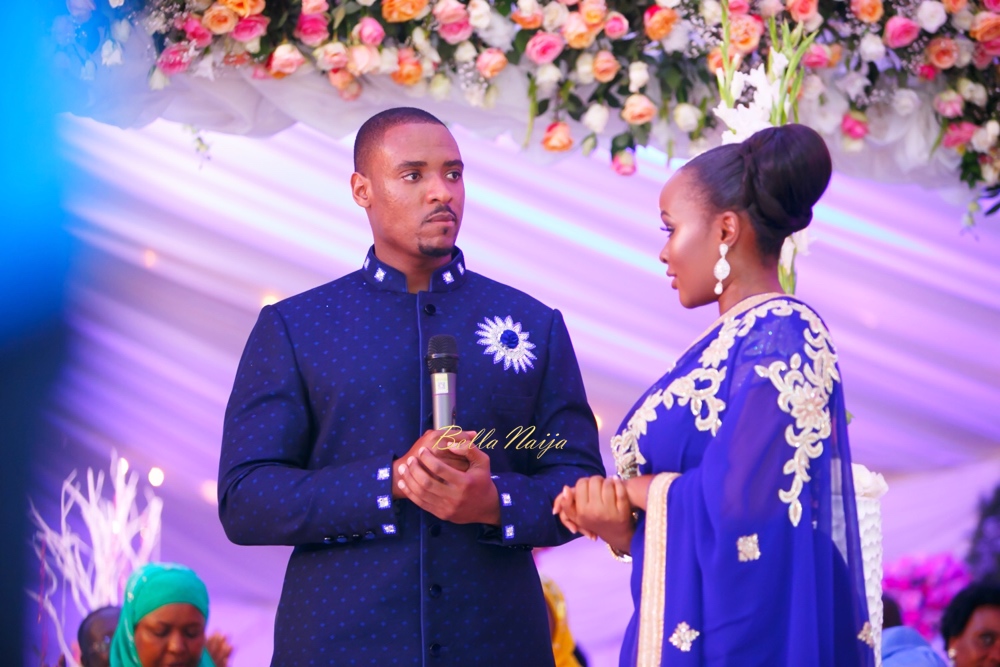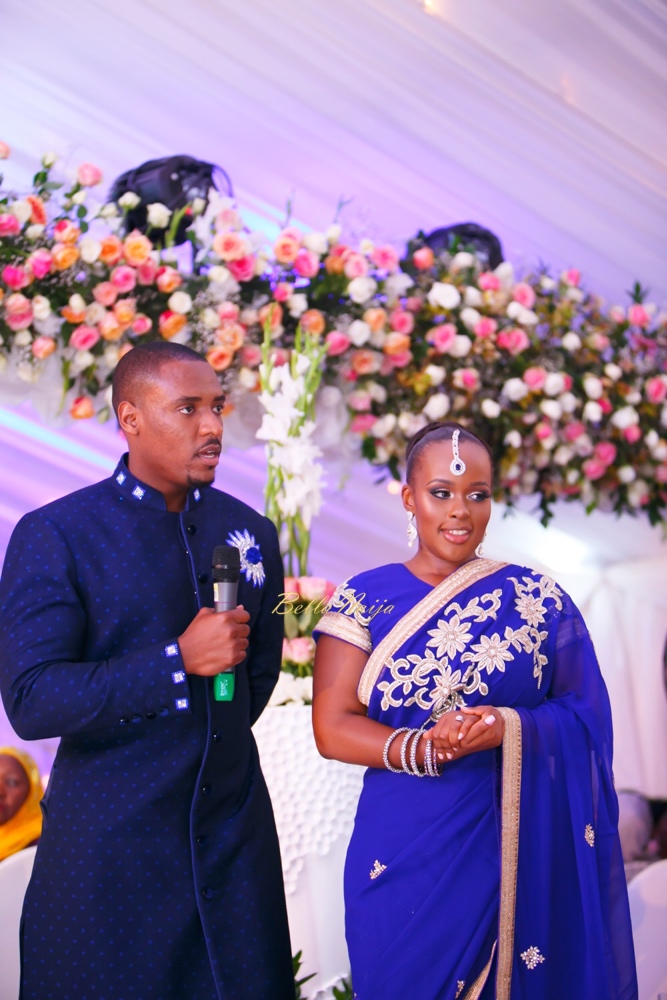 White Wedding
This was the last of our wedding celebrations, where we exchanged our vows and rings. The theme for the wedding was; elegance and class, and white and gold. I have always wanted an intimate wedding (300 people is very small in comparison to most Ugandan weddings which have about 600 people or more). I believe that weddings shouldn't have everyone you know attend, but rather only close friends and family.
There was a ceremony of exchanging vows and rings followed by a pre-dinner cocktail, a reception dinner, and then an after-party. Guests were entertained by an orchestra at the ceremony, a jazz band, Gloria Bosman and Tevin Campbell at the dinner, and Burna Boy at the after party.
Watch the AMAZING Wedding Video by Verve Films!

~ White Wedding Photography: Adam Hilton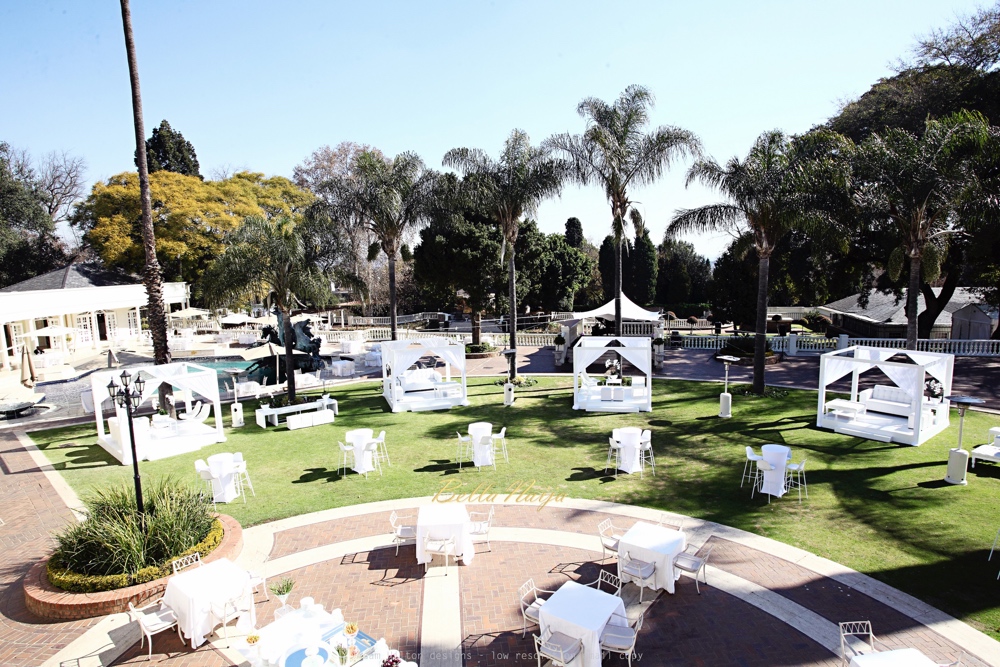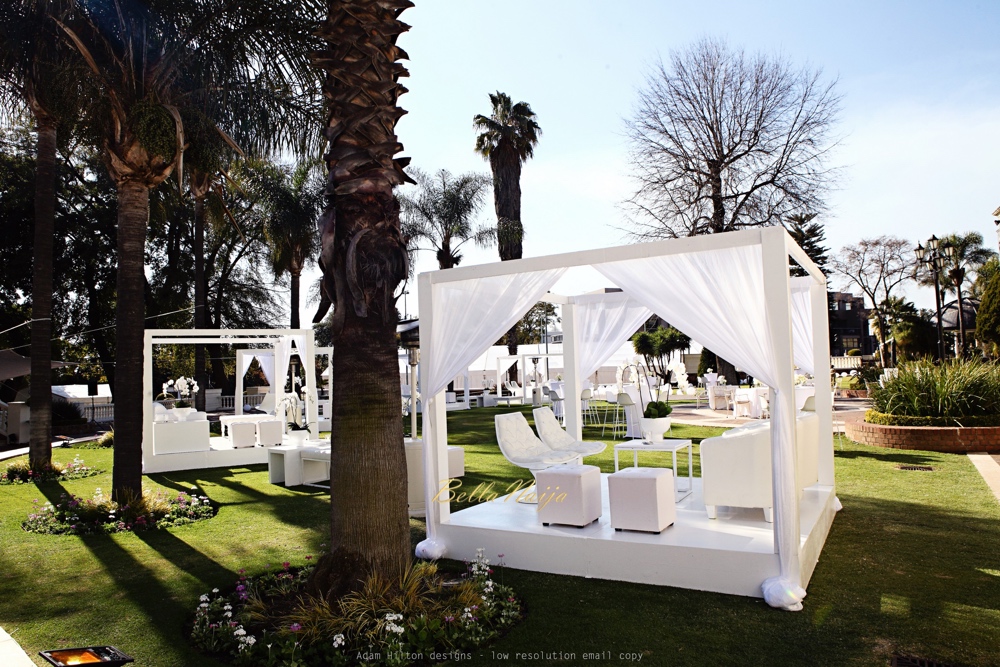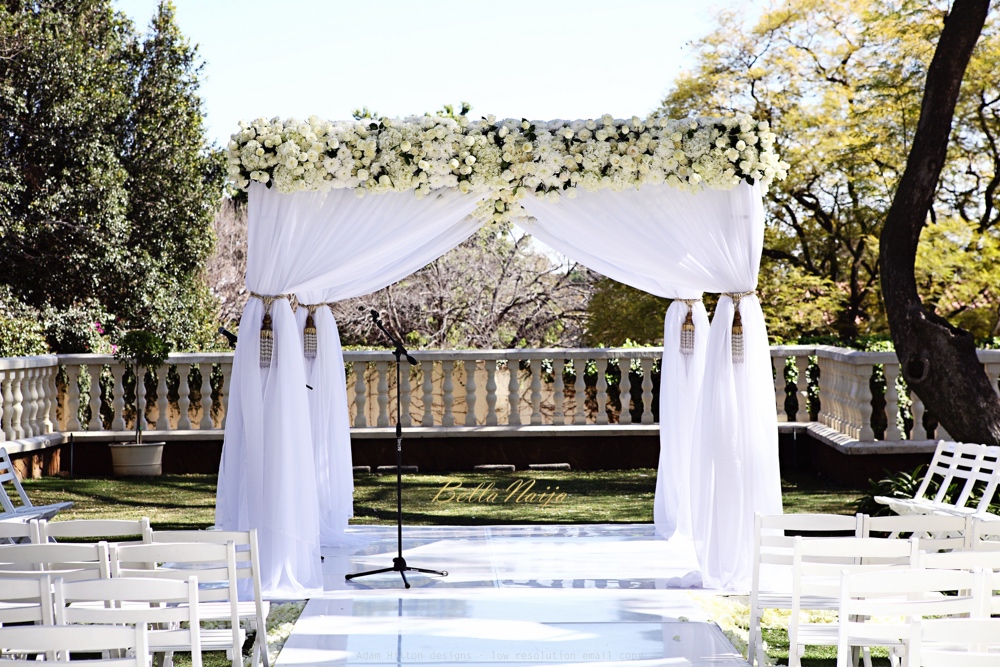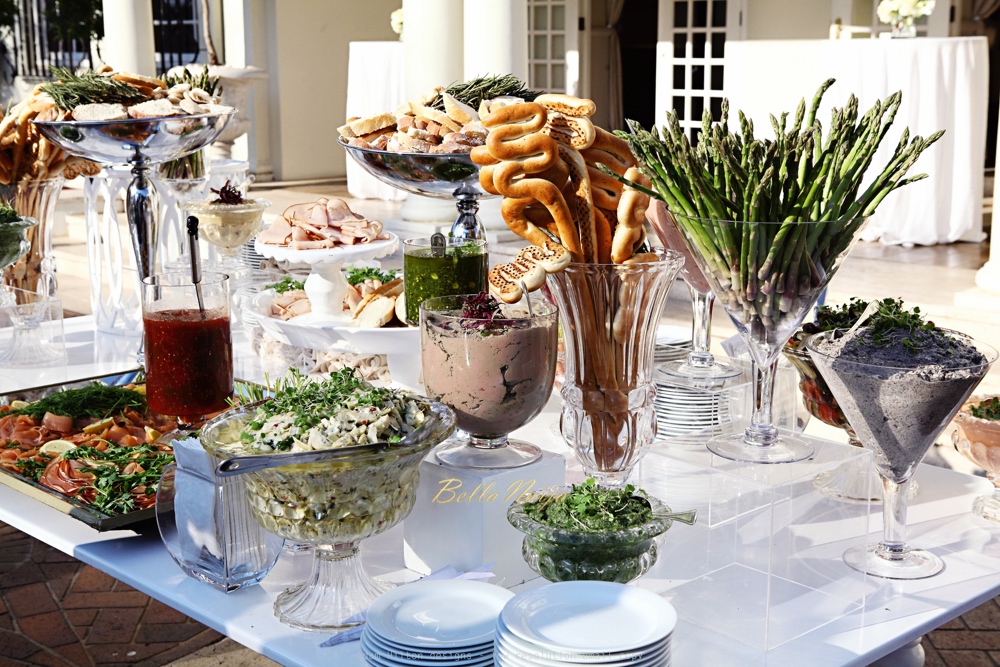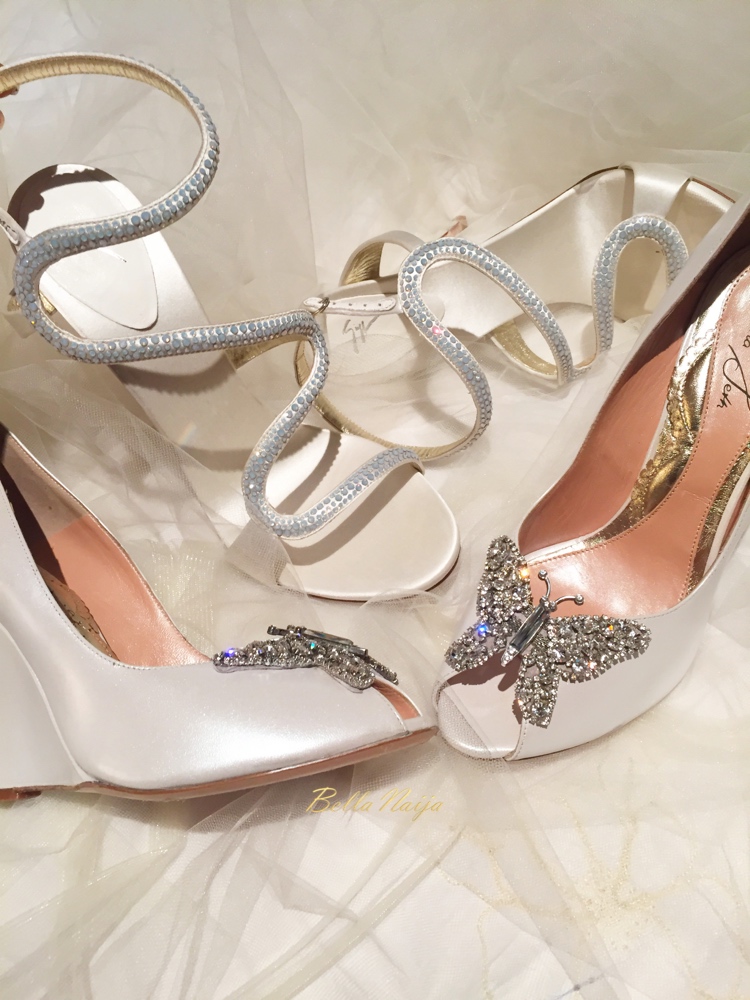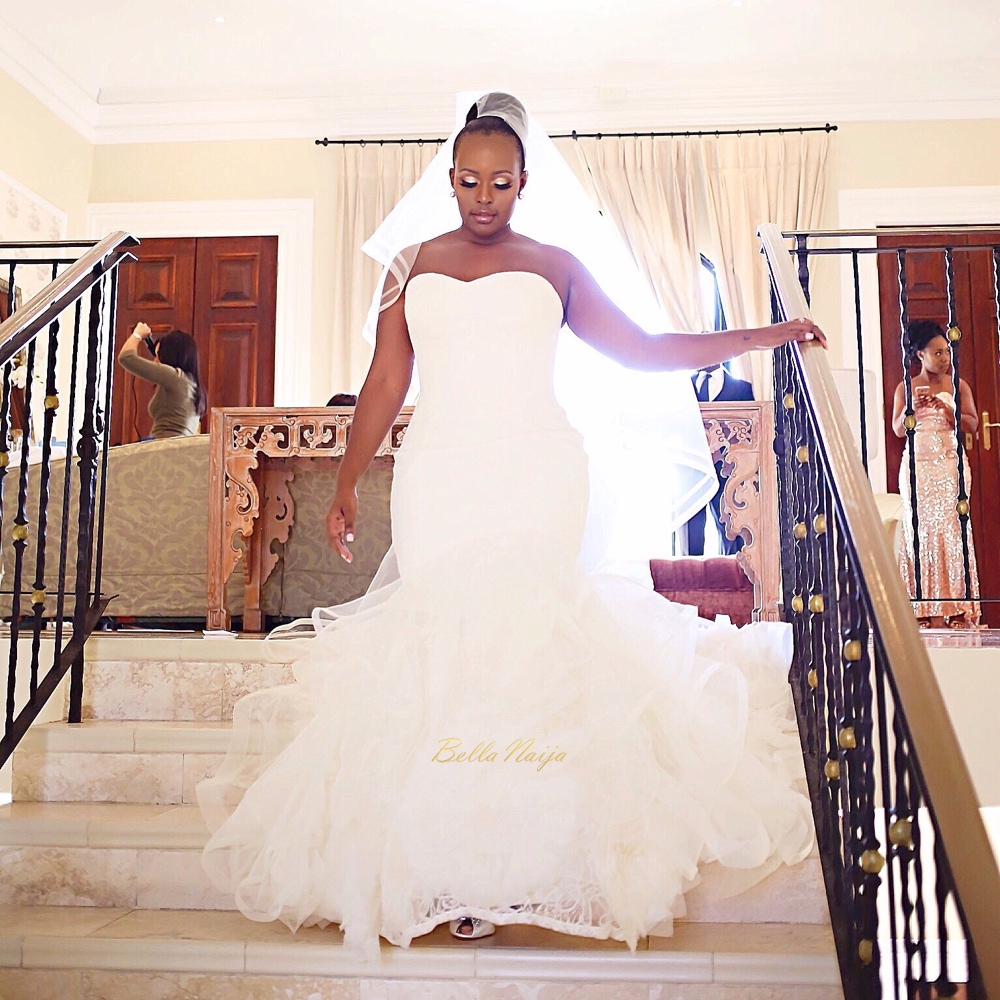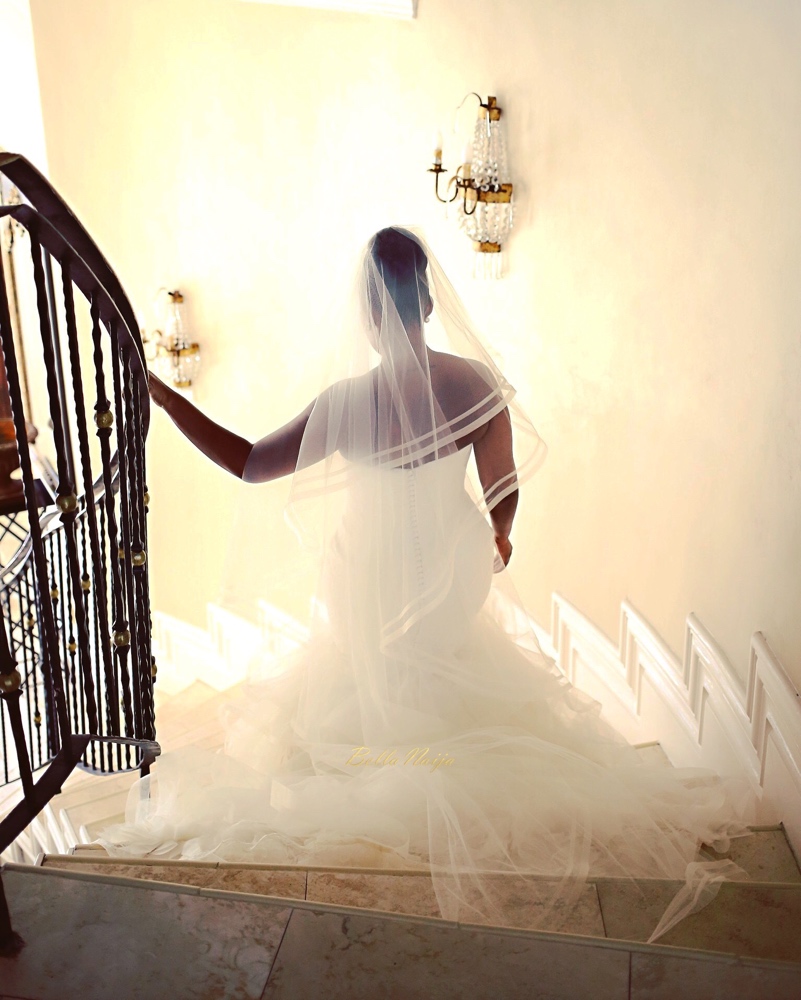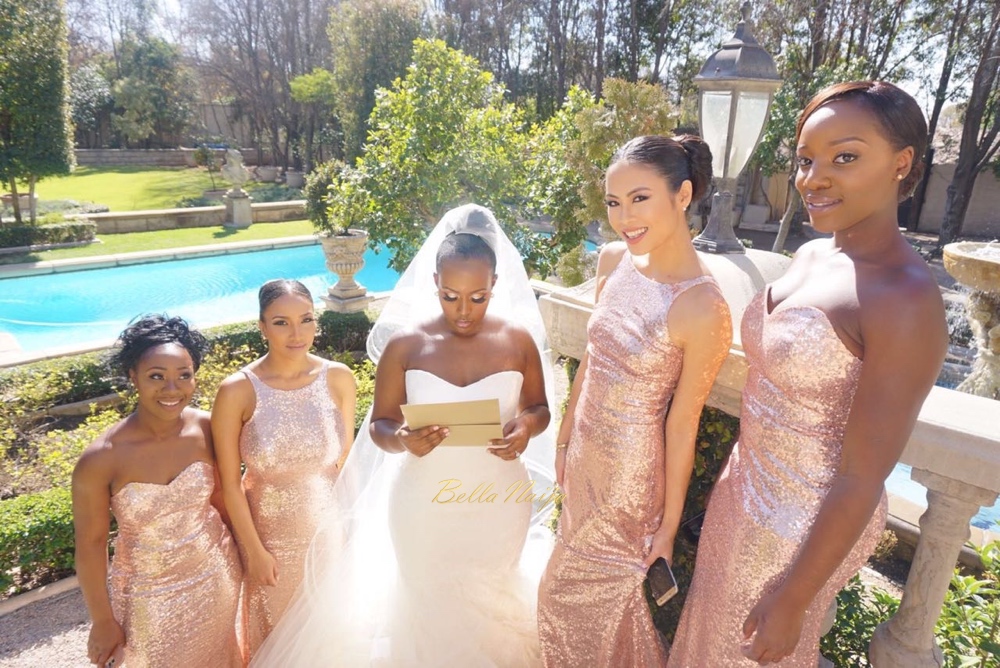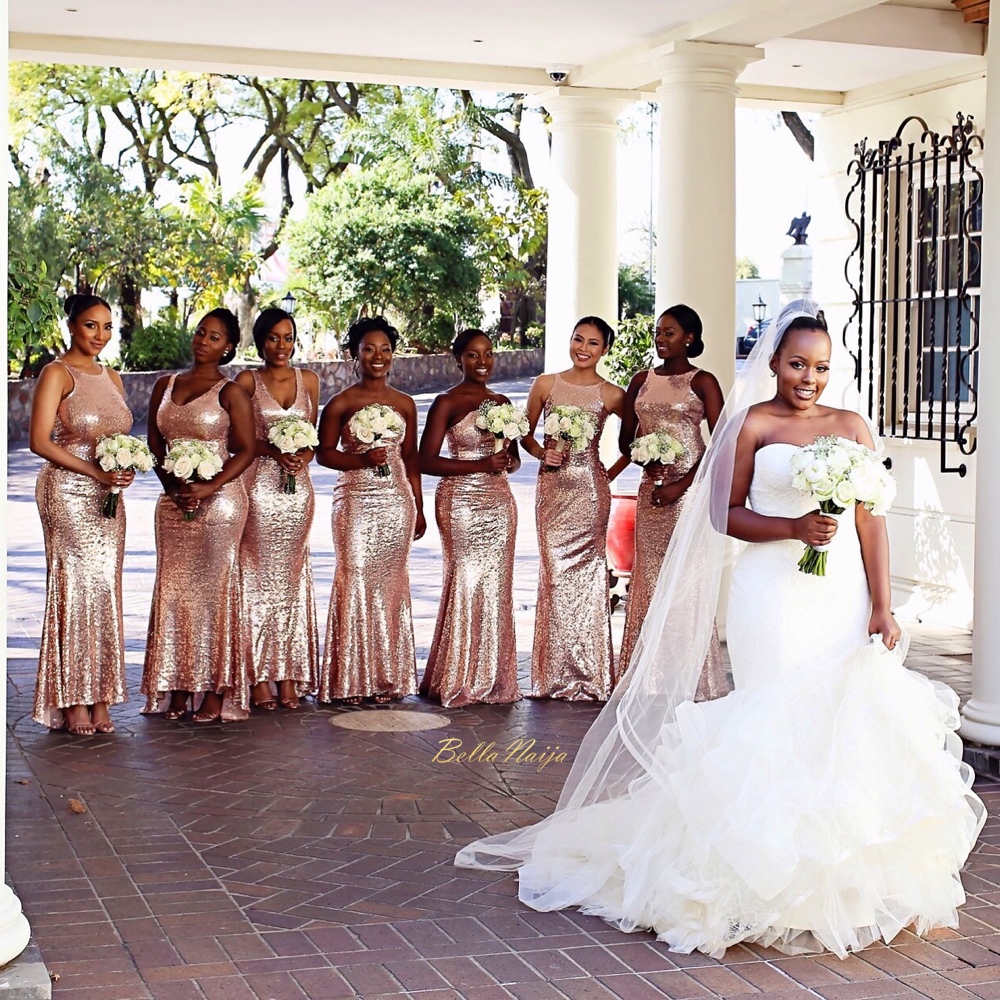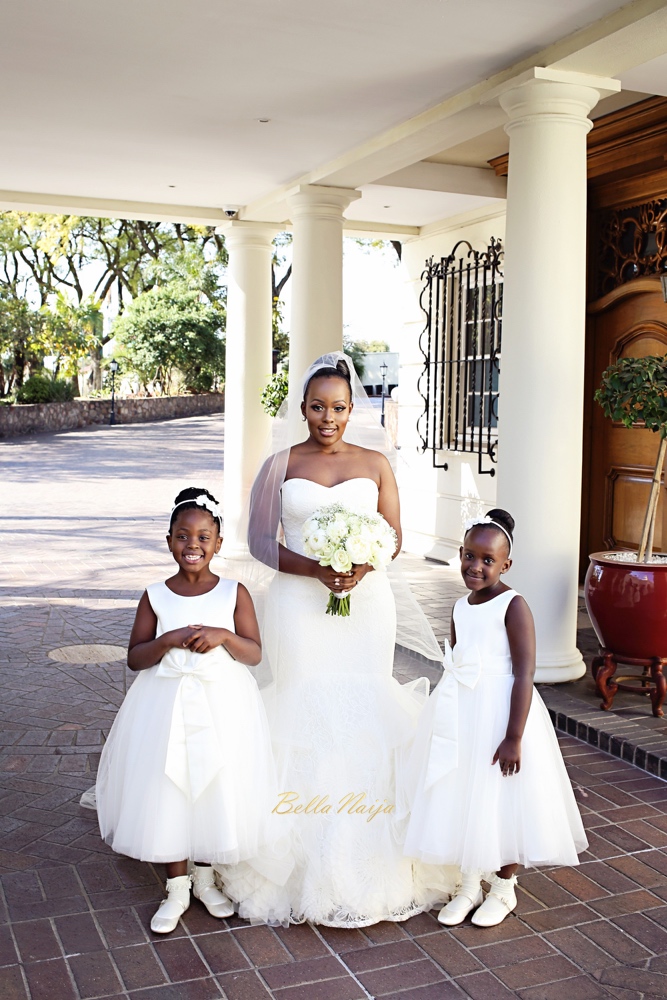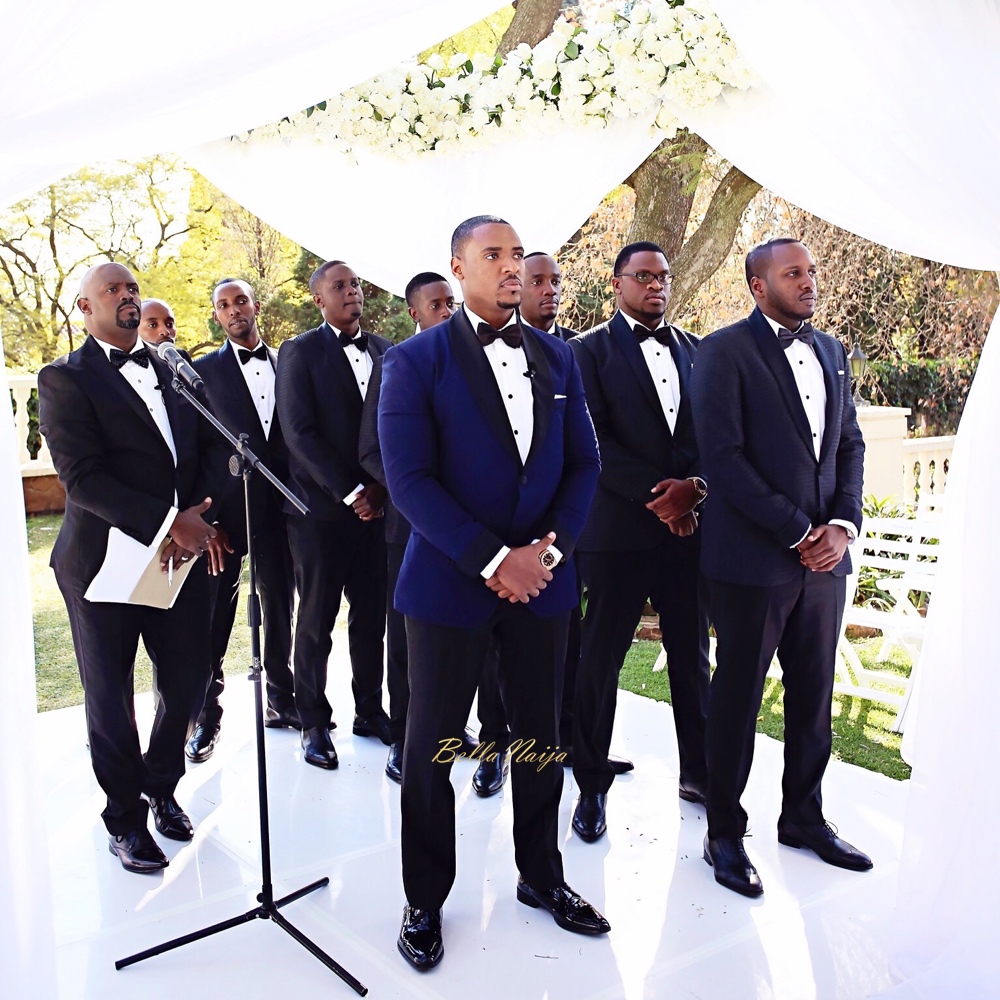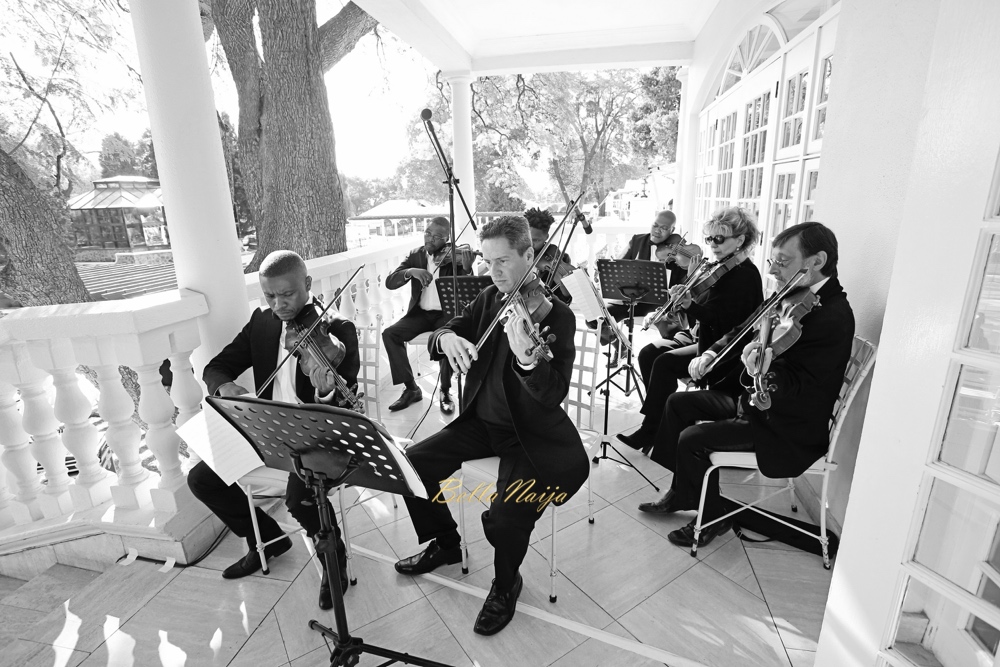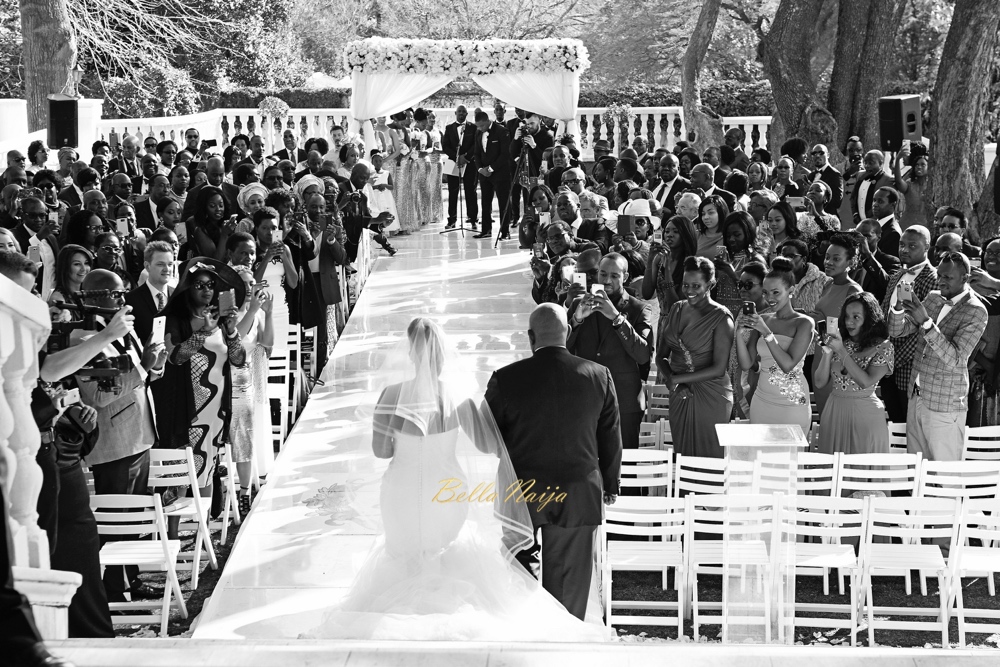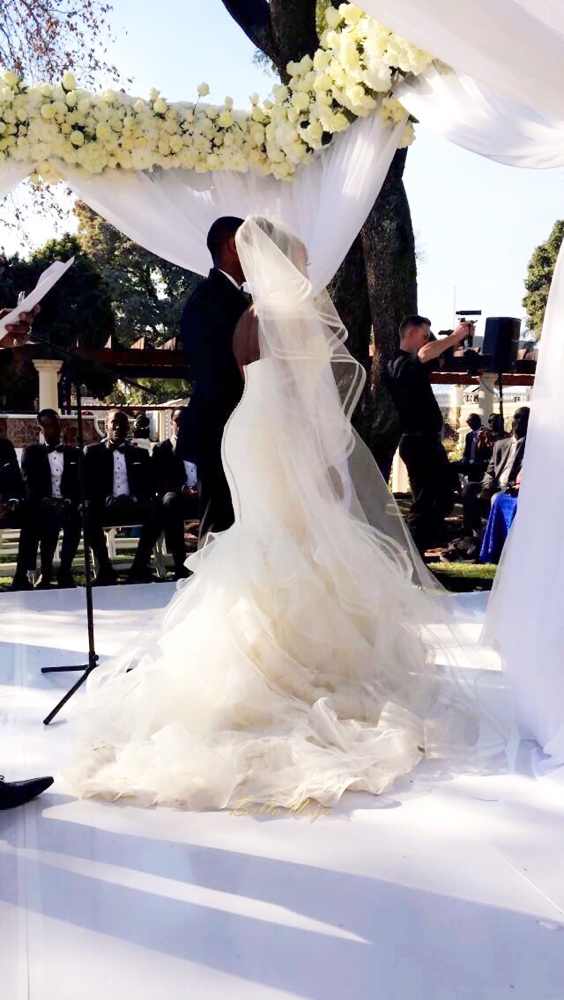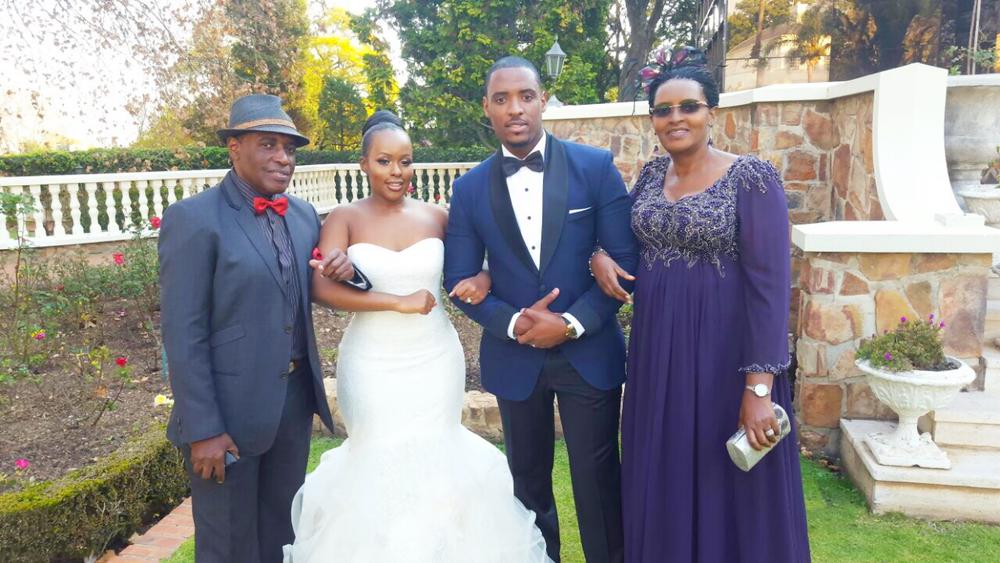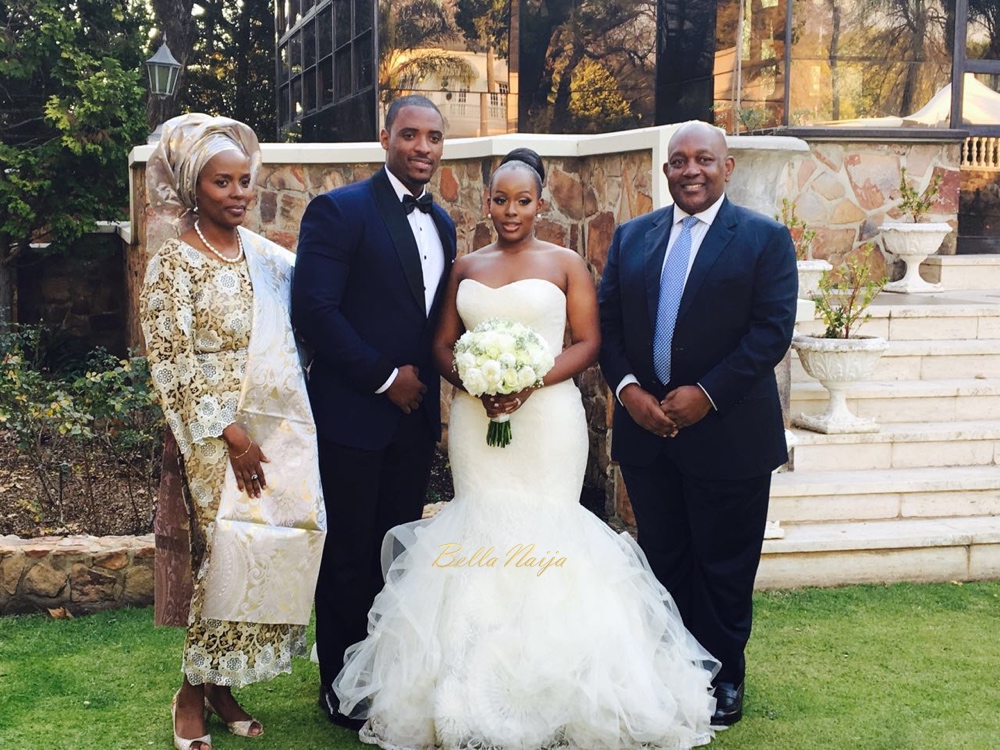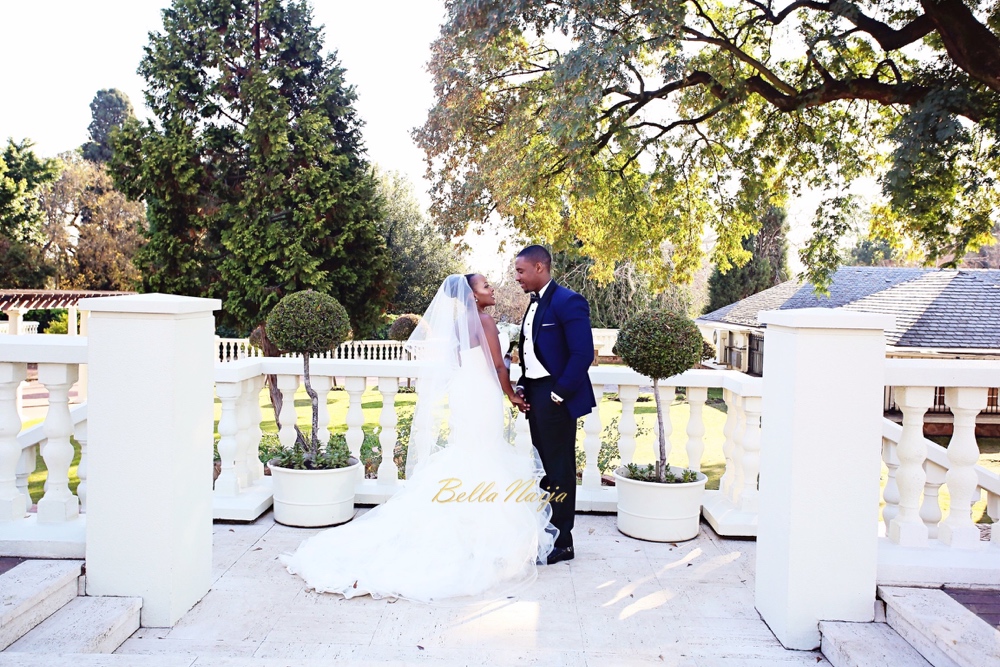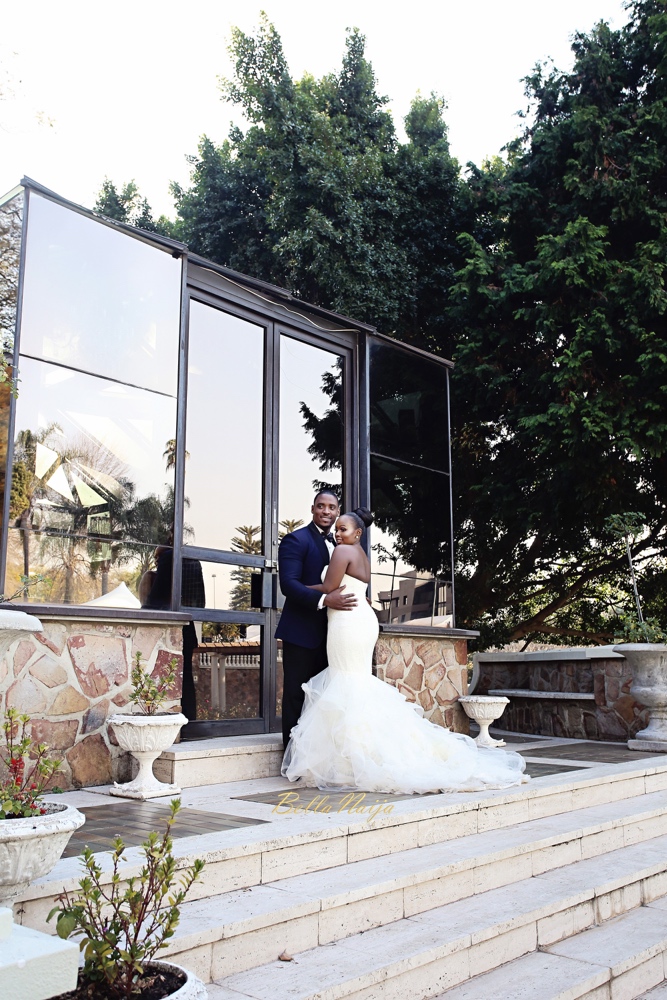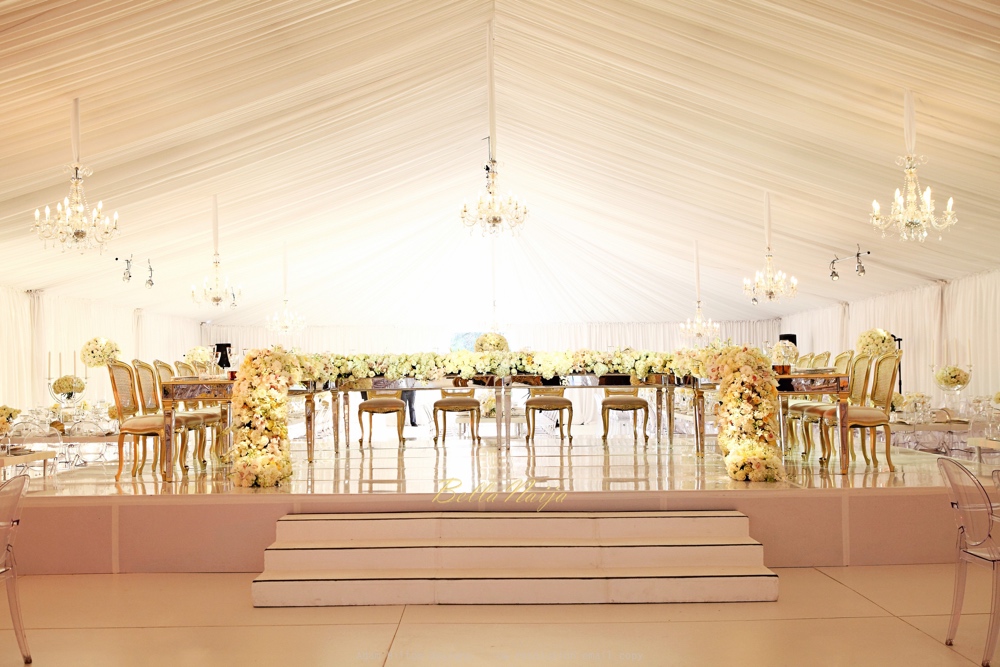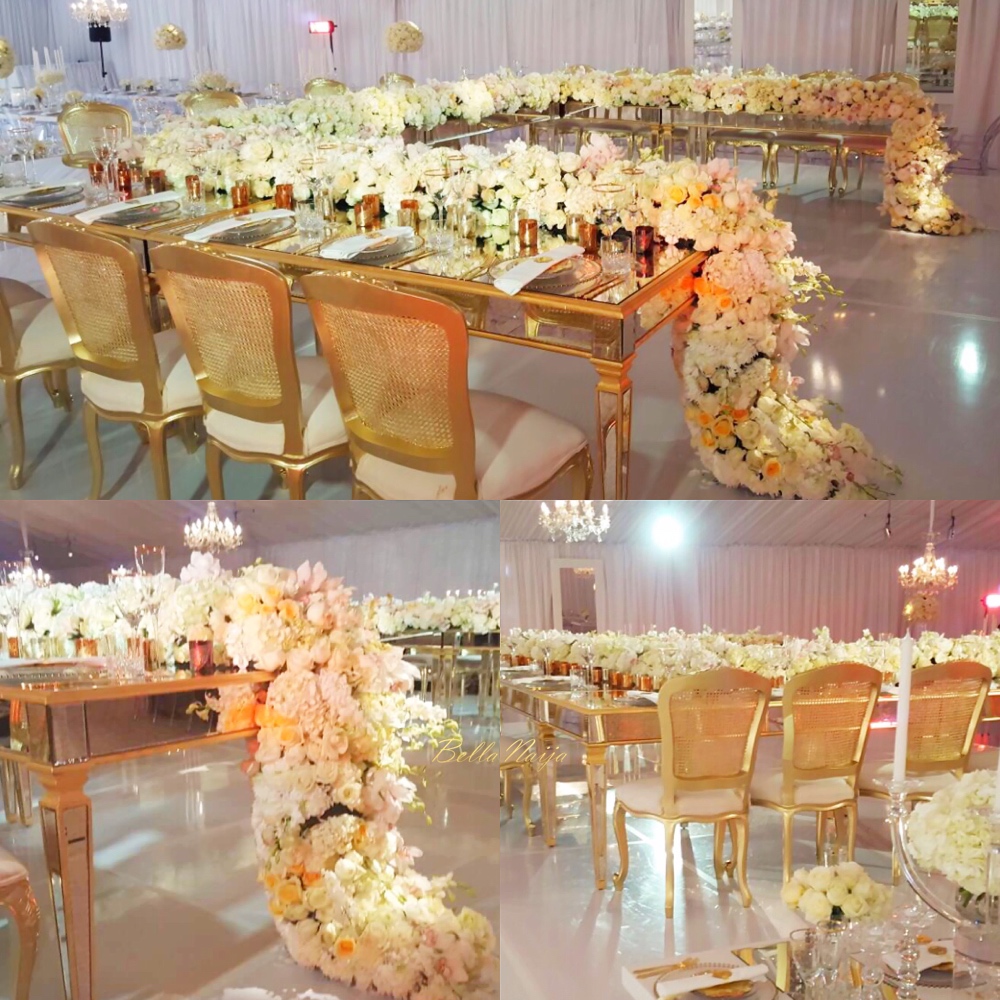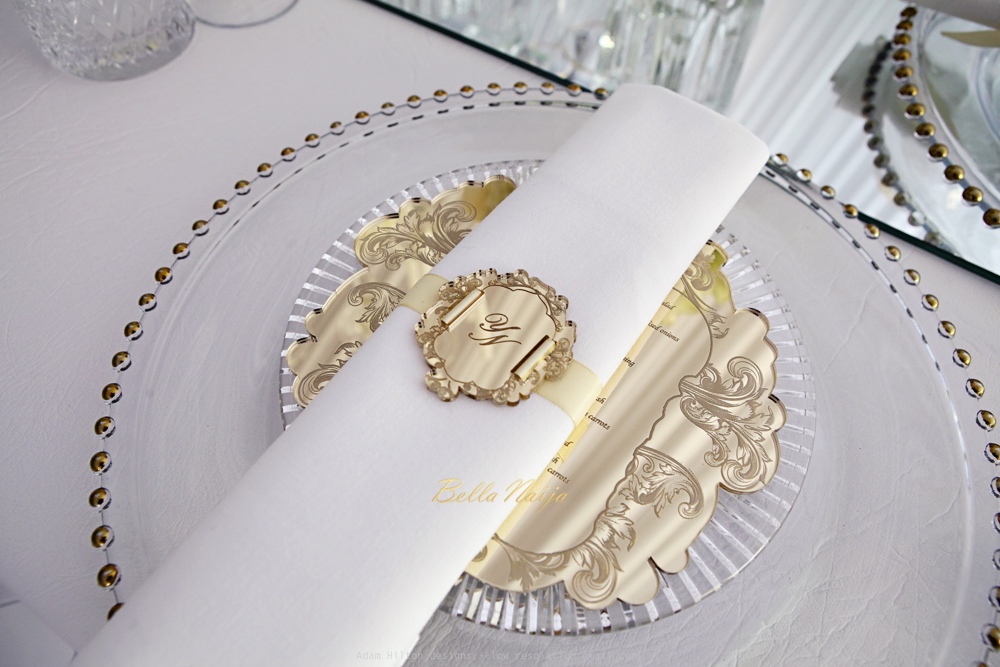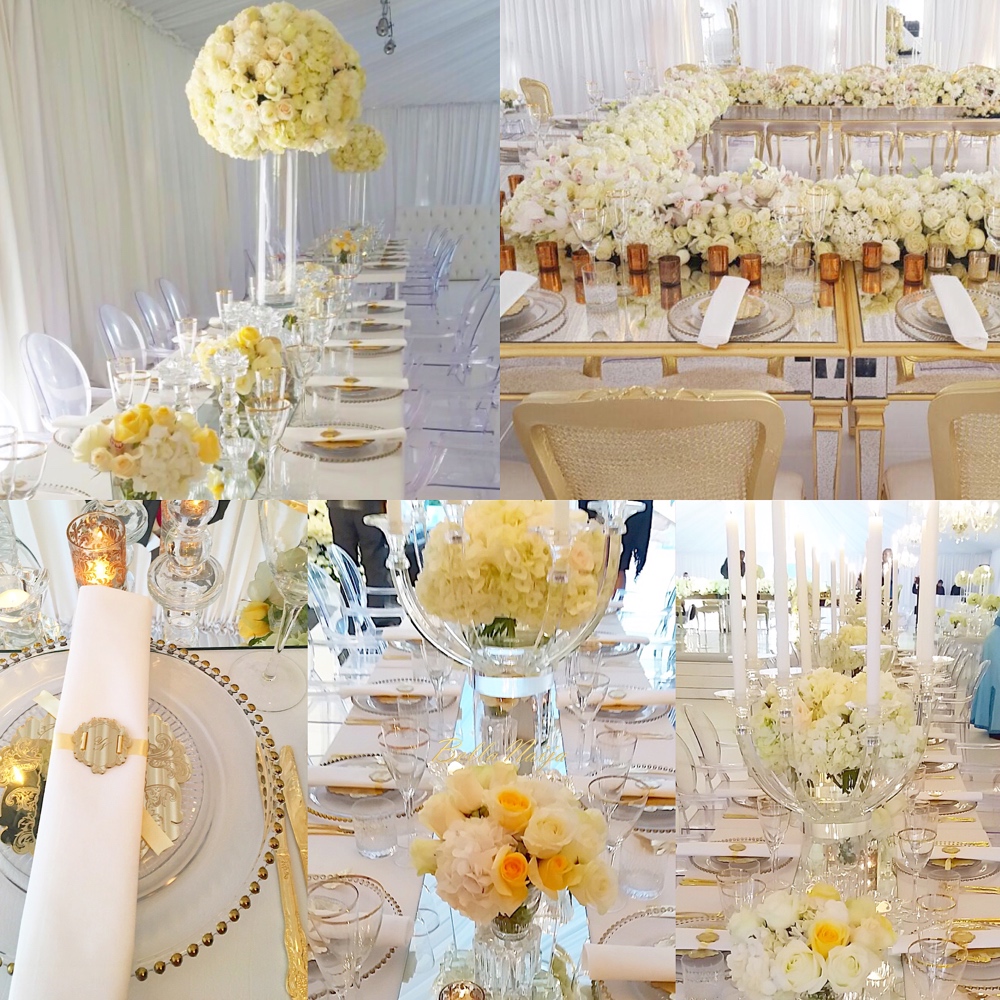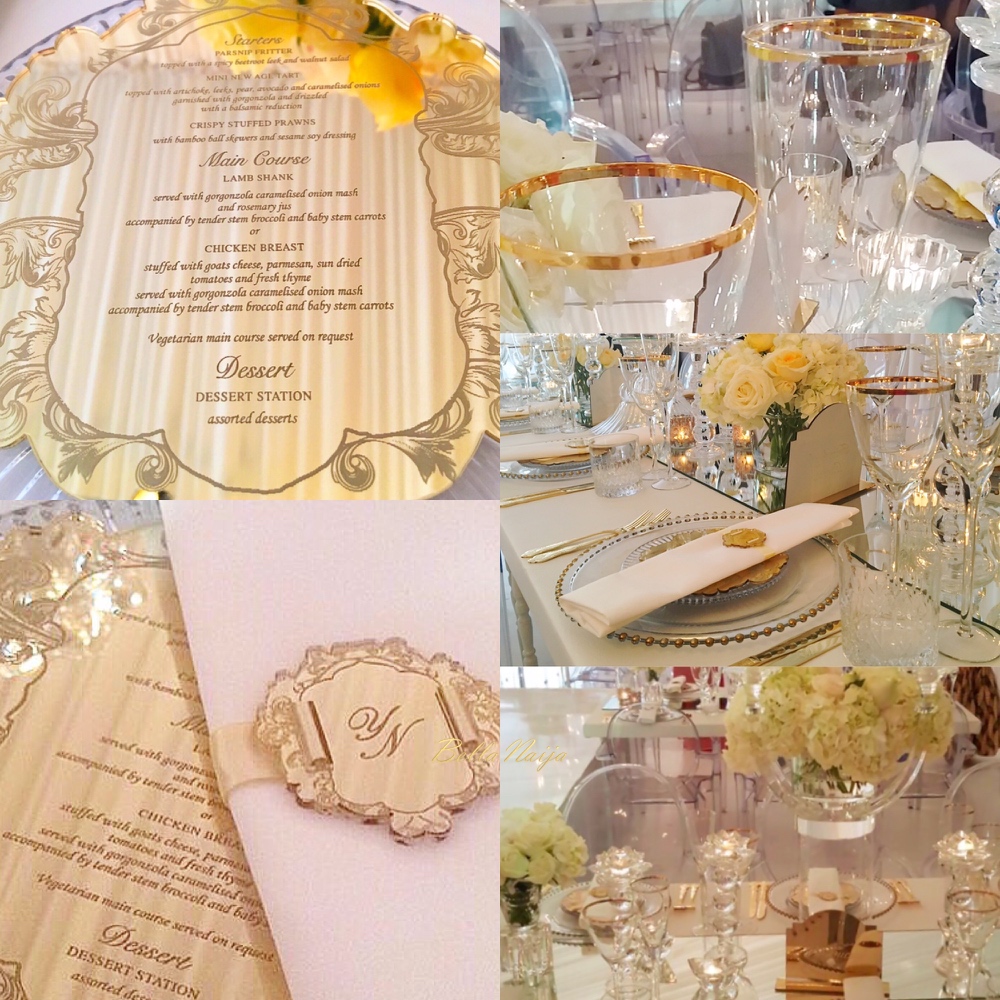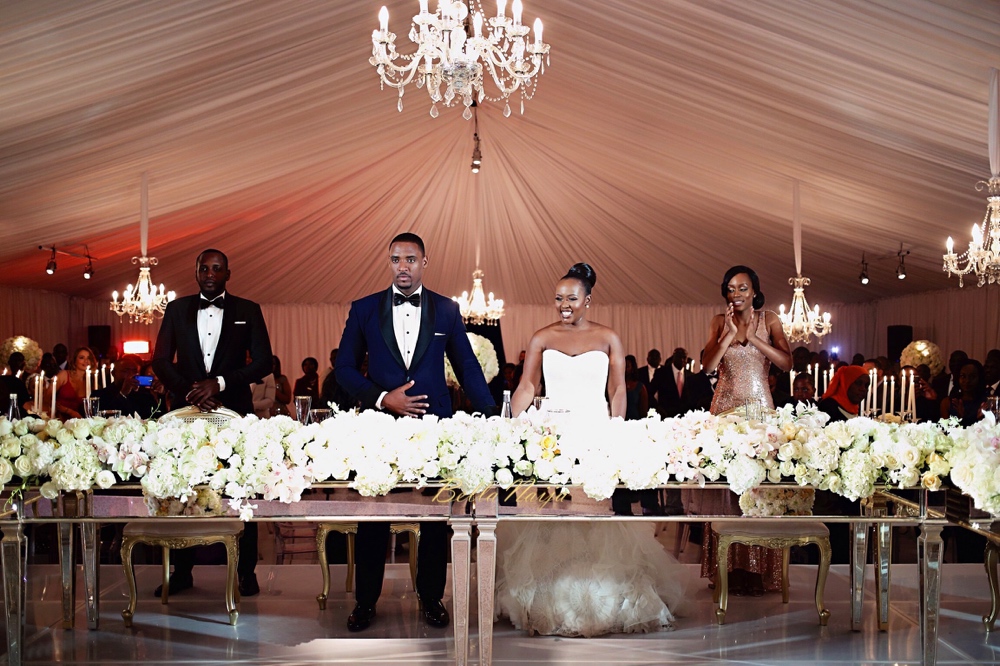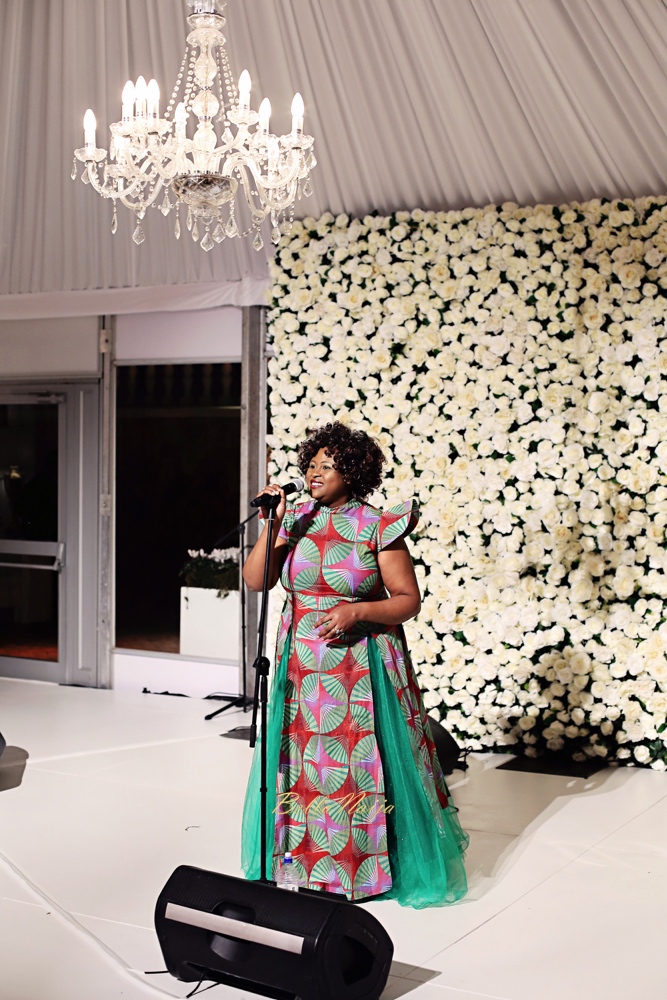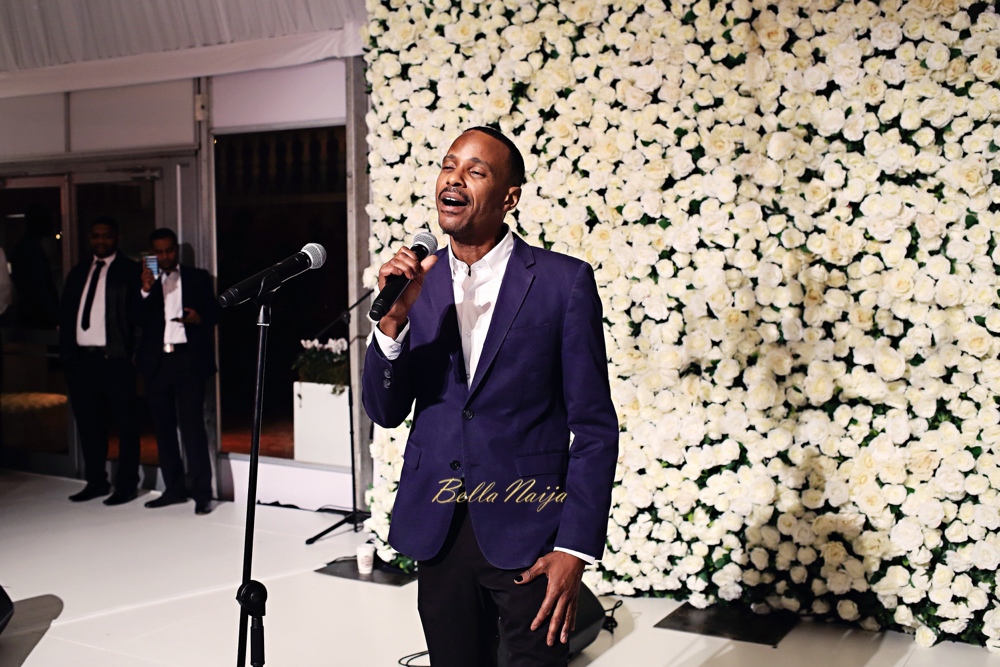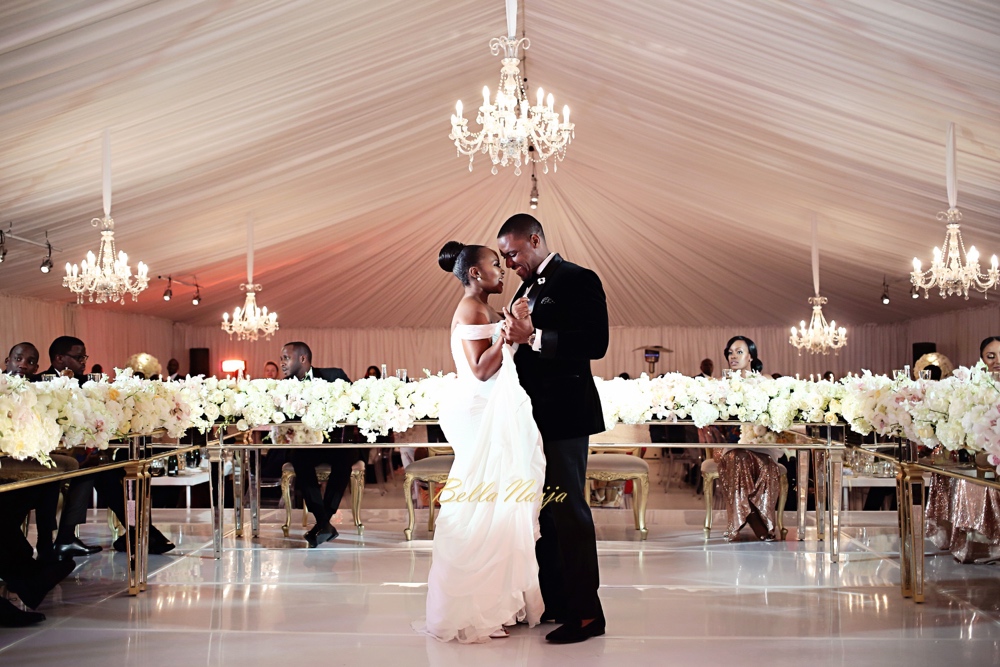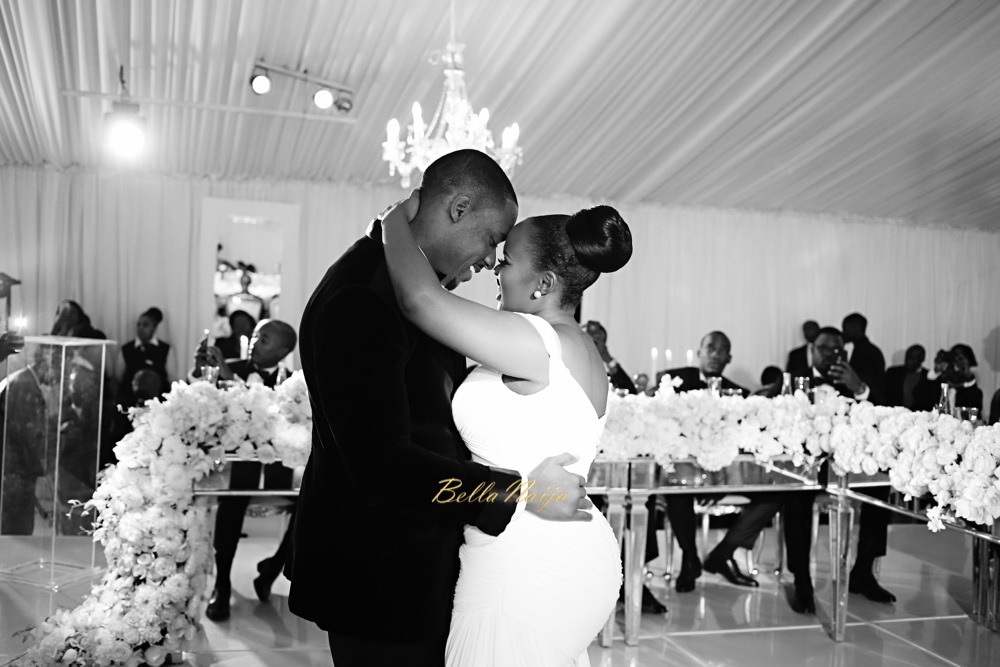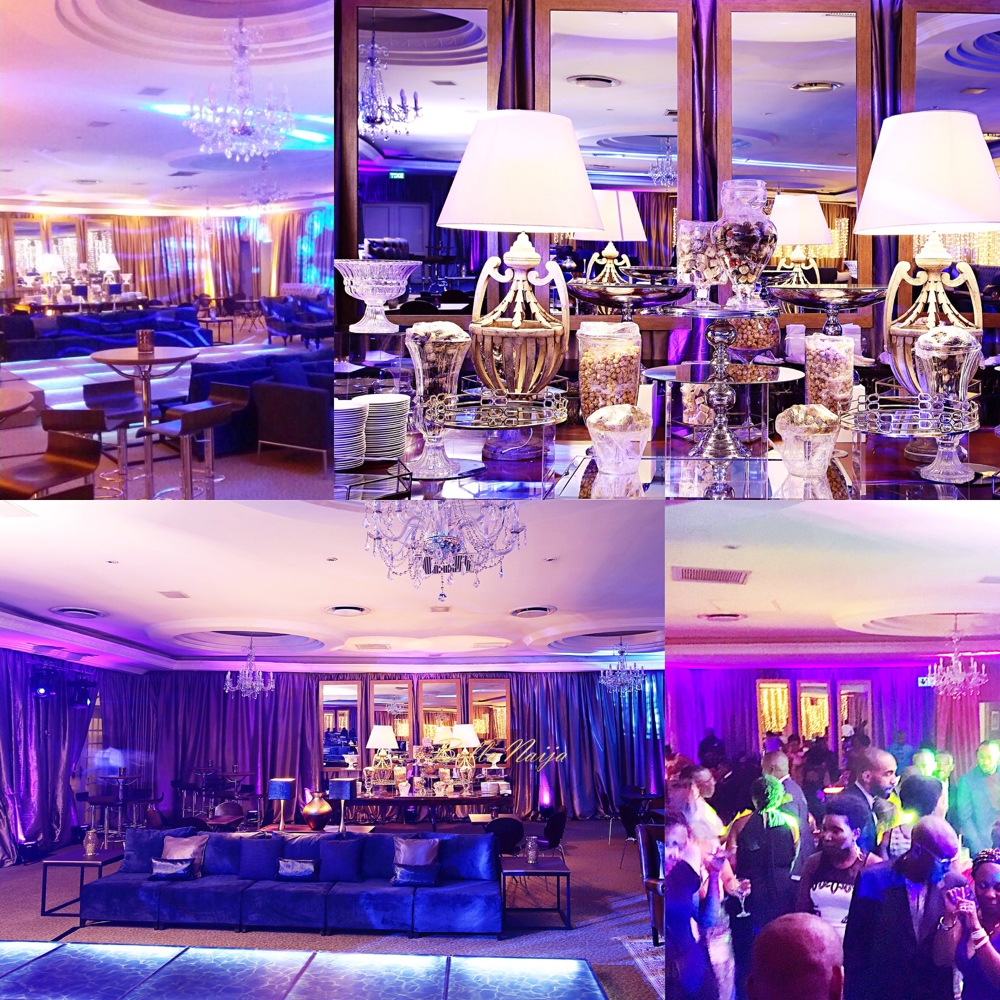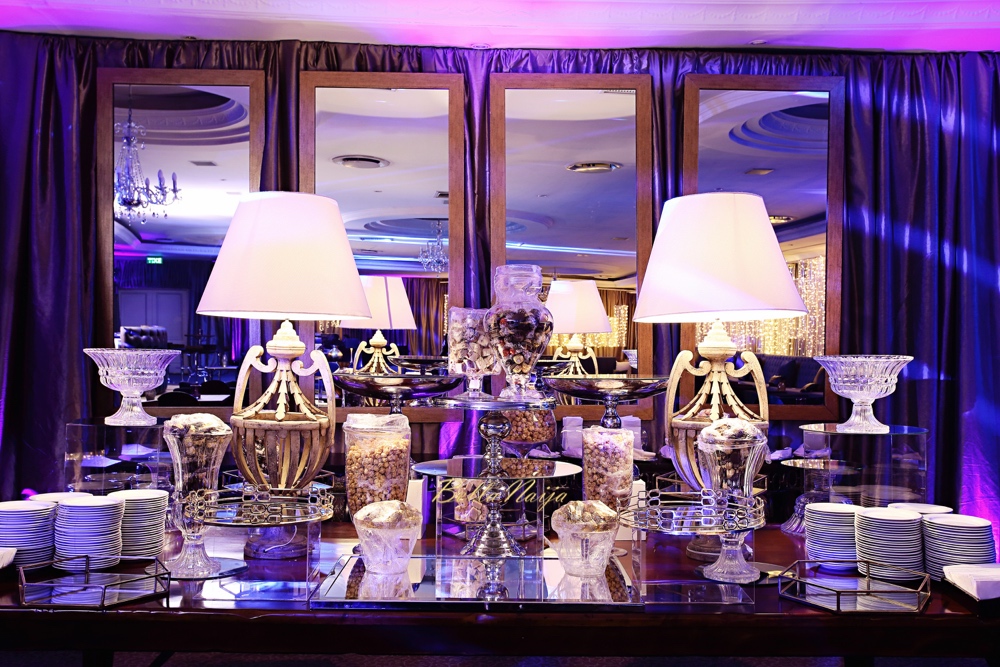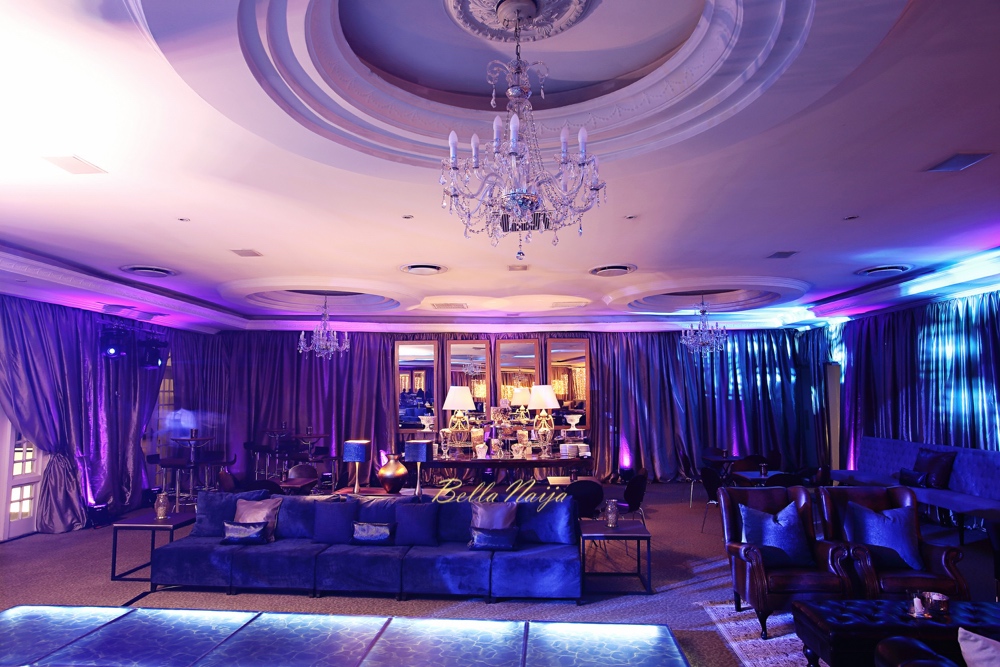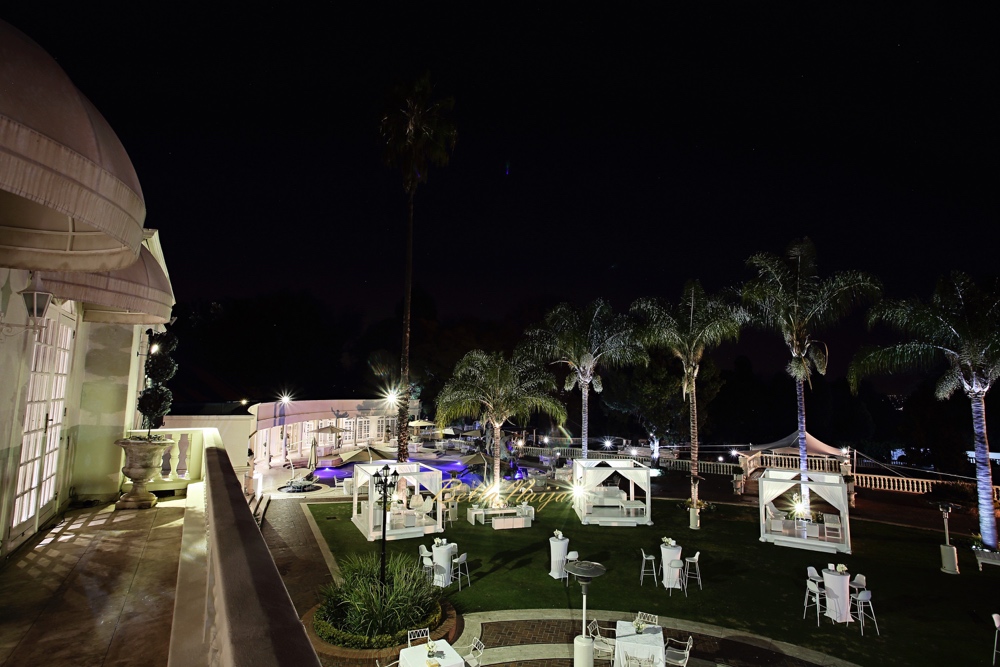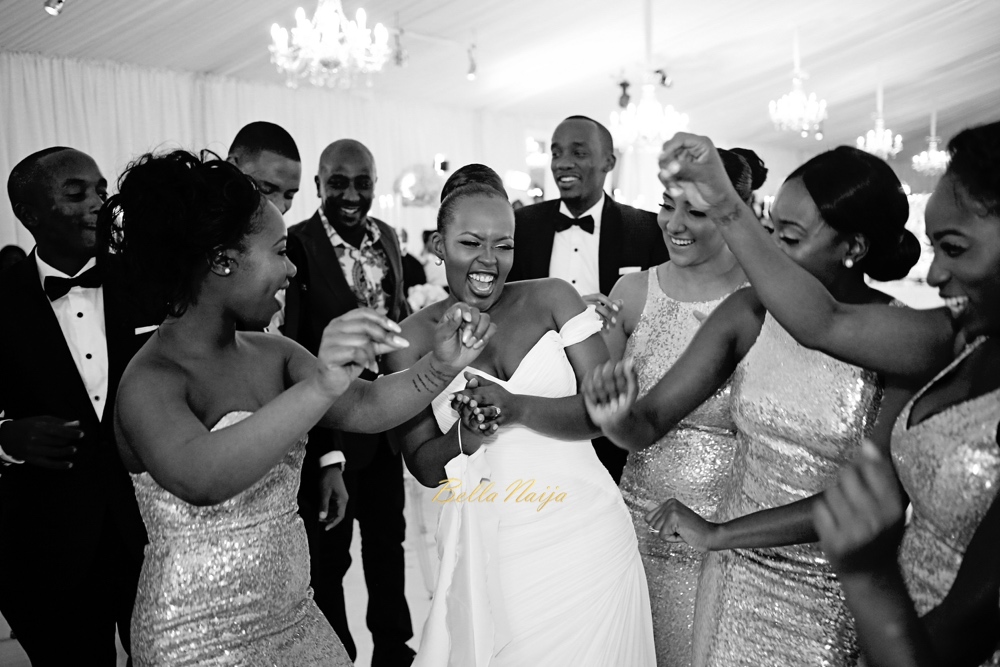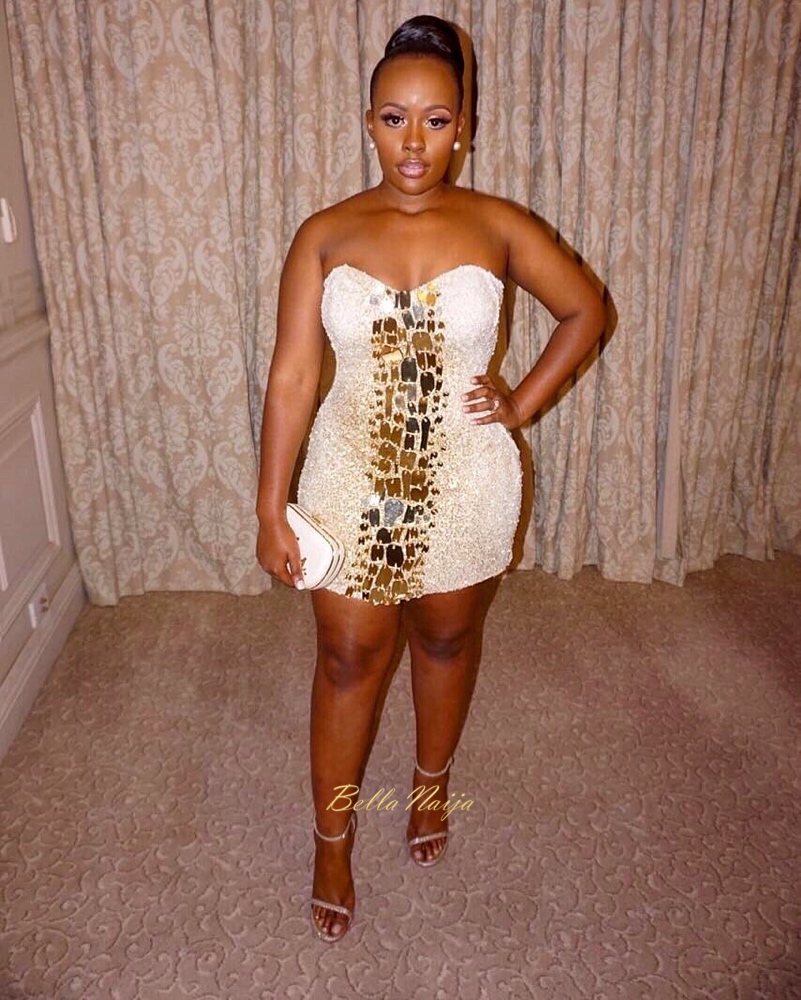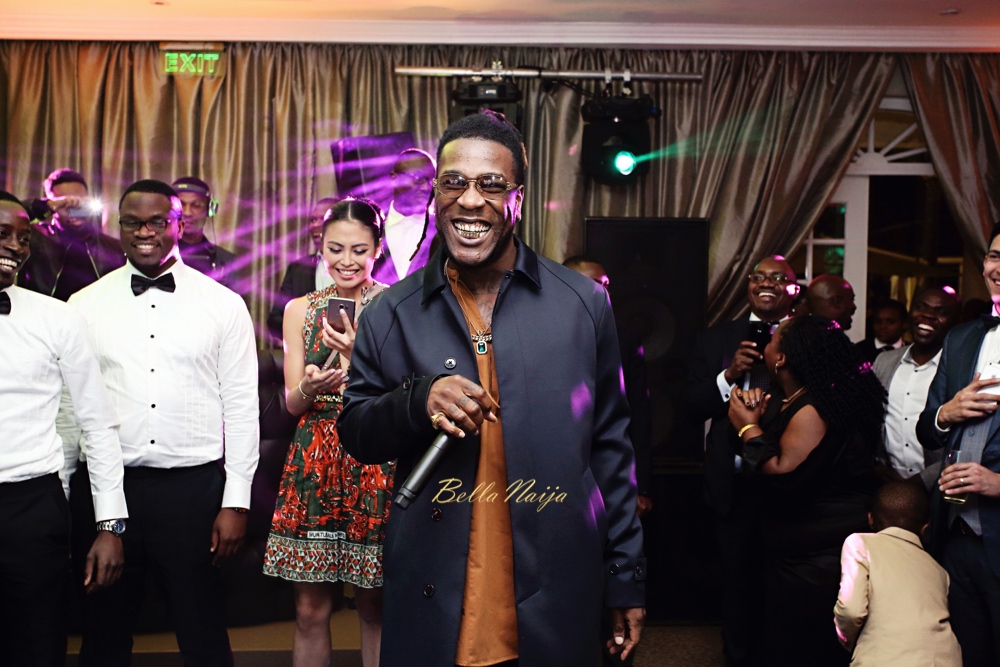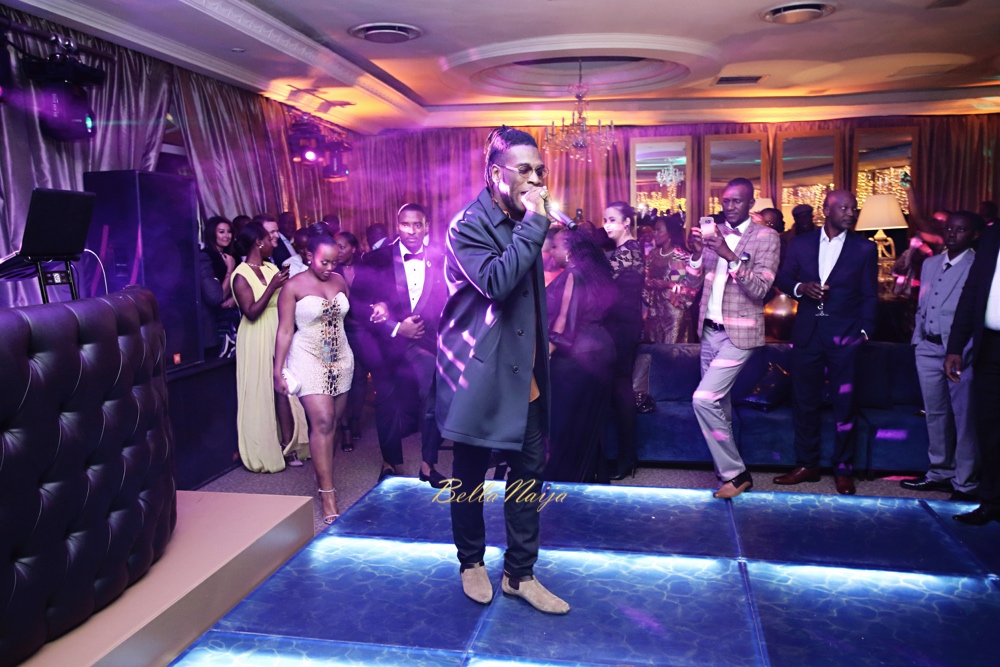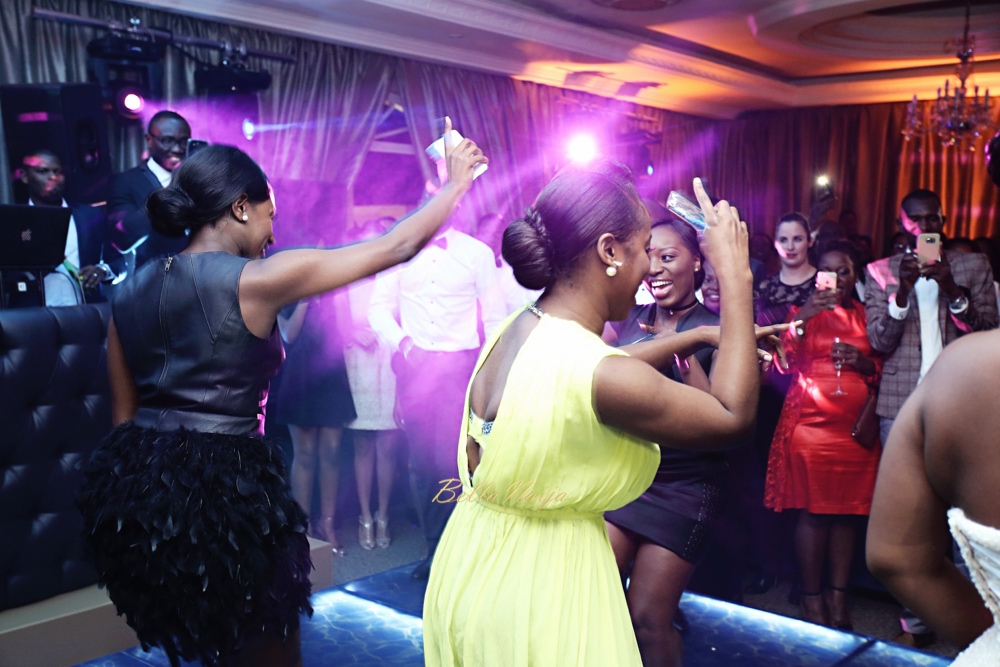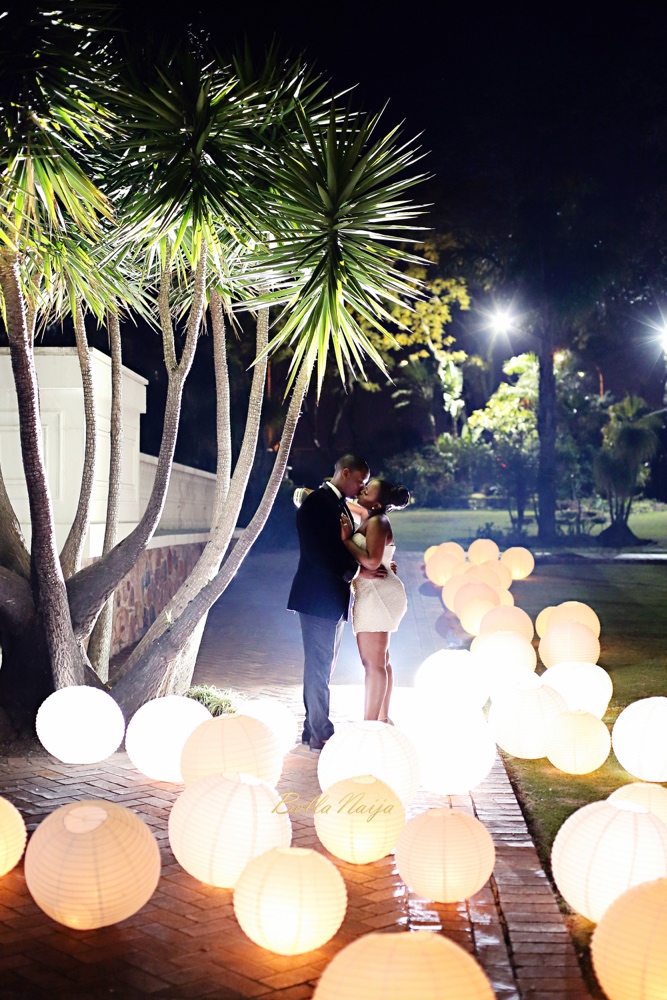 ***
Wedding Info – Dates, Venues, Colours
Traditional Wedding: 8th July 2016 | Bride's home in Kampala, Uganda | Maroon and Gold
Pre-Wedding Dinner: 9th July 2016 | Kampala Serena Hotel in Kampala, Uganda | Blue, Gold and Silver
Nikkah Ceremony: 10th July 2016 | Groom's home in Kampala, Uganda
White Wedding: 16th July 2016 | Summer Place, Johannesburg, South Africa | White and Gold
Photography
Traditional Wedding: Mega Pix and Owaraga
Pre-Wedding Dinner: Owaraga
Nikkah: Mega Pix and Owaraga
White Wedding: Adam Hilton
Video
White Wedding: Verve Films
Wedding Attire
Pre-Wedding Dinner
Bride's Dress: Sanyukta Shrestha silk dress with silk belt
Shoes: Jimmy Choo
Traditional Wedding
Bride and Bridesmaids: Anky Designers
Nikkah
Bride's Dress: Adela Muganga
White Wedding
Bride's Wedding Dress: Vera Wang Lillian Dress from Browns Bride
Bride's Review: When I was searching for wedding dresses, I knew exactly what I was looking for; a simple strapless dress that would complement my figure. When I first tried on the Lilian dress I fell in love with it instantly. I loved the way it comfortably hugged my figure, and I loved the simple but elegant train.
Bride's Reception Dress: Pronovias Bena Dress from Blush and Ivory Bridal in London
Bride's Review: The fit of the dress was amazing and I loved how the train of the dress had a loop to attach to my hand, making movement for the first dance much easier.
Bride's After-Party Dress: Gert-Johan Coetzee
Bride's Review: Whereas I wanted to keep it simple with my wedding gowns, I wanted the party dress to be the complete opposite. I loved the beading and acrylic mirror work he did on the dress, I never wanted to take it off.
Wedding Shoes: Ceremony: Giuseppe Zanotti
Shoes for the first dance: Aruna Seth
Shoes for after-party: Stuart Weitzman
Groom and Groomsmen Tuxedos: George Diab
Bridesmaids' custom rose gold sequin dresses: Ugandan designer Kwesh
Makeup & Hair
Traditional wedding, Pre Wedding dinner and Nikkah Ceremony
Makeup Artist: Mona Faces
Hair: Chris Damulira
White wedding Makeup artist: Elaine Shobanjo and Jennifer Okafor for Shomya
Hair: Chris Damulira
Vendors
Wedding Planner, Decor, Cake and Bouquets: By Word of Mouth South Africa
Traditional Wedding Cake: Kampala Serena
Traditional Wedding Decor: Décor Concepts and Design Uganda
Nikkah Decor: Wedding Niceties Uganda and Décor Concepts and Design Uganda
Wedding Invites and Stationery: Lily Young