You've seen their fab cover (click here) and now it's time to get the juicy details of their cover feature for Genevieve Magazine's July 2016 issue.
The four young ladies – Adesua Etomi, Sika Osei, Mo'Cheddah and Beverly Naya – talk to Genevieve magazine about their careers, the negative stereotypes they have faced, their thoughts on feminism and so much more.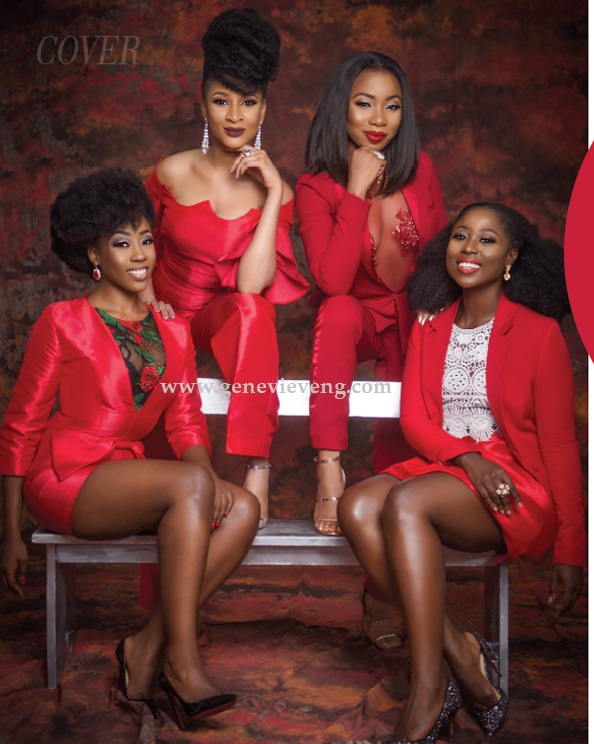 See excerpts below.
ON THEIR CAREER-CHANGING MOMENT:
Mo: It was a single for me; Won Beri. I had been working on my album and I just did a feature on a song. I was in secondary school at the time. Months later people would point at me and say 'That's the Won Beri girl'.

Adesua: Maybe, winning the AMVCA…

Beverly: In a strange way, Tinsel helped a lot. Prior to Tinsel there were films that took decades to get released. Not to give them a big head, but it was Tinsel.

Sika: I think it was moving to Nigeria to do 53 extra.
ON NEGATIVE STEREOTYPES THEY'VE FACED:
Beverly: That 'actresses are hoes looking for money all the time'. Or that because you have foreign accent, you are a snob.

Mo: If you are successful you must be sleeping with someone. My biggest issue is not being taken seriously; getting paid for an appearance and being pushed to perform. Honey Boo Boo, this is my livelihood! A performance is different from an appearance!

Adesua: Or because you are 'yellow' you are snobbish. And once you are dark they say… We can't lighten you. You are too black.

Sika: I have had many people tell me to brighten up a little.
ON WOMEN NOT SUPPORTING EACH OTHER:
Adesua: Yes! In all honesty, and it is really sad. I never believed it till I moved to Nigeria. When I moved back, I realised that women attack women like crazy. I don't know what it is? They would go as far as attacking your child. There are very few women who will stand up and clap at the success of another woman. I have become so conscious of things I never even thought about when I was outside Nigeria.

Beverly: Same! I never believed it till I moved to Nigeria.

Mo: It is an African thing. Female artists are bigger than male artists everywhere in the world, because the female fans are more than the male fans, and the female fans love the female artists. But in Nigeria, you find the female fans loving the boys and hating on the girls.

Sika: I didn't even know I was black until I moved to Nigeria. (Roaring Laughter) Yes and I have lived in five different countries.
ON THE TWO THINGS NEVER TO TELL A GUY
Sika: How much I make and how many men I have slept with. The only thing I would tell a guy is if I have had something to do with his best-friend or sibling because it will come back to bite me. Apart from that, we are moving on swiftly.

Adesua: I don't think there is anything I would not tell especially if you ask. I am an open book.

Beverly: I don't even think how many men I've slept with is a necessary question to ask. It's so irrelevant, why do you care?

Mo: Why would I tell a guy how much I am making? You are making yours and I am making mine. And why would you tell a man how many men you have slept with?

Adesua: It's so irrelevant. I know loads of virgins who have anal sex and if you ask them how many men they have been with they will gladly tell you nobody.
ON FEMINISM:
Adesua: The fight for women's right isn't something we can escape. It is always going to be that way. Society for a long time has been so male-dominated; it has gotten to the point where women would like a fair chance. I don't think there is anything wrong with that. It is such a big deal now because most women are standing up for themselves.  Women want more options than being a wife and a mother.

Beverly: You can achieve anything you want to achieve and not focus on what the men are doing, just achieve your goals.

Sika: Not to be anti-feminist, but I actually hate the word, Feminism. I don't understand what feminism is, to start with. And we, women, are hypocritical; when it favours us, we are all for female rights, but when it doesn't, we are quiet. I still want a man to open the door for me. I still want him to be the man of the house. As many of the women I look up to will say, you actually need a good man as your backbone to succeed in life. Can I put a little dent in this conversation? Most women will say make sure the man loves you more. If we all believe in that, that's not bringing 'equality' into the relationship.

Mo: Men need women as much as women need men. Some women just hide behind feminism when a man treats them badly.
ON SPLITTING THE BILLS IN A MARRIAGE:
Mo: The couple should decide, beforehand, who does what.

Beverly: I am traditional and I think a man should pay the bills but there are times that financial situations can change and I may have to pay the bills. You are paying the bills and I am taking care of the family, making sure that when you come home there is something for you to eat. It is not a struggle, it's a partnership. That is how a marriage should be established. I cannot marry a guy that is going to make me the bread winner.

Adesua: I think a man should always be a provider; that is what he is created to be. The woman is the helpmeet, and one cannot do without the other. The fact that women are more liberal doesn't change the fact that a man is meant to be a provider. But when you get into a relationship, figure out what works for your relationship. It might be a bit naïve to go into a relationship expecting everything to be the way it is in your head. It doesn't work like that. You are getting with someone else and he has a completely different thought process. For me, we could have a joint account which we both fund for certain bills, while maintaining our individual accounts. It's a partnership, but it doesn't negate the fact that the man should be the provider and a woman, the home maker. Even if he is bringing two naira home, you best make that two naira work. But I don't know how I would feel if I am married and my husband is doing everything. I am a woman that likes to work and I want to feel I am bringing something to the table. I cannot sit down and not contribute. I don't function that way.

Sika: I think the most dangerous thing to do is to take a man's purpose from him. Relationships where men are emasculated are the most toxic relationships. I come from a family where my mum was the breadwinner; my dad had to leave his job to support her because she fainted on a plane; she was travelling alot. And here is why I respect my mum so much, she realized that she couldn't make my dad feel less of a man because quitting his job to be with her was more manly than anything she had ever seen. That was such a bold step on my Dad's part. So when my mum makes the money, she sends it all to him to decide what they do with it. My parents have been married for 40 years and they argue about petty stuff but I never for once saw my mum disrespect my dad because he wasn't bringing in money. I am not opposed to bringing in money as a wife but you can never ever take away the fact that the man is supposed to be the provider.
ON LEAVING IF YOU MAN CHEATS ON YOU
Beverly: If it was just once, then no. If it is a constant thing, I'm out. If it is a mistake and you can genuinely see the remorse and he feels dirty and filthy then I wouldn't leave you but if you feel like you're entitled to cheat because you are a man, then I'm out.

Adesua: No. When you're a lot younger, you say you will get a divorce. But you as you mature, you realize that men are just wired that way. That doesn't mean its ok or its license for them to cheat, but it is not enough for me to leave.

Sika: No. But if you cheated as a woman, trust me your husband will not be there. I think 70% of men would leave. It is the height of disrespect to a lot of men but if they cheated they would expect you to understand.

Mo: No. …in hard times and in good times, in sickness and in health. (In response to Sika) It depends on who you are with. I feel like if I cheated on my boyfriend he would not leave me.
For their full interview head over to Genevieve Magazine.