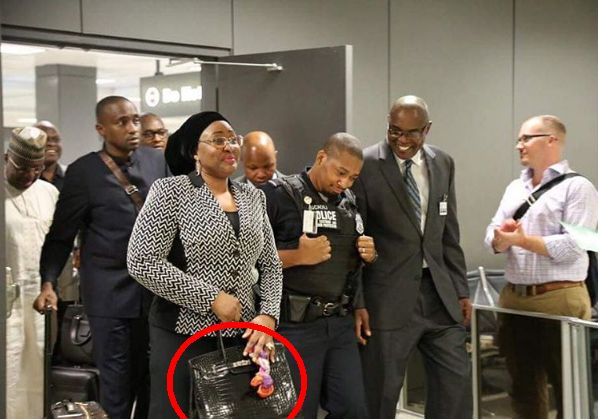 First lady, Aisha Buhari was spotted with a designer Hermes Birkin 35cm Porosus Crocodile bag and it's got many people talking.
The bag is worth between $69,000 and $89,000, that's between N26,910,000 and N34,710,000 using the N390 to N1 dollar black market exchange rate.
While some people outrightly condemned her for using such a bag, other people condemned others for condemning her.
Aisha Buhari has not broken any law. But it is morally reprehensible & disgusting for the President's wife to tot a Birkin in a recession.

— The Nick of Time (@nicholasibekwe) August 4, 2016
The gist is not Aisha buhari can't travel to America again , it is now she's carrying an Hermes bag. Una go dey okay https://t.co/rzxImmnWW2

— YEMI (@_Olayemi_) August 4, 2016
Nobody better Insult Aisha Buhari because of her bag. I will slap you. THAT bag is life!! ??

— منيرة (@Muneera_yk) August 4, 2016

You Wailers can lie !!!!

Aisha Buhari bought the bag when dollar was @199. pic.twitter.com/d01OA2PiK0

— Kayode Jason (@KayodeJason) August 4, 2016
Some BN readers also had a lot to say here.