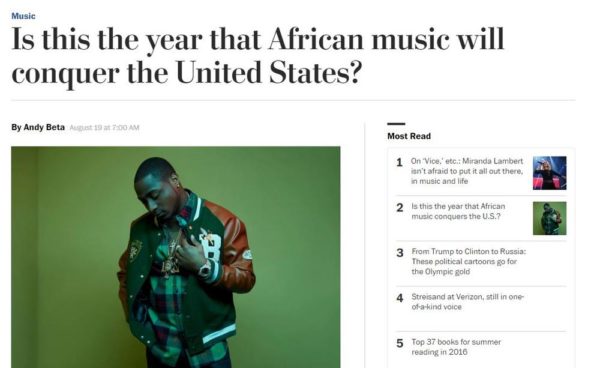 With the amazing year that African artists have had internationally, Washington Post asks a very important question of if the year 2016 will be the year that African music will conquer the United States.
Nigeria's Wizkid, Davido, Timaya, Seun Kuti as well as South Africa's Culoe de Song, Ghana's Stonebwoy, South Africa's Black Coffee and more are mentioned in the article for the things they have achieved this year.
According to Washington Post, the success of these artists is the reason why Afrobeats continues "to the surface of any number of recent hits, such as Justin Bieber's "What Do You Mean," Rihanna's "Work" and Alicia Keys' "In Common."
Read the post below.
Whether it's through hip-hop, R&B, Top 40 radio or Internet memes, Drake is a ubiquitous presence on our cultural landscape. Yet for all of his inescapable hits in the past few years ("Hotline Bling," "Started From the Bottom," guesting on Rihanna's "Work," to name a few), it was only in May that Drake finally topped the Billboard charts, with the bubbling, shuffling beat of "One Dance." And while Drake is known to assist rising stars such as Migos and iloveMakonnen, on "One Dance," he was the one who got a boost, from singer Ayodeji Ibrahim Balogun, better known as Wizkid.

All but unknown in the United States, Wizkid is a star in his native Nigeria and a major force behind Afrobeats, a fidgety musical hybrid mashing Afro-pop, Caribbean soca and American hip-hop (not to be confused with Afrobeat, the genre pioneered by Fela Kuti that has a heavier, more driving beat). Nigeria has a long musical heritage, including Fela, King Sunny Ade and William Onyeabor. But in singing a verse on "One Dance," Wizkid became the first Nigerian artist to land on the U.S. charts, as well as the first to top them. And don't think it's an anomaly. Along with fellow Nigerian rapper and singer Davido, South Africa's Black Coffee (who became the first South African to win a BET Award this year), Ghana's Sarkodie or Ayo Jay, African artists of all stripes might soon become permanent fixtures on both the U.S. pop charts and in the dance music underground.

"Most music that comes out these days has our elements already in it, so why wouldn't the people love African music?" said David Adedeji Adeleke, a.k.a. Davido. He's a superstar in Africa who recently co-headlined alongside Wizkid at the One Africa Festival, a huge coming-out concert at Brooklyn's Barclays Center. The showcase included Ghana dance hall singer Stonebwoy and Fela's son Seun Kuti. There was also a strong Afro-Caribbean connection, as Nigerian singer Timaya was joined onstage by the Trinidadian "King of Soca," Machel Montano. And even though some of the songs might not have registered to the everyday U.S. music fan, elements of that African sound definitely felt familiar.

Label it Afrobeats, tropical house or dance hall lite, but turn on the radio now and the shuffling, shimmering, deliciously weightless syncopated beat that underpins modern African pop bobs to the surface of any number of recent hits, such as Justin Bieber's "What Do You Mean," Rihanna's "Work" and Alicia Keys' "In Common." When Keys performed her hit at the Democratic National Convention last month, it meant that Afrobeats had sneaked onto the national stage.

If you follow Keys on Instagram, you've already seen her shimmying poolside to Wizkid, so it seemed inevitable that she would absorb that sundress-light sound into her music. A 15-time Grammy Award winner, Keys also tapped South African producer Black Coffee to give "In Common" a Mbaqanga twist, and she's now working with him on new music.

Her husband, hip-hop producer Swizz Beatz, is also a fan, and at One Africa he joined Wizkid onstage. Together, they ran through Wizkid's playlist of Nigerian hits, as well as some of Beatz's biggest tracks, including Jay-Z's "Onto the Next One" and DMX's "Party Up (Up in Here)." And even though Afrobeats is decidedly more nimble with its beats and breezy with its melodies than hip-hop's heavy-hitting meter, the two mixed effortlessly. And the ritzy braggadocio of the latter carried across the ocean intact, with Wizkid's lines boasting about Prada, Dolce & Gabbana and that "my girl wear designer."
In another part of the article, Washington Post writer Andy Beta states that:
That affinity flows both ways, and it's not restricted to music, as platforms such as Instagram and Snapchat allow for exchanges between cultures. Before Timaya took the stage, the One Africa Festival MC said that you might recognize him from appearing on Rihanna's Instagram. Meanwhile, Rihanna, a fan of Timaya's, absorbs some of that African flavor in her own music.

As U.S. mainstream success beckons these African artists, more tantalizing are the collaborations with artists in this country that introduce both sides to millions of new fans. For Davido, that means co-signs from Meek Mill and Major Lazer, or Wizkid recently announcing that he was in the studio with Sean Paul. In putting the finishing touches on his first album since signing to Sony Music, Davido recently worked with Young Thug, Trey Songz, Wale and DJ Snake.

As African artists make inroads in the U.S. market, American artists with whom they record songs will get more play in Africa. "Of course it's going to be an advantage for them, too, to get their music out there," Davido said. "If you ask me, it goes both ways."
Read the article in full here.