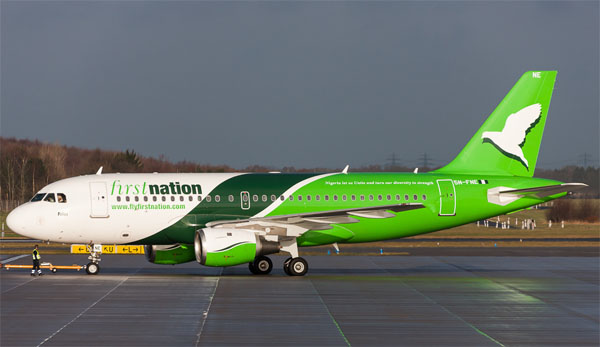 Firstnation Airlines on Thursday announced the suspension of flight operations in the country to enable it to maintain its aircrafts.
A statement signed by the Head of Commercials of the airlines, Serah Awogbade in Lagos, said that the maintenance of the A319 fleet would be completed on or before September 15.
The statement stated that the airline planned the maintenance well ahead, "notified passengers while the flights are being currently loaded online, effective from September 15".
It said that the measure was to ensure that passengers continued to enjoy safe and reliable service that the airline was reputed for.
"Current foreign exchange constraint, coupled with over 70% devaluation of Naira partly contributed in no small measure to this development. The airline's plan remains on track to reinstating service as advised herein," it said, adding that it was aware of a press statement by the Nigerian Civil Aviation Authority (NCAA) on the issue.
It said that at Firstnation, safety was its priority and it looked forward to reinstating service on completion of fleet upgrade.
The NCAA in its statement earlier explained that Firstnation Airlines was in the middle of an Engine Replacement Programme for one of its aircraft.
UPDATE:
Response From Firstnation Management – September 5th 2016:
A statement signed by Rasheed Yusuff of Firstnation Airlines read:
In reality, since the Airline launched service in 2011 we have built a strong followership and rated consistently as market leader on safety and schedule integrity. This reputation was reinforced by Firstnation's achievement of IOSA certification (the airline industry global bench mark for world class safety standard) in record time of twelve months. The achievement of IOSA certification, within 12 months of application by Firstnation remains unrivaled in West and Central Africa.
Our current fleet is undergoing engine maintenance (global airlines have had cause ground larger aircraft fleet types to enhance safety across the globe in the past). Safety is paramount to us and if we have to ground again for safety reasons so be it.
This is a planned maintenance and orderly arranged with advance notification to passengers and service will be reinstated on or before September 15, 2016. We are working to grow the fleet as well.