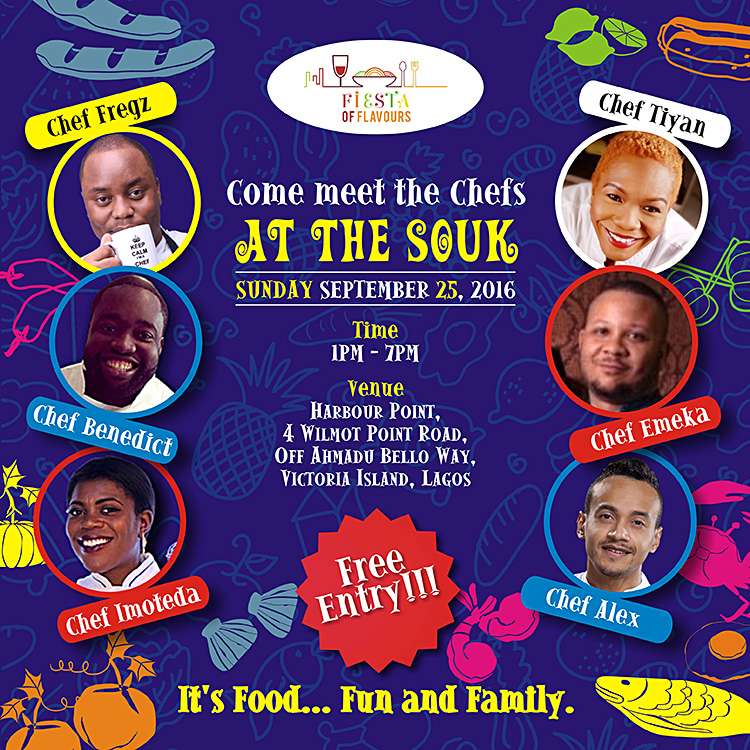 The Fiesta Souk, a world class indoor food and beverage fair brought to you by Fiesta of Flavours and Eventful Ltd is a not to be missed event for all foodies scheduled to hold this September.
Entry is Free!
It promises to be an exciting and fun filled experience as we have the best chefs and food vendors in the industry on board. The indoor souk and bazaar atmosphere is yet another innovation brought to you by Fiesta of Flavours and Eventful Ltd.
There will be a huge variety of tasty finger food, delicious desserts, healthy food options, refreshing drinks, a champagne bar, food tasting, great music and much more!
The Fiesta Souk is the perfect opportunity to spend quality time with friends and family in a relaxed and fun filled setting.
Follow us on Twitter: @fiestaofflavour |
Facebook: Fiesta of flavours |
Instagram: @fiestaofflavours |
Website: www.fiestaofflavours.com
For further enquiries, contact Moji on: 08183017474, 07037507630 or [email protected].com
Date: Sunday, September 25th, 2016
Time: 1PM- 7PM
Venue: Harbour Point, 4, Wilmot Point Road, Off Ahmadu Bello Way, Victoria Island Lagos.
Remember, ENTRY IS FREE!
_______________________________________________________________
Sponsored Content