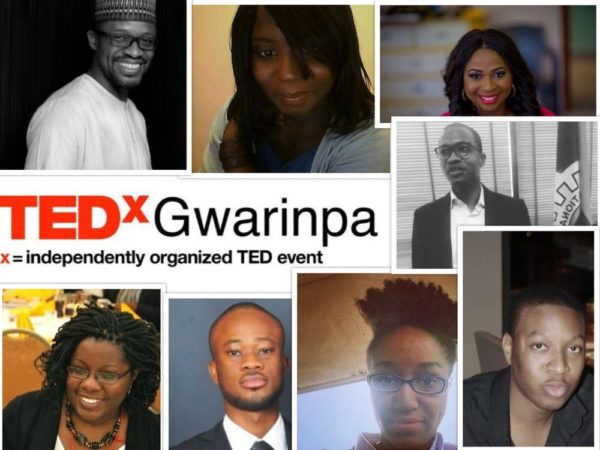 TEDx is a Program of local, self-organized events that bring people together to share a TED-like experience. These local events have become a truly international phenomenon, taking place in more than 60 countries.
On this day, a dozen speakers are given 18 minutes to present the talk of their life. From scientists to engineers, to artists and entrepreneurs, speakers from an array of fields share their experiences and ideas.
TEDxGwarinpa is much more than a one-time event. With the talks published online for free, TEDx talks have triggered innovation in all corners of the globe. More than anything, TEDxGwarinpa aims at sparking genuine curiosity and initiating a love of learning in its most fundamental expression.
TEDx events have hosted the most influential, powerful, richest individuals in the world. TED videos have been viewed billions of times and it is the most engaging and informative talk and learning event in the world.
TEDxGwarinpa has put together a list of diverse, intelligent and successful individuals from various sectors in Nigeria. Find below a list of the speakers and their topics.
Chike Chijena currently is involved with and consults for a couple e-commerce companies like nkataa.com, ethnic.ng and continues to run his private practice in software development and business solutions. His topic: It's 2016, what's up with Nigeria Mobile Money Potential.
Judith Okonkwo is a Tech enthusiast, Business Psychologist and Organization Development practitioner who has worked in Africa, Asia and Europe. Judith now runs Ìmísí 3D, Nigeria's first Virtual Reality creation lab and is excited about the move from technology consumption to creation. Her topic: Creator to Consumer: Changing the game with Virtual Reality
Saater Ikpaahindi is an International Development Professional (Child Protection and Gender) who has worked in Nigeria and the UK on issues of gender, child protection and children rights. She is currently working as a national researcher for SOS children's villages on a study of child care in Nigeria. Her topic:– Children don't deserve Rights
Nnonso Nweke is the CEO/MD of KIB Food Processing Co, producers of the AmaWonda range of spices. His company currently has one of the widest ranges of products in the market and is leading the market in Natural spice alternatives. He was recently featured on NTA's Young Boss and is now a mentor to many aspiring entrepreneurs across Nigeria. His topic: How the Caged Bird Thinks.
Naomi Osemedua is a Multi-passionate & Social Change Entrepreneur and the Author of the Amazon Best Seller…SOCIALLY SPEAKING -My Periscope Miracles. Her topic: From not Enough… to Finding your Sparkle
Ibrahim Bashir is currently overseeing the Marketing and Business Development Department of Abuja Technology Village Free Zone Company (ATV). His most recent activity covered setting up four multi-million dollar companies around Nigeria at an investment holding group. His topic: The possibilities are infinite
Mohini Ufeli currently runs communications for Andela. Mohini is a photographer and visual storyteller, with photographs featured in CNN, Forbes, Mashable and more. She believes that photography has the power to change perspectives and connect people. Her topic: Story is Key: How we determine others' perceptions of us.
Umar Yakubu– As part of the "Disability Management through Technology" vision of CyberLogik Foundation, 3D Printed functional Upper Limb Prosthetics Devices are fabricated and given to people living with natural Disabilities and Amputees for free. These activities are supported by Enable, which provide access to an international pool where 3D Printed Prosthetics Devices are matched and shared across the world for people in need.His topic: 3D Printing: Medical Application #Enabling Africa.
Yahaya Ahmed is the Managing Director/CEO of Developmental Association of Renewable Energy (DARE), based in Kaduna. A climate change expert, Yahaya Ahmed is a man of several distictinctions. He read Building Technology at the École d'Enseignement Technologique du Batiment in Strasbourg, France. He also read German Language and Civil Engineering at the Technische Hochschule in Darmstadt and diploma courses in Applied Linguistics at the Institut für Angewandte Sprachwissenschaften in Germersheim both in Germany, between 1985 and 1992 respectively. He speaks Hausa, English, German, French and Arabic very fluently. His topic: Easing Nigeria's Housing Problem through Plastic waste.
Oluwadara Adekunle is an entrepreneur and a development consultant. She is the MD of Dahrah Global limited. Her topic: Thinking in the Face of Change.
Wanger Ayu is the head of her own fashion brand that designs clothes for celebrities, professionals etc, you can catch Waje wearing some of her wears, amongst other celebrities. She is also the brains and owner of the most anticipated event in Abuja, Designers Market Place A.K.A DMP. Her topic: The Heels, the Dress and the Career to Match.
Performances from a poet that mixes his poetry with a little guitar playing, a dance group with a twist and an amazing vocalist will be on board to give that perfect mix of intellect and education.
To register for this event and for advert and sponsorship details, please call Brain on 08067914685 or 08151133187 or call Tony on 08086889801 or visit the website at tedxgwarinpa.com. Log on to the Facebook page @ Tedxgwarinpa to view a detailed profile of all the speakers and pleae don't forget to like the page and invite others to do the same.
Exciting that's what this event promises to be so register ASAP.
____________________________________________________________________
This content has been published for free as part of BellaNaija.com's commitment to youth, education, healthcare and community development as part of our corporate social responsibility programme.