Damilola won 2 Million Naira! Meet the September winners of the Fidelity "Get Alert in Millions Promo"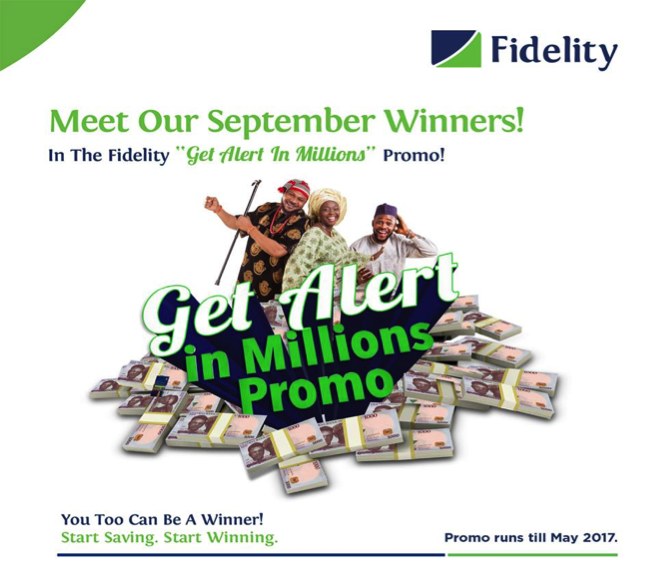 S/N
ACCOUNT NAME
PRIZES WON
1

ABICHE MARY IYEFUN

N3,000,000
2

DAMILOLA EMMANUEL OLUFEMI

N2,000,000
3

UMAR YAHAYA

N1,000,000
4

DURU ALPHONSUS

N1,000,000
5

DELE FEMI OMONIYI

N1,000,000
6

OGADIMMA JECINTA IWUOMA

N1,000,000
            CONSOLATION PRIZE WINNERS
7

AFOLAYAN MUHAMMED FIRDAUS

GENERATOR SET
8

AKINMOJI TAIWO PURITY

REFRIGERATOR
9

ANTHONY NZE

GENERATOR SET
10

FRIDAY AKPAN

REFRIGERATOR
11

UKAEGBU JAACHIKE CHINAZA

GENERATOR SET
12

ANABUIKE CHISOM MARYANN

REFRIGERATOR
13

BENJAMIN MONDAY IDZI

GENERATOR SET
14

AGBOGU ONYEKA

REFRIGERATOR
15

ZAINAB ABIODUN JIMOH

GENERATOR SET
16

CHIBUZOR ARIGUZO

REFRIGERATOR
17

EGBARA AREMBANG EMMANUEL

GENERATOR SET
18

VICTORIA OCHONIA JAMES

REFRIGERATOR
See Selected Photos from the Prize Presentation
How to Win
It's easy, just open a savings account and grow it to N20,000 or top up existing account with N10,000 or more to qualify for monthly draws to win up to N3m. You can also grow your account balance by N50,000 monthly to qualify for quarterly draws to win star prize of N5m.
Open any of our savings account products (FSA, FPSS, SWEETA, Easi save, HYSA and Flex) with ₦20,000. Top up existing savings account with incremental of ₦10,000 to qualify for monthly draw to win fantastic cash prizes e.g. 1st Prize of ₦3m, 2nd Prize of ₦2m; 3rd Prize of ₦1m.
Click here for more information.
You Too Can Be A Winner!
Start Saving. Start Winning.
Promo runs till May 2017.
_____________________________________________________________________________
Sponsored Content