The best part of planning a big day for a bride-to-be includes choosing what dress she wants to get married in and you would be surprised the tiny but numerous details that go into the selection. Does she want a ball gown or a mermaid dress? What kind of lace should her veil be made from? Oh where to begin!
For the modern bride, the awe-inspiring wedding dress (as she hopes it to be) plays a starring role in her journey down the aisle. She knows that asides her bridal glow and beaming smile, her dress would take front and center attention and so has to be perfect. Many brides on the flip side can recognize the feeling of finding the perfect dress and not being able to afford it.
Traditionally women buy new dresses for different reasons. Some for sentimental reasons such as boxing and unboxing time and again to relive the memories; or to hand down to their daughters. However, the fashion trends change through generations and only about 5% of the next generation even wear their mothers' dresses – with many alterations of course. But back to the issue; wedding dresses can be and are very pricey, it is one of the biggest purchases of the wedding. If you are cautious with your budget and your tastes run towards the pricey choices; you can agree that buying a brand new dress isn't the right option for you. Of course I am all in favour of affordable options and the feeling of 'owning' the dress but if you can agree that all that money can go to another aspect of the wedding, you have other alternatives.
Buying a Pre-Owned Wedding Dress
The recent economic downturn has reduced the size of many couples' wedding budgets and brides who want to walk into a store to buy a brand new wedding dress may be in for a surprise. This option isn't exactly new and I know in a society such as ours where superstitions prevail, brides might be skeptical about buying a dress worn by another bride. You have to know it is only but a beautiful dress and stores who stock those may have the story of the bride who once wore it, if that makes you feel better. Buying a pre-owned wedding dress is by far the cheapest option and allows for alteration to suit your tastes.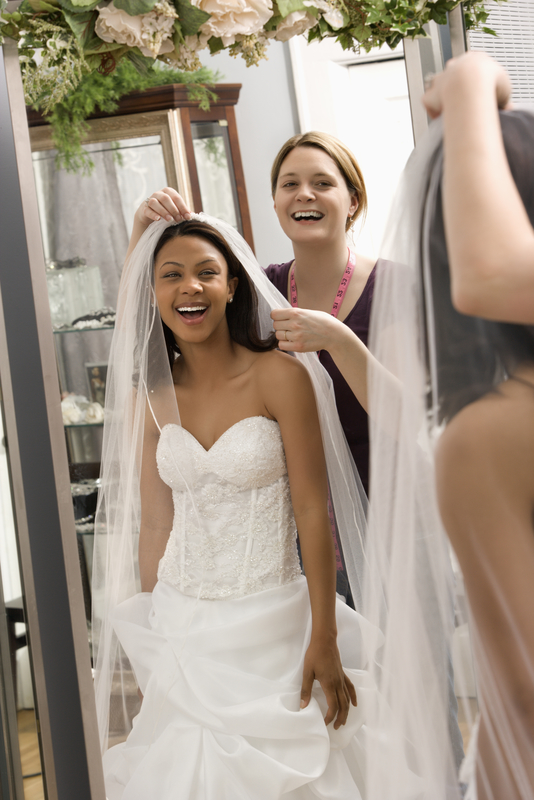 Other upsides include the quality of your pre-owned gown which will be close to, if not the same as a new dress, because it has most likely only been worn once before and been taken care of. If vintage or retro style dresses are your choice, you stand a greater chance of getting one if you buy a pre-owned dress and what's more, there is ample room for negotiation very much unlike the fixed rental or new purchase price; so haggle away!
Tips for Choosing a Pre-Owned Wedding Dress
Set a budget and stick to it, as it is easy to overspend on a wedding dress.
Use references in finding your dress. Ask family and friends where to get good choices and see if they stock pre-owned dresses.
Know your correct measurements and buy up in length and maybe in size too. The previous owner tailored the dress to fit, but you also might have to consider how high your stilettos will be and how much weight you might gain before the wedding.
Be sure to consider styles that flatter your body type and tastes and not buy simply because it is affordable.
Look out for defects such as tears and stains as these things happen at almost all weddings. The most common areas to look for wear and tear are at the hemline and near the top area of the bust line and underarm area and most stains are concealed under the dress.
Except you are buying from someone you know personally, choose a reliable pre-owned retailer who has a return policy or can arrange for alterations. The return policies are very important.
Renting a Wedding Dress
Luxurious designer wedding gowns have become incredibly popular with today's brides but we know these designer gowns cost A LOT. Renting a beautiful dress for the wedding checks the 'something borrowed' box and affords you a lot of luxury dress options for a fraction of the price of a brand new one. Although many brides would hardly admit to have rented their dress, this option is fast gaining popularity as many brides are unable or unwilling to pay the full price. It is easy to think of the downsides to this option such as how many brides will have worn the selected dress and how many people may find out about your decision.
There are quite a number of advantages to this such as an array of expensive designer labels to choose from and of course not having to worry about preserving a dress that will sit in your closet for a long time to come. A wedding rental store will also most-likely cater to different sizes, and different color hues too as wedding dresses and veering from the traditional ivories and whites.
Tips for Choosing a Rental Gown
An early bride always gets the best gowns. I agree that a rental saves time and money but it is always a good idea to start planning and shopping early.
Minimize the number of people who go dress hunting with you. You and your husband-to-be and maybe one or two others you trust are the only people who should know you decided to rent a dress.
Be aware of the limitation to alterations you can do so you do not get caught in an issue with the store. You can find out if the rental store offers alteration services so you would not be caught in a mistake.
Always read the fine print of the rental contract or conditions. Some stipulate when the gown should be returned and if they should be dry-cleaned before return or not. You should also be aware of the terms in the instance the dress gets damaged.
Remember to give the store follow up calls even after making your deposit. Nobody wants to hear stories about their dress.
It is always better to have the dress days before the wedding. There is nothing as mentally stressful as a store that delivers a dress too late or not early enough, so take the option of picking up your dress yourself.
Although the initial choice might be to buy a dress, these options are cost effective ways to get a beautiful dress for your wedding. There is always the option of purchasing if you would rather but you can always find something else to be a keepsake from your wedding day and not an expensive dress.
Photo Credit: Emmanuel Oyeleke | Dreamstime.com